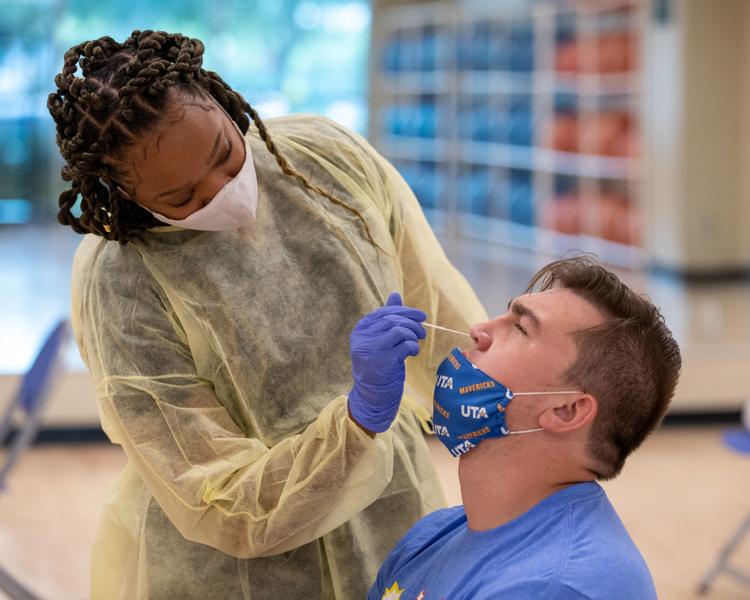 UTA has conducted over 2,500 COVID-19 tests as of Nov. 11.
The North Texas Genome Center lab, located in the Science and Engineering Innovation and Research Building, has served as the forefront of the university's test processing.
Established on campus in 2018 by Jon Weidanz, associate vice president for research, the North Texas Genome Center has the capabilities to perform human genome sequencing.
To perform human studies, a lab must be Clinical Laboratory Improvement Amendments certified and accredited by the College of American Pathologists, said Florence Haseltine, executive director of health research.
When Anajane Smith, program manager for Interdisciplinary Research, was hired on with the lab, she helped the center get certified and accredited in January.
Then COVID-19 hit Texas and changed everything.
Equipped with CLIA and CAP certifications and accreditations, the North Texas Genome Center became a COVID-19 testing lab right on UTA's campus.
Using resources, focus and following regulations, Haseltine, Smith and senior research scientist Zibiao Guo built the lab in three and a half months.
"We had something special [at UTA]," Haseltine said. "We had an administration who was absolutely focused on getting this done. They trusted us."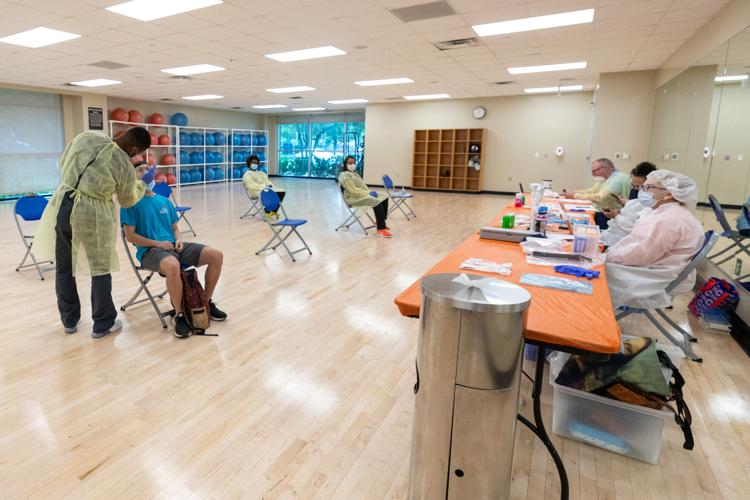 Their first focus was always the UTA community, she said.
COVID-19 has specific components not found in other viruses, Haseltine said. To run a test, RNA is extracted from the virus and replaced with a protein that matches and amplifies its unique areas. Other viruses, such as the cold, would not be amplified.
A laser scans each testing well for a RNA COVID-19 marker, she said.
There are challenges when it comes to the testing. Although positives are retested, false positives can still happen, as well as false negatives, which are harder to pick up, Haseltine said.
The North Texas Genome Center has helped Health Services' testing needs by processing referred student tests, chief communications officer Joe Carpenter said in an email. Students who desire a COVID-19 test should contact Health Services.
Biomedical engineering senior Sapana Gharti took a free COVID-19 test Nov. 5, and to her surprise, received the results the same day.
Health Services started on-campus testing in the spring and will continue to do so next semester, Health Services director Angela Middleton said in an email.
Gharti got tested at the Maverick Activities Center, one of two testing locations on campus. Because of full time slots, she had to wait three days before she could go in for her test. Once at the MAC, she said it was well organized with distanced folding chairs and staff available to help.
Telehealth visits were not available in the beginning, so the risk of staff exposure to the virus was higher, Middleton said. Since the telehealth format has been offered, unnecessary in-person interactions can be limited.
In the past month, two-thirds of tests conducted by Health Services have been sent to the North Texas Genome Center for processing with the other third sent to Health Services' reference lab, she said.
"It has been an honor to work with [Haseltine] and her team," she said. "[Haseltine] has decades of experience, especially within population health, that UTA and the greater community will benefit greatly from."
@megancardona_