The blazing Texas heat didn't stop 93-year-old Fort Worth resident Opal Lee from walking two and a half miles on Friday.
The walk, which she did in 2016 and 2019, is part of her effort to make Juneteenth recognized as a national holiday. Juneteenth marks the day when the last slaves were informed of their freedom on June 19, 1865, in Galveston, Texas, two and a half years after the Emancipation Proclamation was signed on Jan. 1, 1863.
Lee's 2 1/2-mile walk recognizes the two and a half years it took for the news of freedom to reach the slaves in Galveston.
Usually, Juneteenth is celebrated with parades, community gatherings, dinners, pageants and more. The COVID-19 pandemic didn't stop the caravan of around 400 cars following Lee as she walked from the Fort Worth Convention Center to Will Rogers Memorial Center this year.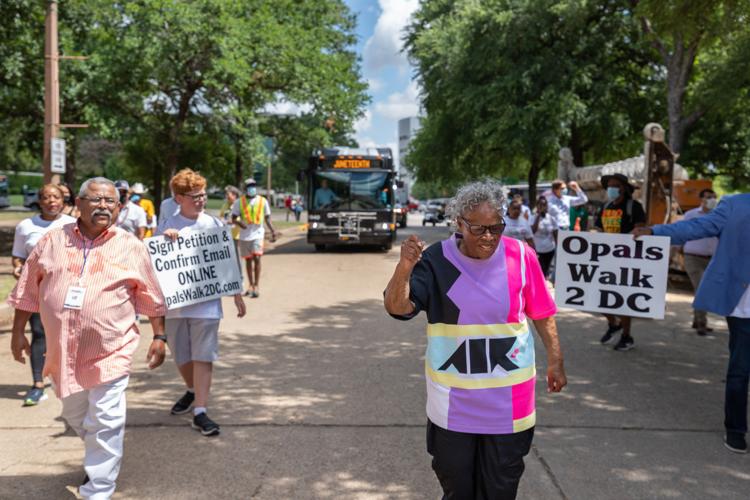 Celebrating Juneteenth is nothing new in the Black community, said Pamela Safisha Hill, African American studies adjunct professor. It's a day that has been celebrated since 1865.
Not everyone was given independence on July 4, 1776, she said. Juneteenth is the independence day of Black people in America.
Hill said she reminds her Black students that they are alive today because their ancestors survived the Middle Passage, slavery and more.
Lee's great-granddaughter Robyn Sims said that Lee has been advocating to make Juneteenth a national holiday for as long as she can remember.
Getting recognition and educating more people about the meaning of Juneteenth is a way to get the day recognized as a national holiday. This year, Sims said she feels they are closer to accomplishing their goal.
It's not just about the day; it's about commemorating when all African Americans were free, she said.
No one is free until everyone is free, Lee said. She said she would want to have community celebrations from June 19 to July 4 and to use that time to educate people in order to address current day issues.
Lee started a petition on Change.org to get Juneteenth made a national holiday eight months ago, originally aiming to get 100,000 signatures in 30 days. At the time of publication, over 650,000 people had signed it.
"We plan to send Congress a million signatures so they'll know it's not just one little old lady in tennis shoes," Lee said.
Photos: At 93 years old, Opal Lee marches two and a half miles to make Juneteenth a national holiday
93-year-old Opal Lee marched two and a half miles, followed by a caravan of vehicles supporting her call to make Juneteenth a national holiday. Lee walked from the Fort Worth Convention Center to the Will Rogers Memorial Center, where she thanked supporters. Lee completed her walk in about one hour and 20 minutes.
@megancardona_