As Ravija Munshi pedaled onto Cooper Street one September afternoon, a car hit the front of her bike, launching her onto the asphalt.
The crash warped the bike beyond repair, leaving the landscape architecture graduate student with several minor injuries.
Traumatized by the experience, she refuses to walk or bike anywhere in the city and instead relies on rides from friends — feeling more trapped than ever.
Every day, people like Munshi navigate Arlington and the Metroplex. For those pursuing higher education, the fractured nature of mass-transit services in the region and lack of local options makes the task a challenge.
For the last 30 years, the city of Arlington has struggled with mass transit. Measures to approve citywide public transportation have been proposed and then voted down by residents. In light of this, the city has made various transportation alternatives available.
While Arlington has made steps in the right direction, the city still needs more options to create a comprehensive transportation network, said Shima Hamidi, UTA Center for Transportation, Equity, Decisions and Dollars director.
"It's not only about mobility needs," Hamidi said. "It's about quality of life, quality of education."
The largest population of those dependent on transit are students, and it impacts all aspects of their academic life, Hamidi said.
It is mentally exhausting for students to search for more costly and less ideal alternatives as they try to get to school in the morning and back home at night to study, she said.
The limited transportation options keep the city from reaching its full potential, UTA President Vistasp Karbhari said. This includes UTA's goal of becoming a tier one research institution.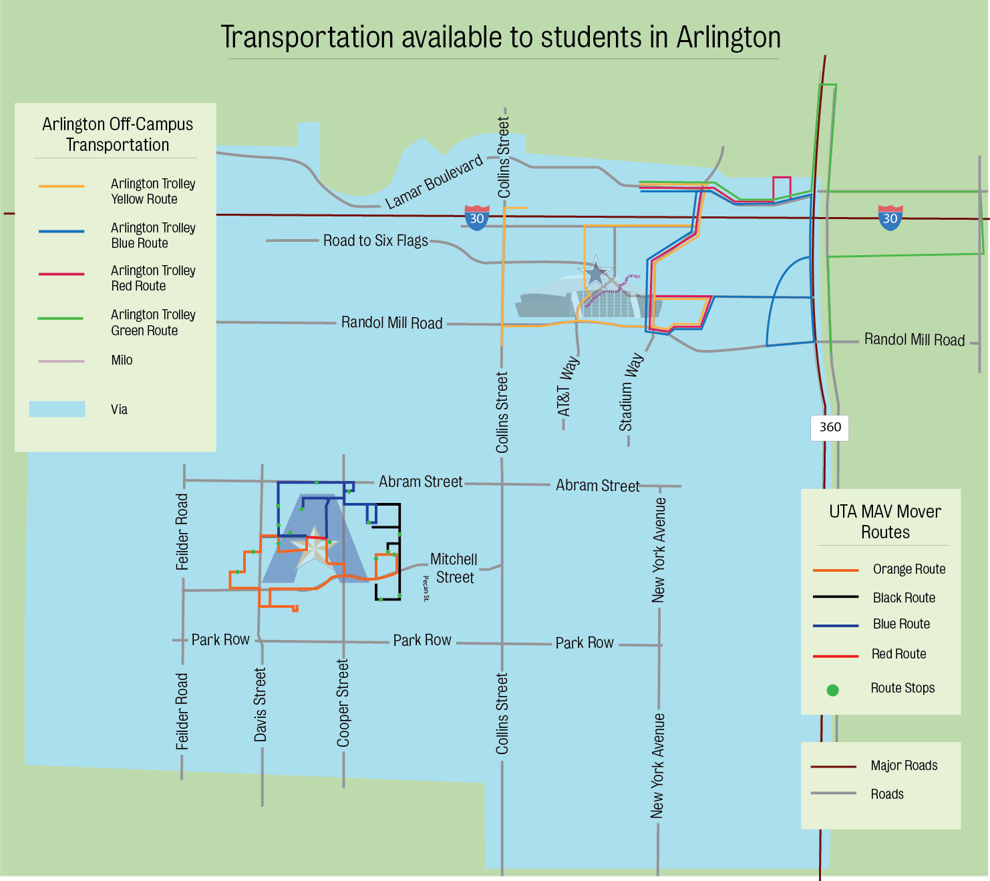 Lack of transportation causes UTA to lose potential students, faculty and staff who can help propel the university toward its goals. 
"It hinders the larger integration of what we do with the rest of the community," Karbhari said. "If you look at top-notch universities, they're tied intrinsically into the community, which means people have to be able to get here and leave as well, and it definitely hurts from that point of view."
Because there is no public transit system, some staff and alumni choose to live elsewhere in the Metroplex, even if they would prefer to stay in the city, Karbhari said.
Additionally, some prospective students or faculty members might decide against coming to UTA because those options aren't available.
"The lack of transportation becomes a deal breaker," Karbhari said.
The financial burden on students without vehicles for on-demand services and taxis is too costly for many students to sustain during their education, he said.
"Public transit affects upward mobility in several aspects," Hamidi said.
In Hamidi's research, she found people born into low-income families were more likely to become financially stable in areas where there is public transportation.
Hamidi said some people fear a mass transit system would make poverty levels rise in Arlington, but she said her research indicates the opposite.
"Transit brings jobs. Transit brings economic prosperity. Transit brings [a] more lively downtown. People bring more people who are willing to invest in an area," she said. "That's what transit brings to a city."
When transportation is a barrier for students getting to the university, it becomes a matter of equity, she said. Students need to be able to get to the education to receive the education.
Local connectivity within Arlington to allow people to get to where they need to go is a necessity, she said.
This can be done with a combination of transit options like buses along with better walkability infrastructure, she said.
Silicon Valley is only successful because it used its close proximity to Stanford University, Hamidi said.
"That can be Arlington," she said.
Ahoura Zandiatashbar, transportation center graduate research assistant, said public transportation attracts innovative technology companies and skilled workers to an area.
Zandiatashbar said being close to public transportation was even one of the requirements for Amazon's search for a $5 billion second headquarters.
Economics professor William Seeger said more direct transportation options, not just in Arlington but regionally, could allow students to engage more with local businesses if they were able to hang around more.
"The more these arteries connected, the better," Seeger said.
This issue of local connectivity is one that postdoctoral research associate David Weinreich is intimately aware of since he was diagnosed with epilepsy at 19, leaving him unable to drive.
Weinreich was hesitant to move to Arlington when he was offered a research position at the transportation center, because of the city's reputation as one of the largest cities without public transportation.
But after deliberation, he decided to accept the position and live within a walkable distance to both the university and the Metro Arlington Express bus station, a pilot program that connected the Trinity Railway Express station to College Park Center.
He biked around the city, but it was often difficult and dangerous. He would often see evidence of cars driving onto sidewalks and wondered what could have happened if he had been there earlier.
Weinreich biked to the grocery store if he could make it before sunset, but he didn't dare to after dark.
He would occasionally use the MAX bus to get to Dallas on the weekend. But when the city decided not to renew its service, Weinreich's confidence in getting around plummeted.
It has a profound negative psychological impact for a person to feel like they can't get to where they need to go, he said.
After losing the MAX bus in December, Arlington once again gained the reputation of the largest city in the U.S. without public transportation.
In September 2017, a 31-member City of Arlington Transportation Advisory Committee released recommendations to address the transportation needs of Arlington.
"We're trying to use our historic lack of investment in traditional transportation as an advantage," said Lyndsay Mitchell, Arlington Community Develop and Planning manager. "The council told us to just run with it."
One of the recommendations implemented through a subsidized pilot program is the on-demand rideshare service, Via.
Via is operated with a mobile app and offers rides in a limited area within Arlington. Shuttles pick passengers up along the route and drop them off at their location, for the subsidized rate of $3.
For Weinreich, when the MAX bus doors closed, a Via van door opened.
He now uses the service to get around the city, when biking is impractical or unsafe.
The system still has many limitations, but could be a piece of the overall puzzle, he said. Used in conjunction with a traditional route system, Via could solve the problem of getting people from their homes to the stations.
The service is still in its early stages and research is necessary to determine whether it's scalable, Weinreich said.
But the service is confined to only a portion of Arlington, a city in which 61 percent of the population leaves the city to go to work, according to the 2015 socioeconomic profile update from the city of Arlington.
People typically don't think about city limits when traveling, Hamidi said. They need to get to work, to stores, to restaurants and these locations can all be out of the city.
Regional connectivity is vital for the future of the city, Hamidi said. Connections to Dallas, Fort Worth and other major economic hubs are essential to developing downtown Arlington.
"Regional accessibility needs regional collaboration," she said.
During Weinreich's studies on the role governance plays on transportation systems, he found the entire Metroplex to be fragmented.
Fragmentation is where you have poor coordination between local governments over policy issues, Weinreich said.
"It's especially problematic for transportation policy because transportation by its nature depends on connections," he said.
A connected and regional public system is necessary, he said. Via and other smaller scale services could promote local connectivity, by transporting people to large-scale regional options, such as a rail service.
"For any transit mode, it's better to have an array of options," he said.
For a regional system to work, local governments need to collaborate, Weinreich said.
Arlington Mayor Jeff Williams said there is interest from the Tarrant County Council of Mayors to implement a rideshare program across the county. He said options like this are better than traditional buses or more expensive systems like a light rail system.
Williams said he doesn't foresee the city investing in traditional transportation modes and will instead supplement Via rideshare with more technology and private company based pilot program solutions.
However, even with Via's subsidized rate, costs add up for students who are dependent on it.
Karbhari gave an example in which a student who uses Via twice a day for four days a week can add up to $1,152, the cost of one three-hour course in the College of Liberal Arts, and almost as much as the estimated annual cost of books and materials.
"Via was a good step," Karbhari said. "We now need to take the next one, and the next one, and the next one to really fill in all the blanks that are there, and the university needs to be a partner in leveraging some of that."
The university previously partnered with the city for the MAX bus, but Karbhari said Via is an incomplete solution that needs complementary parts.
One of the populations not covered by transportation options is the 12,000 students of Tarrant County College Southeast Campus in Arlington, south of Interstate 20 near Mansfield, which is in Texas State Rep. Chris Turner's district.
Students at Tarrant County College are working their way through school. Those without a vehicle are spending $10-12 a ride on non-partnered rideshare services, Turner said.
"That's unreasonable to expect students to be forced to spend that kind of money out of their pockets," Turner said.
Many students are simultaneously enrolled in both UTA and Tarrant County Southeast campus since the university is historically a transfer school, Karbhari said.
"For them, that becomes a problem," Karbhari said. "Now, it's been a historical challenge, so everyone shrugs their shoulders, but as education becomes more and more important, and getting a college degree is getting more and more important, then shrugging shoulders isn't enough."
The last ballot vote for a public transportation option was held in 2002 but was ultimately voted down.
"There is no question in my mind, there never has been, that this is something we need to do," said Richard Greene, ex-Arlington mayor of 10 years and a UTA professor in practice in the College of Architecture, Planning and Public Affairs. "But we haven't figured out how to convince voters to fund a robust public transportation service."
The efforts to fund public transportation at the ballot have been voted down three times, he said. Public transit needs public funding, but Arlington has been unable to secure those funds.
The proposals rely on a sales tax increase to fund the systems, he said. Each city has a cap, and Arlington still has a quarter-cent sales tax to assign, that could be used with the approval of residents.
Each time there has been a push for public transit, the city's leaders have been very supportive, he said. But regardless of continued efforts, the city has been left with the reputation of the largest city without public transportation.
During the 2002 ballot vote, only about 10 percent of eligible voters actually voted, Green said.
"You kind of wonder what would've happened if more of them had," Greene said. "It could be that the people who needed or wanted this service were among those who were missing in action on election day." 
Greene often speaks to his classes on this topic. He said he believes if students get actively engaged in local elections, there would be enough votes from the UTA population to overturn the vote.
"I encounter students all the time in class who will have a bit of a negative, and maybe a little bit of an accusatory attitude like 'Why haven't y'all done this,' like, 'This is not right, and you should be doing it.' I have to explain to them, if the city had the power to just do it, it would be done," he said. "I also remind them that there's enough votes on this campus to make it happen." 
@KyleRCotton @reeseoxner