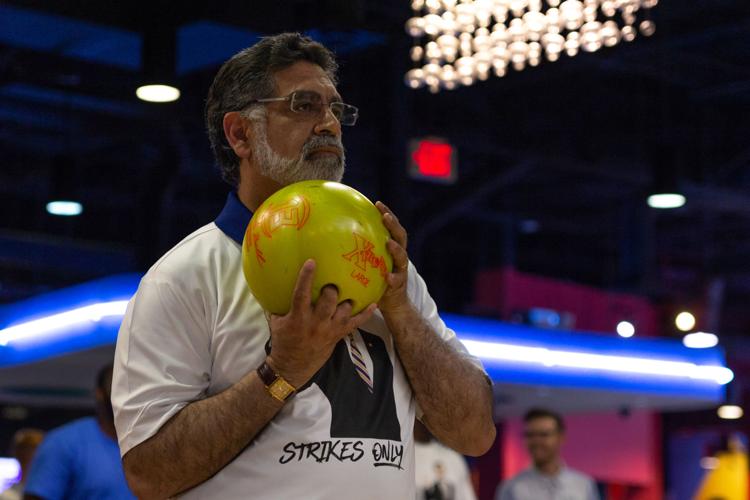 What started as a challenge issued over Twitter ended in free bowling for UTA students Monday night at Alley Cats Entertainment.
On July 23, broadcasting senior Kyle Schow called for a bowling match between himself and President Vistasp Karbhari. Less than a week later, Karbhari accepted and decided to open the event to all UTA students.
Students ranging from UTA basketball players to members of Student Governance gathered to watch Schow and Karbhari go head to head.
Finance senior Benjamin Nnawuihe said he has been bowling since 2006, and when he heard about the event, the first thing he did was email Student Affairs to see if he could get involved.
Nnawuihe said he goes bowling to settle scores and get bragging rights, going bowling three or four times a month.
Despite not being able to practice because of work and school, Schow said he wasn't nervous.
"If he embarrasses me at bowling, maybe he'll be down for me to embarrass him at laser tag," he said.
Though he works at Alley Cats Entertainment, Schow said he only goes bowling once every month or two, and the highest he had ever bowled was a 150. He said he would be happy if he bowled in the triple digits during his matches.
"I'm not an incredible bowler anyways," Schow said. "If I do bad, it's not opposed to my norm."
Karbhari said he gets to go bowling every eight to nine years, but he had gone bowling the night before to practice.
UTA President Vistasp Karbhari was challenged to a bowling match on Twitter by broadcasting senior Kyle Schow over the summer, and on Sep. 16 …
Bowling alongside Schow and Karbhari were Mr. UTA Dylan Hernandez and Karbhari's wife, Lisa Karbhari.
During the first match of two, Schow had all four contestants on the ropes. It wasn't until the sixth frame that Hernandez began to heat up, scoring three consecutive strikes, commonly known as a "turkey." 
"Mr. UTA came up to me before the game. He's like, 'Don't worry, I haven't bowled since high school, I'm not very good,'" Schow said. "I want to know what his definition of 'not very good' is." 
Hernandez said he bowled in a league and was captain of his high school's bowling team about three years ago.
"It really wasn't planned that I was going to bowl against them," he said. "I just kind of walked in, and they noticed me, so they wanted me to go ahead and be on that lane."
Match one ended with Hernandez coming out on top with a score of 152, beating Karbhari's score of 129 and Schow's score of 126.
When it came time to start the second match, Student body President Gavin Mitchell was added to the lane. 
"Things like this are really cool, especially for the students' interaction with the administration," Mitchell said.
Though Schow said he usually does better his first game, he was able to beat Karbhari's second score of 98 with his own score of 114.
Match two ended with Hernandez narrowly defeating Schow with a score of 118.
"It's nice to see that the university made something out of it," Schow said. "It would have been kinda boring if it was just us two here."
@PeytonNorth