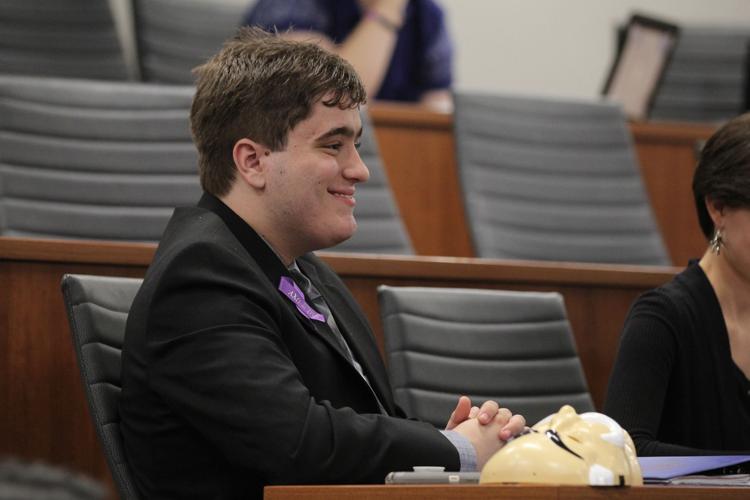 When campus election results were announced Oct. 16, political science freshman Landry Rhodes didn't hear his name called for the College of Liberal Arts senator position he was running for.
As a current senator, he was disappointed he didn't win one of the four seats, but now he sees it as a learning experience. Rhodes said looking back on it, he could have done more to campaign for a seat, and if he could do it all over again, he would.
"When that opportunity comes again, I need to do more in order to get the results I really want," he said.
Rhodes said the results motivated him to become more involved on campus in the future.
He said he might run for another Student Government position, or he might get involved with other campus organizations.
Cecilia Silva, Speaker of the Senate, said becoming motivated is one of the ways she has seen senators react to not hearing their name called for re-election. Sometimes they lose motivation, or end up resigning before their term ends, she said.
But Rhodes is looking forward to sponsoring more legislation and seeing existing resolutions reach the floor for a vote, as his tenure reaches an end in December.
"Renaming the University Center," was a resolution Rhodes wanted to see action taken on before the end of his term because it was an interesting topic, he said. The resolution sought to remove former university president Ernest Hereford's name and bust from the center because some claimed he fostered a racially intolerant campus.
"It's probably one of the hottest issues, you know, [in] Student Government at the moment," he said. "I'm very excited to see where it goes."
Rhodes said he was appointed as a College of Liberal Arts senator for a six-month term in his first semester at UTA. He said his time as a part of Student Government helped him grow. Serving as a senator helped his communication skills, made him more professional and will bolster his resume.
Political science junior Brian Black, on the other hand, just got elected to his first Student Government position as a College of Liberal Arts senator for spring 2019.
He is one of 12 new student senators elected for the following semester. There were 11 senators re-elected.
Black was working at a fundraiser when the election results were announced, but once he found out he was elected he felt relief.
"It was relief that voters still chose," he said.
Black said he was nervous because his name was one of the last names listed on the College of Liberal Arts senators ballot. There is a phenomenon known as the "ballot drop-off" where the candidates are less likely to be elected the farther down a name is on the ballot, Black said.
He still received the second most votes among the College of Liberal Arts, and he said it was partially because of the campaign strategy he used.
Architecture junior Marcos Gonzalez was his campaign manager, and he had other friends help his campaign out unofficially, Black said. He did a lot of personal outreach on campus and pushed his campaign out on social media, he said.
The personal outreach is an important way to show students that a candidate cares, Black said.
"There's nothing more that college students want then a 4.0, free food and someone to take the time out of their day and talk to them and care for them," he said.
Another probable reason for Black's successful campaign was his experience, he said.
Black said he brings experience to the position with a resume that includes high school student government experience, founding a political youth outreach organization and experience working for a Texas House of Representatives and a Texas State Senate campaign.
Black said although he hasn't been a part of Student Government at UTA, he's excited to represent the student body and the College of Liberal Arts.
"The people in this college are amazing," he said. "It's gonna be a great privilege to be able to serve them as their student senator and to hear their ideas, no matter how big or small they are."
@HeitmeierDalton