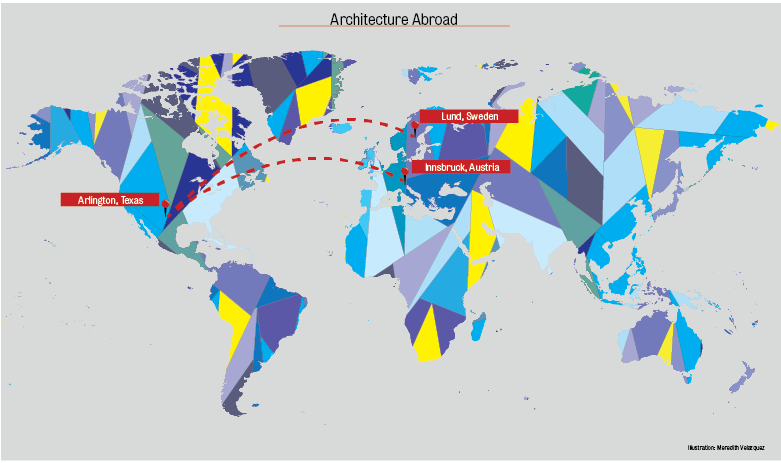 Oswald Jenewein, visiting architecture assistant professor, initially visited UTA in 2012 as a graduate student from Austria, participating in the architecture exchange program.
Three years later, he moved to UTA for a teaching position.
Exchange programs are longer than typical faculty-led trips, Jenewein said. It's a semester of classes placed at another university.
Now, as chairperson of the college's study abroad committee and the Austria program coordinator, he wants to help offer the same opportunities to UTA students.
Jenewein said no students were participating in the exchange program in 2015. This semester, six students are currently abroad with more to follow.
Because of his previous experience studying abroad, he decided to utilize his connection with the University of Innsbruck in Austria to help facilitate the program and open it to undergraduate students in addition to graduate students.
The program has increased in the last two years and has the highest participation numbers in at least 10 years, which is how far the record goes back, Jenewein said.
Jenewein said he wouldn't be surprised if it were the highest ever, though.
Studying architecture and studying abroad go hand-in-hand, he said.
"Architecture is a cultural practice," he said. "It's not only about the built environment in a specific place, but really including the environment as a whole."
The exchange programs with students currently abroad are made possible through collaborations with the University of Innsbruck and Lund University in Sweden.
Six students are currently abroad through the exchange program, five in Austria and one in Sweden.
Four students from Innsbruck have been nominated to come to UTA next semester, after a five-year period with none, Jenewein said.
Architecture junior Nicholas Foxx decided to participate in the Innsbruck program to gain new experiences and learn about architecture in a new context.
"In terms of being an architecture major and studying abroad, I think it's especially important just for me to be able to see all these places that I study," he said during a video call from Innsbruck.
Housed in a valley and dubbed, "the capital of the Alps," Foxx said he often enjoys the views of snow-capped mountains while eating a breakfast of freshly baked bread.
"I've definitely learned a lot about myself just in the short amount of time just, you know, being away from home and friends and sort of being somewhat isolated," he said.
The Innsbruck classes are much less structured than classes he's taken in the U.S., focusing more on abstracts than concrete answers, Foxx said.
"It's a great opportunity to get outside of your comfort zone and experience a different part of the world and a, you know, different style and methodology of architecture," he said. "It's a complete, you know, lifestyle change."
Although he appreciates his education, Foxx said the change in approach is refreshing, and he'd love to see a similar approach of organic and interpretive learning at UTA.
Foxx said he's not sure whether he's going to live internationally or stay in the U.S. after graduation, but he could see himself back in Innsbruck.
Architecture graduate student Braison Boykin has completed four months out of six with Lund University.
The environment is very liberal and laid back, he said during a video call. Breaks are taken very seriously, with hour-long segments of time dedicated to recharging energy in the middle of a school day.
Classes are also more interpretive, he said. There isn't just one right answer, but a variety.
Boykin said he'd miss the way cities were laid out in Europe when returning to the states. They're walkable, and have public transit, trains, arts and culture, he said.
The U.S. should emulate the public transportation model in Sweden, he said.
This experience has been inspirational to him as a designer, and he recommends it to any student who has a chance to travel.
"It's really important for people to step out and kind of see what life is like from a different perspective," he said.
@reeseoxner