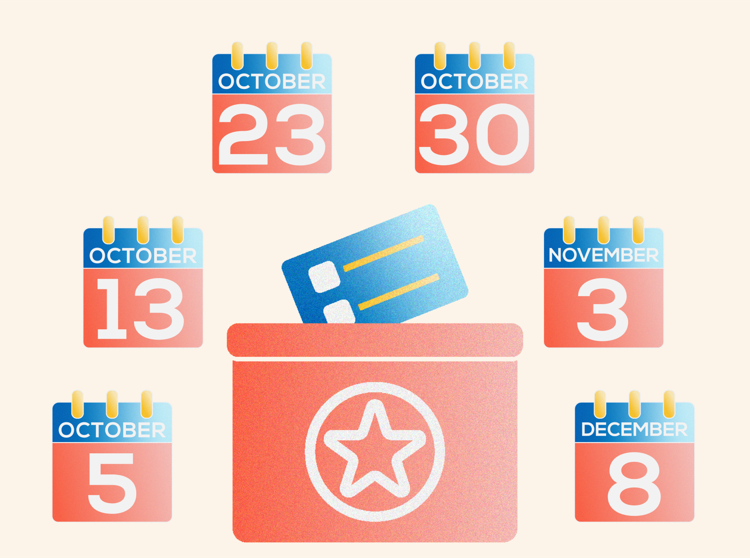 Early voting begins in 20 days, so here are things to remember before the Nov. 3 U.S. general election and the Arlington joint general and special election.
The ballot includes seats for statewide, congressional and legislative offices. Arlington residents will also vote for City Council representatives for districts 1, 2, 6 and 7 and a potential sales tax raise from 8.0% to 8.25%.
Oct. 5: Last day to register to vote
To be eligible to vote in Texas you must be:
18 years old by Election Day
Registered in the county one resides in
A U.S. citizen
Not be convicted of a felony, or if you are a felon, you must have completed all of your punishment, including any term of incarceration, parole, supervision, period of probation, or you must have received a pardon
Not have been determined by a final judgment of a court exercising probate jurisdiction to be totally mentally incapacitated or partially mentally incapacitated without the right to vote
How to register to vote
To register to vote go to the Tarrant County election's website, download and print a registration form, fill it out and return it to the Elections Department. If mailed in, the application must be postmarked by Oct. 5 to be accepted for the November election.
Voter registration applications are available at the Tarrant County Elections Center, all Tarrant County subcourthouses, U.S. post offices, city halls, libraries and public assistance offices in Tarrant County, according to the county website.
Individuals can also request a paper application from the Texas Secretary of State Office. The office will mail a registration application to individuals, which they can mail to the county voter registrar after completion.
If an individual moves to another county, they must register with the new county to be eligible to vote there. If they move within the same county they must contact the voter registrar or visit the Secretary of State website to update their address.
To check your voter registration status, visit votetexas.gov.
Oct. 13: First day of early voting
Individuals registered to vote may vote early, but it must be done in person unless you qualify to vote by mail. Early voting runs from Oct. 13 to Oct. 30.
Individuals need to provide one of the seven acceptable forms of ID to vote early or on Election Day.
Acceptable forms of ID include:
Texas driver's license
Texas election ID certificate
Texas personal ID card
Texas handgun license
U.S. military ID card with a photograph
U.S. citizenship certificate with a photograph
U.S. passport
If an individual doesn't possess and cannot easily obtain one of these forms of identification, they can show one of the following forms of identification and must complete a Reasonable Impediment Declaration:
A copy or original government document that shows the voter's name and an address, including the voter's voter registration certificate
A copy or original current utility bill
A copy or original bank statement
A copy or original paycheck
A copy or original certified domestic birth certificate or document confirming birth admissible in a court of law which establishes the voter's identity
How to vote
During the pandemic, it's important to stay safe when gathering in large crowds. Early voting takes place in person before Election Day, which is typically less crowded, according to healthyvoting.org.
If you can, go when the polling location will be less busy, usually midmorning or early afternoon, according to healthyvoting.org.
The Centers for Disease Control and Prevention recommends individuals choosing to vote in person to be prepared at polling locations by:
Checking your voting location and requirements in advance
Verifying your voter registration information is correct in advance
Making sure you have all necessary documents to avoid delays at the polling location
Reviewing or completing a sample ballot at home to speed the process of casting your ballot at the polling location
Bringing your own black ink pen
Bringing a stylus or similar object for use with touchscreen voting machines, if acceptable at specific polling locations
Healthy tips for in-person voting include:
Following the protocols in place at particular polling locations
Wearing a mask or other face covering
Maintaining a physical distance of 6 feet to protect yourself, election workers and other voters
Washing your hands with soap and water for at least 20 seconds or using hand sanitizer with at least 60% alcohol before and after voting
Avoiding touching things not related to voting
Avoiding sanitizing voting machines yourself
Where to vote
Here are a few early voting polling locations for the Arlington area. To find more polling locations in Tarrant County go here or to the Tarrant County website's voter lookup tool.
Oct. 23: Deadline to request mail-in ballot
The last day to apply for a mail-in ballot is Oct. 23, and individuals must state a specific reason to vote by mail. You do need to be registered to vote to request a mail-in ballot.
Individuals eligible to vote by mail include:
Those out of their registered county on Nov. 3 or the entire span of early voting
Those who have a sickness or disability
Those who are 65 years old or older
Those confined in jail, but otherwise eligible
How to vote by mail
You can download a request form from the Tarrant County website, print and mail or email it in, or call or visit the Tarrant County Elections Office to fill out and return the form.
Return the ballot by dropping it off in person at the Tarrant County Elections Office or mailing it in.
Make sure your ballot counts by signing the declaration on the return envelope, sealing the inner and outer envelopes and closely following all instructions.
The U.S. Postal Service recommends that voters mail their ballots before Election Day and at least one week prior to their state deadline.
The deadline for mail-in ballots to be counted is Election Day and postmarked at or before 7 p.m. and received the following day by 5 p.m.
Oct. 30: Last day of early voting
Nov. 3: Election Day
On Election Day, polling locations are open from 7 a.m. to 7 p.m. The process can take several hours, so expect to be waiting in a line at some point. With that in mind, it's important to follow safety and social distancing guidelines.
Individuals need to provide one of the seven acceptable forms of ID on Election Day.
If an individual doesn't possess and cannot obtain one of these forms of identification, they can show acceptable alternative forms of ID and must file a Reasonable Impediment Declaration.
Election Day polling locations:
To find more Tarrant County polling locations go to tarrantcounty.com.
Dec. 8: Runoff election
Any runoff elections necessary for the city of Arlington will take place on Dec. 8. In Texas, a runoff election is triggered if one of the candidates does not get over 50% of the vote.
@kateceyharrell