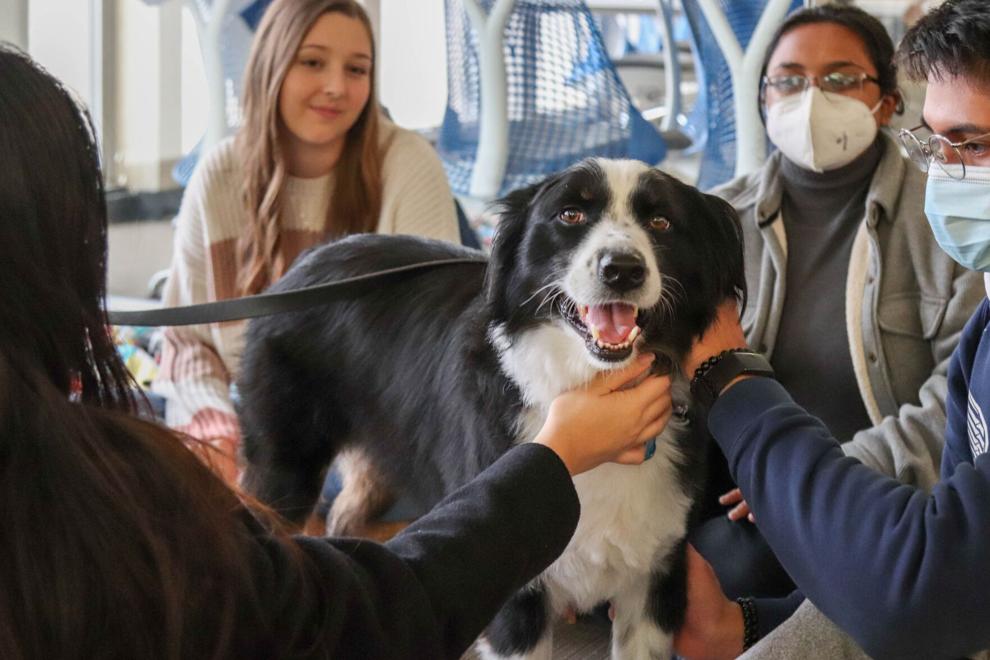 Trinity Ramirez, freshman Coordinated Admission Program student, has attended two doggy days events making sure to match up with Henley both times. Ramirez saw the events posted on the UTA events calendar, attending in hopes to de-stress.
"He's probably the craziest," Ramirez said. "A lot of them are calm and soothing, but I like to play with them a lot, and it's just really fun."
Missing her pet at home, Ramirez filled the gap at UTA Libraries on Wednesday for its Doggy Days event on the sixth floor of the Central Library.
From noon to 2 p.m., dog handlers from Pet Partners brought four therapy dogs, Henley, Jax, Lucy and Sassy, for students to play with as a way to relax.
Doggy Days is held the first Wednesday of every month, giving students a chance to schedule a play date with a dog and handler pair to de-stress, said Andrew Doyle, UTA Libraries social events coordinator.
The event always has a high turnout, Doyle said. Students have even expressed interest for their own dogs to become therapy dogs.
Sassy's handler Susan Venable joined Pet Partners in 2019 after retiring. She volunteered to give students a break from studying and help them to relieve stress.
During a 15-minute slot, students can play with the dogs, and Venable creates conversation while they play with Sassy, Venable said.
"Some students' dogs are way back home, so they miss their puppies," she said. "That's kind of why we come."
Accounting freshman Evalynn Le said she felt relief after spending time with the dogs.
Mechanical engineering sophomore Leandro Gamboa attended the event after he completed his calculus and physics tests last week.
Events such as Doggy Days give students a break from the pressure of midterms, Ramirez said. 
With his pets at home, Gamboa came out to spend time with the calm dogs, he said.
"Just bringing dogs to what would be a work zone into something that's just chill kind of breaks that work environment and gives things a more relaxed feel," he said.
Being the last Doggy Days of the semester, UTA Libraries will hold its next Doggy Days event in the spring semester, starting on the first Wednesday of February, Doyle said.
@trinhvchristine