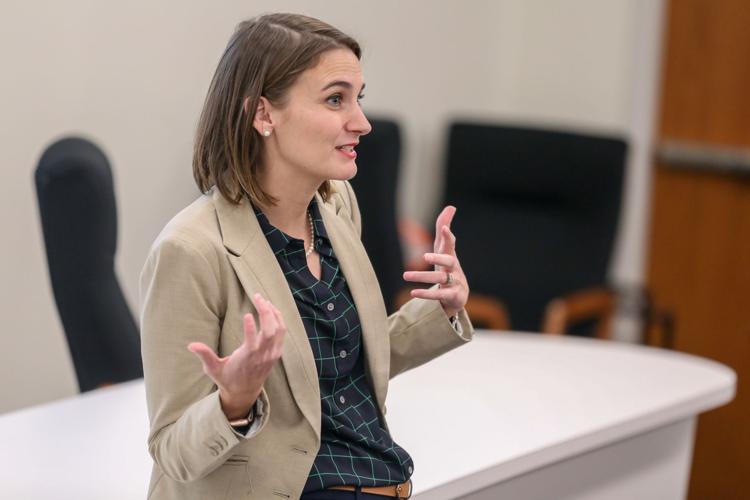 The Division of Student Affairs held the second of three scheduled candidate forums for the Student Publications director position on Thursday.
The position oversees the Student Publications office, which houses The Shorthorn.
In mid-July, the position was left vacant when former director Beth Francesco took a position as an operations director for the National Press Club Journalism Institute in Washington, D.C.
Candidate Rachel Jennische highlighted the role of student media in journalism, talked on monetization opportunities and gave her insight on the future of student media.
Jennische currently works at Tyler Junior College as a mass communication professor and an adviser for the student media organization, The DrumBeat. She also works as a storytelling freelancer.
The role of student media is a community service, she said. Student media serves students, faculty, staff, alumni and the local community.
"No one else covers this campus," Jennische said. "This is student media's job."
The Shorthorn has the opportunity for cross-platform advertising and underwriting, she said. That's something Jennische said she has worked with in the past and can help bring to The Shorthorn.
"What we can do is funnel this into your own little student advertising, [public relations], creative services," she said. "What that does is it's going to generate revenue for the students, it will generate revenue for The Shorthorn and it kind of goes back to that learning by doing."
Jennische said being involved with student media gives students an advantage. It builds portfolios and transferable skills.
"Student media is real media," she said. "This is going to lead to so many different jobs for you guys. It's going to open these doors."
If chosen for the director position, Jennische said she would like to see more integration of partnerships with professional media.
"I want people to call us and say, 'Oh we have an assignments editor position, who do you have?'" she said. "I want it to be so easy for our students and alumni to become working journalists that everyone knows that UTA is a pipeline for future employees in the media field."
Janet Neff, alumna and search committee member, said she hopes to see a great leader and supporter of The Shorthorn as the new Student Publications director.
Neff said it takes a skilled person to operate as the director because of the different environments that the position interacts with.
"It takes a special balance of skills to be able to communicate both with the other department heads, the administration, your own staff and then reach the [students] we need to," alumnus John Ostdick said.
Ostdick said Jennische showed she did her research by pulling up and presenting published Shorthorn articles and headlines.
He said he is looking to find someone who will take the time to familiarize themselves with the different departments and roles.
Ostdick said Shorthorn alumni each have a different perspective on the role of Student Publications director because of the person who had the position at the time.
"But the bottom line is that person doesn't exist and the industry that we worked in doesn't exist," he said. "What we're looking for is somebody to tell us how they can make [students'] educational experience all the better."
The next candidate forum is scheduled for 9:15 a.m. Nov. 15 in the University Center's lower chambers.
@rocio_mhdz