Yellow umbrellas with the names of police brutality victims written in black created a canopy over a group of around 60 people, chiefly young adults, as they made their way down the streets of the Arlington Highlands on Sunday.
This protest is one of hundreds nationwide that mark the fifth consecutive week of demonstrations against police brutality following the death of George Floyd.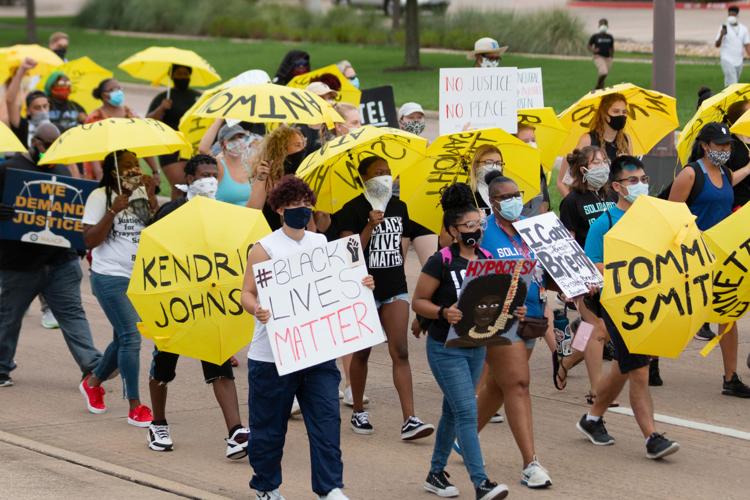 For pre-law junior Zander Green, one name stands out from the rest.
His cousin, Christian Taylor, a 19-year-old Black man, was shot and killed by an Arlington police officer in 2015.
Green said he remembers how genuine Taylor was and how he could go to him for anything. Taylor, who played football for the Angelo State Rams, would play football with Green and was always willing to teach him anything.
He said Taylor is constantly on his mind, not just at protests but all the time.
Green came out to Sunday's protest because it was what he felt he should do. In order for change to happen, it needs to start with protests, he said.
This was the second demonstration Arlington resident Tatum Henderson has organized in recent weeks. It took about two weeks to plan, and she had to contact two different deputies along with Mayor Jeff Williams beforehand.
Henderson said she wasn't surprised that protests have continued nationwide for five weeks. Usually, protests continue to happen longer than what mainstream news outlets show, she said.
Consistently showing up and taking to the streets shows the seriousness of the movement, Henderson said.
"People see that we're not going to back down," she said. "We're not just going to sit and let the injustices happen."
As the group turned onto Matlock Road, Arlington resident Carrington Sneed led a chant shouting, "This is what community looks like."
Sneed walked toward the front of the group alongside Henderson, who held a white sign, and Green, whose fist was raised.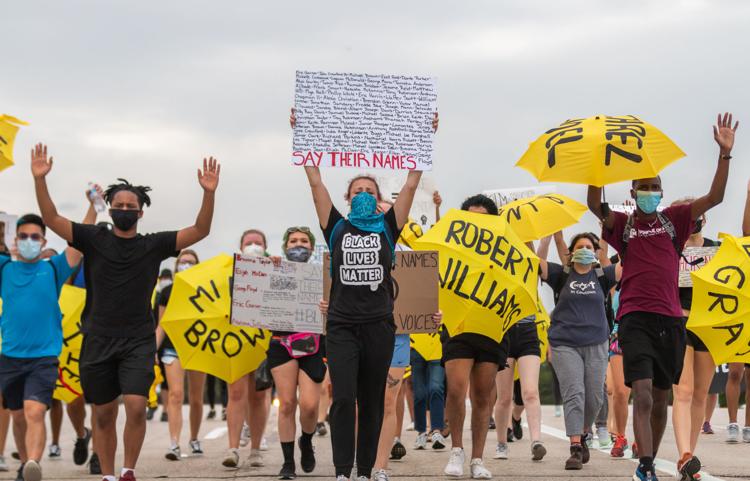 Sneed said now more than ever the younger generation has the opportunity to enact change to the system.
"We're just tired of this s---," Sneed said.
Along the way, cars passed by on the opposite side of the road, honking in support. Some slowed down and stopped to video the group, fists raised in solidarity with the protesters.
As the group passed by neighborhood houses, residents peered over their fences, some cheering on the protesters.
Toward the end of the march, Green stopped and asked if he could tell the group about Taylor.
In an emotional speech, Green told the crowd how his family was never the same after his cousin's death.
"I can't walk and think the same ever again," he said.
Green called on the crowd to fight every day for justice, not just for Taylor but for every name on the yellow umbrellas.
"It doesn't just start with one name, but it ends today!" Green yelled, starting a Black Lives Matter chant with tears in his eyes.
@megancardona_