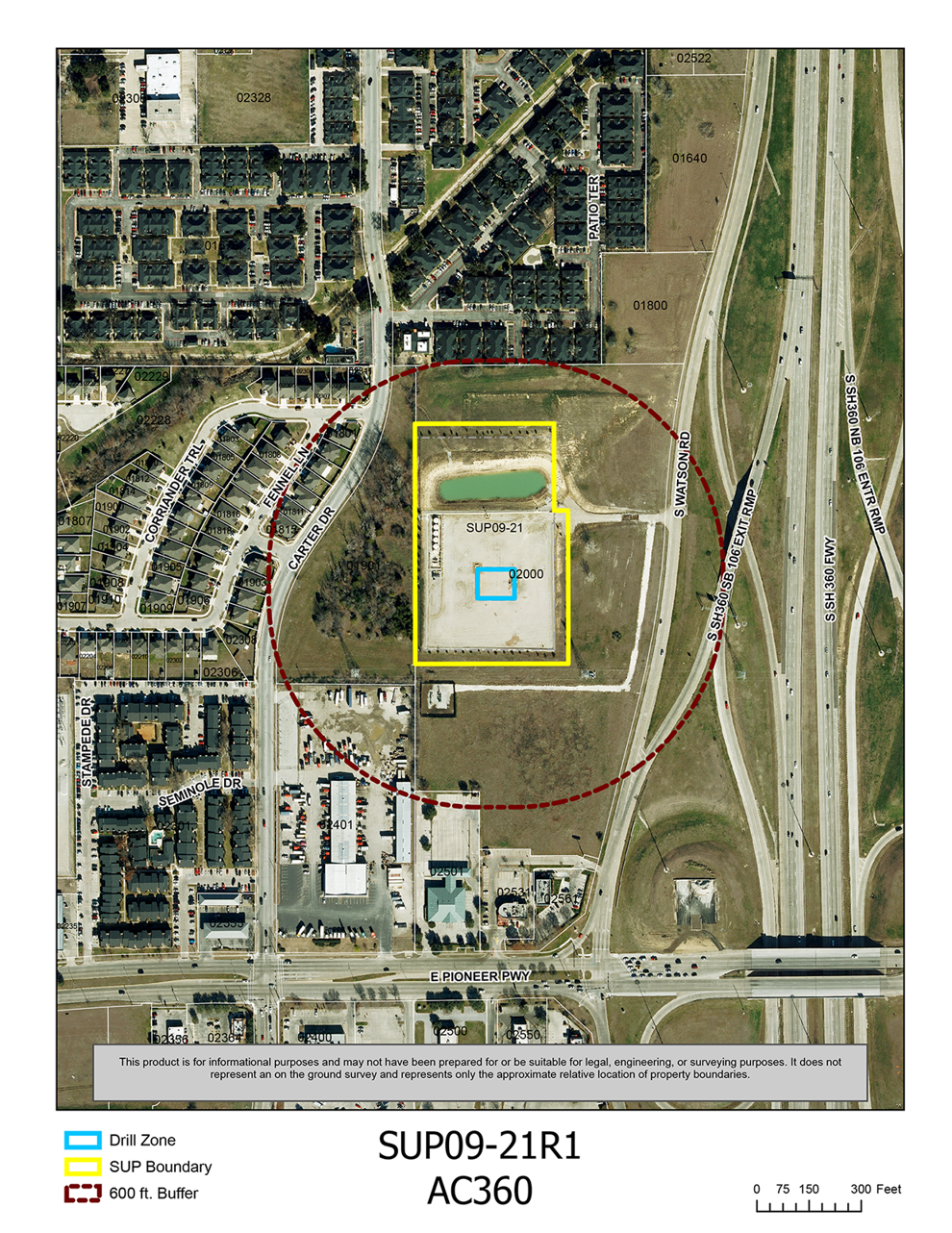 Arlington City Council voted 6-3 against allowing three new hydraulic fracturing, or fracking, drilling sites under the 600-foot minimum requirement near a protected zone during its Tuesday virtual meeting.
According to Texas House Bill 40, municipalities are not allowed to regulate gas drilling beyond commercial reasonability. This means municipalities cannot ban any type of gas or oil drilling process, including fracking, council member Ignacio Nuñez said.
Total E&P Barnett USA, LLC, an energy company, requested to place a drilling site 507 feet from residential homes at 2000 S. Watson Road, according to the city council staff report. There are currently two fracking sites at the location. 
An oil or gas drilling site may not be within 600 feet of a protected use zone, according to Arlington city ordinances. Protected zones include homes, schools and parks. However, the city council can vote to reduce this down to 300 feet.
There were 13 citizens who spoke in opposition to adding the new drilling sites and 30 letters of opposition added the day of the meeting.
Nuñez said if the council voted against the fracking sites it would be sued, and it doesn't have the resources to defend against such a lawsuit.
"If I had my way, I'd ban fracking in Arlington, and I would've never allowed it," he said. "Because I know what it can do. But if we vote unanimously tonight, if we vote to ban it, I guarantee you, we're going to be in court."
However, the council voted the proposition down soon after.
Arlington has 350 gas wells at 52 sites, and 32 of those are under 600 feet, city communications coordinator Susan Schrock said in an email. The sites all use hydraulic fracturing, which is the process of injecting water, steam, gas or other substances into a well to break apart the shale in order to retrieve as much natural gas as possible.
A learning center for children aged six weeks to 12 years old is located just outside the 600 foot minimum.
Liveable Arlington founder Ranjana Bhandari submitted a letter of opposition to the city council regarding the new gas wells. Liveable Arlington is an environmental and children's advocacy group.
"Arlington's pretty densely populated," Bhandari said during a phone interview. "We have 99 square miles, close to 400,000 people living in the 99 square miles and we have close to 400 gas wells. Wherever you are in Arlington you're constantly exposed to emissions."
According to the letter she submitted, the preschool playground will be subject to toxic emissions and Total has a history of emission complaints at their other drilling sites.
She also spoke in opposition during the public hearing.
The area code where the gas sites were slated to be drilled, 76010, has the highest rate of COVID-19 cases in Arlington. Air pollution, such as the kind Bhandari says is caused by the existing hydraulic fracturing wells on the site, has been linked to higher death rates for the virus.
There have been multiple studies linking fracking to respiratory issues in children, she said.
Total did not respond to a request for comment in time for publication.
However, in a presentation to the council, Kevin Strawser, Total E&P Barnett's government and public affairs manager, said the existing sites have not violated state regulations nor is he aware of any major issues related to the sites in Arlington.
Tom Edwards, city gas well coordinator, said Total wants to add three additional drilling sites to the two existing gas wells on the property. He said the company would need to come back for council approval on the actual gas wells.
In surrounding cities, like Dallas, the limit for oil and gas drilling is set at 1,500 feet, Bhandari said.
"I'm not sure why our rules are pretty driller friendly and not community friendly," she said.
Wanda Vincent, Mother's Heart Learning Center director, said the current gas well site is in direct line of sight of the learning center.
"The site is really in our backyard," she said. "We're staring at it basically every time we go out for recess."
No one from the city contacted her about the proposed additional drilling sites near the location, Vincent said. She only found out about the potential added sites when a resident stopped by a few months ago and told her.
She said the learning center has been in the same location for 17 years, and she just wants to make sure everyone is safe and knowledgeable about the gas well site.
"It kind of concerns me, and it can concern my clients and customers because we want to make sure that everyone is safe," Vincent said.
Vincent also spoke in opposition during the council meeting.
She asked the company requesting the drill sites if they could guarantee the safety of the children at her daycare and the surrounding community, now and in the future.
The learning center's clients are about 80% African American and 20% Latino, she said.
"It makes me wonder, down the road, will some of our babies become sick," Vincent said.
Chemistry professor Kevin Schug has been studying hydraulic fracturing since 2011.
Data suggests that air pollution from these sites can cause asthma, chronic obstructive pulmonary disease and skin issues, Schug said. The data also suggests that children and the elderly are more susceptible to these health issues.
"There's plenty of room to do this outside of heavily populated areas," Schug said. "The limited amount of studies investigating exposure risks should be a red flag that if a city wants to embark on this, I think they have an obligation to show that it's safe to be around or to assess its safety."
The consensus among the scientific community is that these sites should be at about 1,000 feet from residential homes, he said.
Schug said no research was available to guide lawmaker's decisions when the laws were first developed. Now that there is data about the effects of these sites, laws should take the research into account, he said.
It's not necessary to have these operations next to the public, but they need to be monitored if they are, Schug said. It's irresponsible to have this operation so close to residential homes and a daycare, he said.
"I'm not for or against fracking. I see the value of it, but it needs to be done responsibly," he said.
Brayden Garcia contributed to this article.
@spencerbrewer10
@bjgarcia27