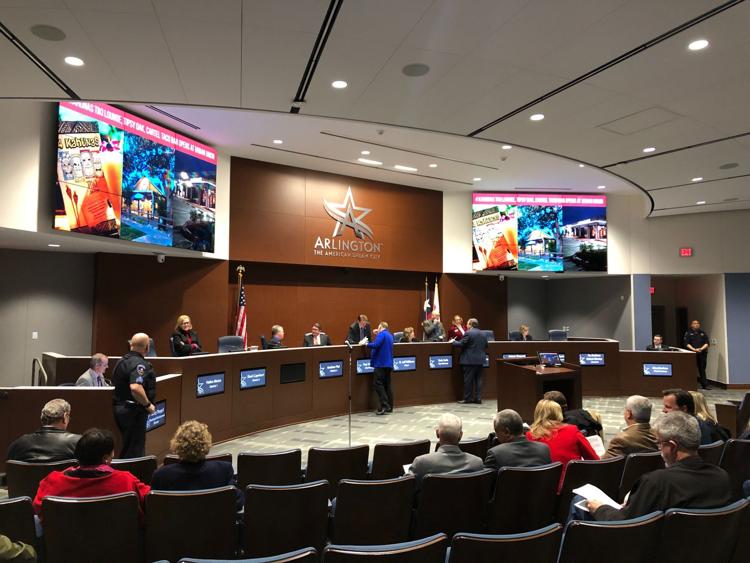 A vote to approve a 0.25% increase in sales tax will be on the May 2 ballot, after it was approved by Arlington City Council on Tuesday.
If voted on in May, the sales tax would increase the current 8.0% rate to 8.25%.
The current sales tax is divided with 6.25% going to the state and 1.75% staying in Arlington for various things. For the amount that stays in the city, 1.0% goes to the city's general fund, 0.50% to sports and community venues, and 0.25% for street maintenance, according to a previous Shorthorn article.
If approved, the additional 0.25% would be for economic development and would begin Oct. 1, when the fiscal year starts, according to a previous Shorthorn article.
The council voted 8-0 to include the increase in sales tax on the ballot. Council member Marvin Sutton was not present for the meeting.
Before the increase in sales tax was approved, it was met with 16 speakers for and 14 against.
Michael Jacobson, Greater Arlington Chamber of Commerce president and CEO, spoke for putting the increase in sales tax on the ballot.
Jacobson said he couldn't think of a better reason to raise the sales tax than it being for economic development. He said the sales tax raise is an opportunity to create jobs for the people of Arlington.
Arlington resident Faith Bussey spoke against putting the increase in sales tax on the ballot. She said she believes even the consideration of the tax proposal is irresponsible.
She said there is no protection for small businesses who will be forced to compete with larger businesses. There are also no protections for the taxpayers who have been burdened with debt and high property tax bills, she said.
The government shouldn't be in the business of creating jobs; that's something the private sector should be doing, Bussey said.
Council member Barbara Odom-Wesley said the sales tax increase gives the city the opportunity to elevate the quality of life of citizens in Arlington.
"If we do nothing, the conversation that we'll be having won't be about how to raise more revenue for the city," she said. "It'll be about which services do you want to cut first."
Also approved at the meeting was the May 2 general election date and the June 13 runoff election date, if needed. Early voting will run from April 20 to April 28, and early voting in the runoff will be from June 1 to June 9.
The general election will include council member districts one, two, six and seven.
Sheri Capehart, district two council member, and Robert Shepard, district six council member, are ineligible to run for reelection because of the term limits measure passed in 2018. Helen Moise, district one council member, and Victoria Farrar-Myers, district seven council member, are seeking re-election, according to a previous Shorthorn article.
@bjgarcia27