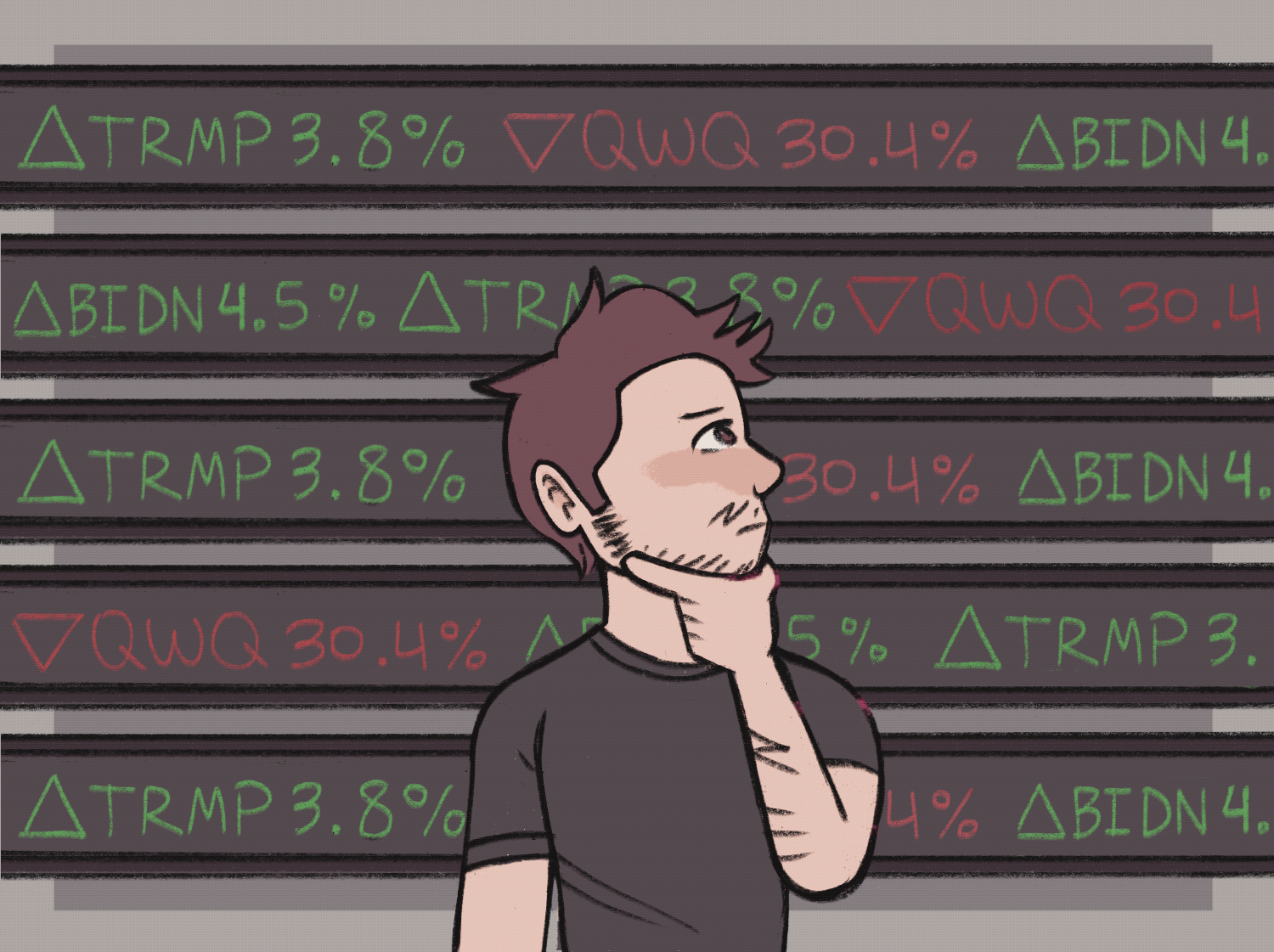 Economists and political scientists can analyze the economy's performance to forecast presidential elections because it influences how citizens cast their votes.
There are various economic models that try to forecast elections. However, it's hard to know how accurate these models are in the 2020 general election with COVID-19 and an incumbent president unlike any of his predecessors.
"Forecasting is a little bit like trying to drive while you look in your rearview mirror," economics senior lecturer Roger Wehr said. "Because basically you're looking at what happened in the past. For all you know you could be driving off a cliff."
One economic model states that if the national money supply is growing 17 months before the election, then the incumbent would win. If it is contracting, then the challenging party would win, Wehr said.
This is because people only experience the impact of money supply after a 17-month delay, he said. The incumbent would still benefit from 17 months of prosperity lag even if the economy was not good at the time of the election.
Looking back 17 months from election day, which was June 2019, the money supply growth fell to the third-lowest growth rate since 2007, according to Mises Institute. In theory, that means President Donald Trump would not win, according to the economic model.
The money supply is the total amount of money such as cash, coins and balances in bank accounts that are in circulation. The Federal Reserve monetary department reviews money supply data to conduct monetary policy such as moderating interest rates.
In another economic model by Yale economist Ray Fair, gross domestic product and inflation are more important in affecting election outcomes, Wehr said.
GDP is the total value of the goods and services produced within a country over a period of time,
usually a three-month period or a year. Inflation is the increase in the cost of living over time, one example being gasoline prices.
"When the price of gasoline shoots up, people are not really happy with the president," he said. "And when the price of gasoline goes down, we're a little bit happier with the president."
People pay attention to gasoline prices because almost everyone buys it, and it comes across as a necessity, he said.
Voters typically vote based on the money in their pocket, he said. If the economy is doing well, they don't want to rock the boat by voting for the challenging party. But if inflation is rising and the economy is doing poorly, then the challenging party tends to win.
Before COVID-19 impinged the job market, the unemployment rate declined to 3.5% in late 2019, the lowest recorded since 1969, according to the Bureau of Labor Statistics. GDP reached an all-time high at $21.374 trillion in 2019, according to the World Bank Group.
Despite the unemployment rate declining for the fifth consecutive month amid the pandemic to 7.9%, or 12.6 million people in September, President Donald Trump is still behind Democratic presidential nominee Joe Biden in national polls.
"That doesn't mean [Trump] will lose the electoral college votes," political science professor Thomas Marshall said. "Although he may."
Trump did not win the popular vote in 2016 and "almost certainly" will not win the popular vote this time, Marshall said.
Blaming the other party for past economic recession or talking about prospective economic plans does not mean anything to the public, he said. People only take into consideration the economy six to eight months during election year.
Voters don't take anything into account outside of the election year, he said. What matters is what's happening to the economy in real time across the board.
"In real time, which means not before Jan. 1 of 2020," he said. "That almost has no impact at all."
The economy has been performing strongly during Trump's presidency, but it has downturned this year because of the coronavirus, Marshall said.
Most presidents will get reelected if the economy remains healthy, he said. But if there is a recession, incumbents normally do not stay in office.
When information systems senior Ryan Dinh votes in the election, he considers each candidate's personality, record, experience and position toward policies such as helping the poor, race issues and climate change.
Economy is an important issue, too, Dinh said. It affects people's livelihoods and their ability to provide for their families during the pandemic.
"With Trump, I think his problem is that he's not really doing anything with COVID," he said. "So COVID continues to be a problem. If COVID continues to be a problem, then the economy is not going to be recovering as fast as we wanted to."
He said he likes Biden's economic policies such as taxing the rich, expanding health insurance and free college tuition.
"In order to fix the economy, we need to address COVID first," he said. "I think Biden will do that."
Aside from the economy, scandals and foreign policy failures could also affect voters' choice as well, political science professor Thomas Marshall said. Former President Jimmy Carter was not reelected because of the combination of a weak economy and failed foreign policy with Iran.
Trump's tax records, however, do not have the magnitude of the Watergate scandal to raise much public concern, he said.
But the economy is an unusually important factor in American politics, Marshall said.
"If I were giving a gold medal, it would go to the economy; if I were giving a silver medal, it might go to the economy; if I were giving the Olympics' bronze medal, it would go to the economy, too," he said. "I don't think anything even comes close to that in American politics."
@Chongyang206