For over a month, the family of Marvin Scott III has been protesting in front of the Collin County Detention Facility on a near-nightly basis. 
Scott was arrested in Allen on March 14 for a misdemeanor marijuana charge. While at the county jail, officers restrained him, used pepper spray and covered his head with a spit hood. He was found unresponsive that night and was later pronounced dead. 
The family is demanding justice for the 26-year-old Black man. 
"We will not consent — all of us, no matter what color you are — we cannot consent to this type of treatment," Scott's mother LaSandra Scott said at a protest in Dallas on April 13. 
Scott's death and the subsequent protest mirror the recent deaths of people of color by police that have sparked nationwide outrage.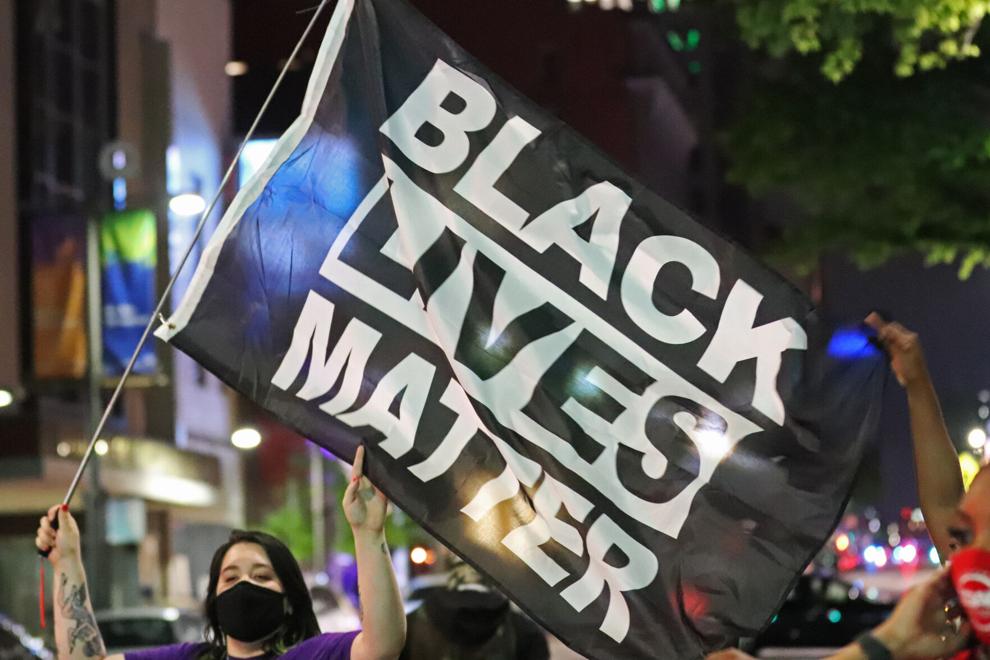 The one-year anniversary of George Floyd's death in Minneapolis nears, and the trial of Derek Chauvin, the former police officer who killed Floyd, reached jury deliberation Monday. Amid this, the killing of 20-year-old Daunte Wright by Kim Potter, former Brooklyn Center Police Department officer, has garnered national attention and protests.   
The April 13 protest that Scott's family attended was prompted by Wright's death, and LaSandra Scott acknowledged the parallel between the two men's deaths.  
"I know exactly how [Daunte Wright's] mom feels," she said. 
Between the April 13 protest and a subsequent protest Saturday, the bodycam video of the shooting of 13-year-old Adam Toledo by Eric Stillman, Chicago Police Department officer, was released, and protests in Chicago and across the country have ensued. 
Dallas resident Marissa Clayton teared up at the protest thinking of the recent deaths and knowing that one of them could have been her Black son. 
"I feel for all the mothers who have lost their sons," she said. "I'm trying to do my part." 
Clayton said her husband is in the military, so she was also affected by stories like that of Army 2nd Lt. Caron Nazario, who was pepper sprayed and threatened by Windsor, Virginia police in December. Bodycam footage of the traffic stop was released in early April and has led to renewed criticism.
Samuel Morrall, communications studies organization senior said because of police killings many Black and brown people aren't being given their sixth amendment rights. 
The sixth amendment in the U.S. Constitution guarantees the rights of criminal defendants to a public trial without unnecessary delay, the right to a lawyer and the right to an impartial jury.   
The impunity police enjoy can also psychologically wear people down and cause them to be afraid, Morrall said. 
He has never had a bad encounter with police officers, but after seeing all the mistreatment Black people experience, he said he is afraid of the police. 
He walks the other way when he sees a police car or sees police lights. He takes his hood off when he sees UTA Police. He doesn't wear hoodies at night. His mother also taught him how to interact with police officers. 
"I don't think people understand what it's like to watch someone that looks like you be killed, and it's posted on social media, the media runs it for a story days and days." he said. "It traumatizes you." 
The constant replays of video clips of Black people being killed makes him feel like Black people are being treated like second class citizens, he said. 
"It just seems like every day another Black person is being killed, being mistreated," he said. 
Morrall said police have used force, shot rubber bullets and tear gassed Black Lives Matter protesters, but when the Jan 6. riot in the U.S. Capitol happened, police were nowhere to be seen.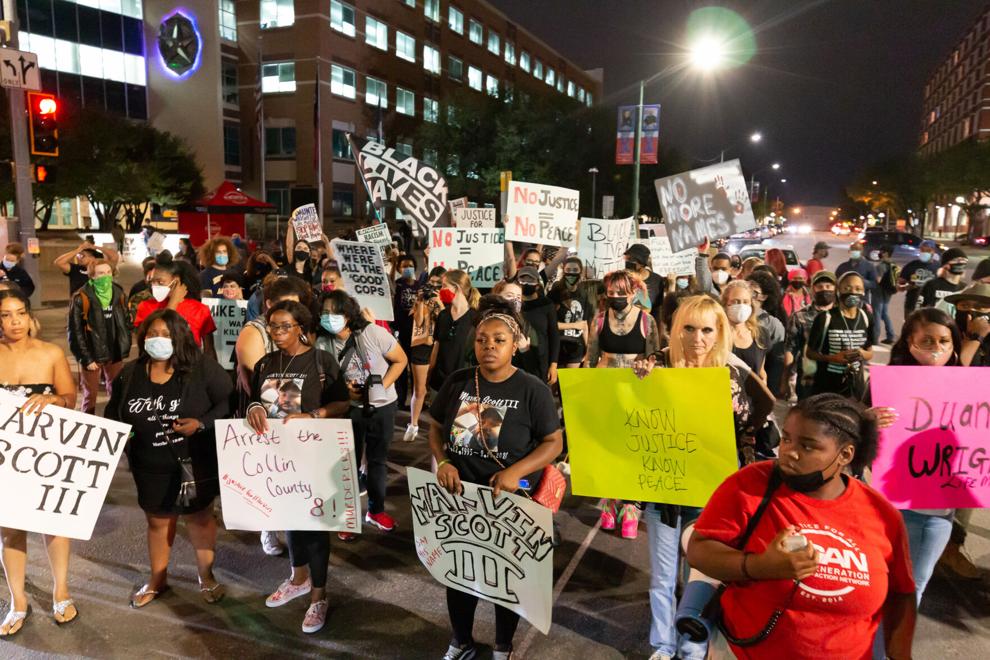 Organizers of the April 13 and April 17 Dallas protests were also critical of the Dallas Police Department, and listed the names of Botham Jean, Diamond Ross, Genevive Dawes, Clinton Allen, Jason Harrison and Tobias Mackey — people who died in custody of or were killed by Dallas Police. 
"I couldn't believe this shit was happening again," Scott's sister LaChay Batts said. "We gotta keep coming, even if it's like 10 [people]. You gotta keep going, keep marching." 
Scott's family heard of his death via a text message from the Collin County Medical Examiner's Office, LaSandra Scott said. 
Seven Collin County officers have been fired, and one has resigned after an internal investigation into Scott's death. However, none of the officers have been charged with a crime, and their names have not been publicly released. 
The Texas Rangers are now investigating Scott's death and as of April 19, no official cause of death has been released. 
LaSandra Scott said something has to be done to change things "within decency and order."  
Now is the perfect time to educate and bring change about accountability, social and racial justice, Morrall said. 
"Until we can admit there's a race problem in this country, we're not going to move on," he said. "Nothing's going to change [and] the same stuff is still gonna happen." 
Racial justice is a work in progress, he said, and listening is the most important thing to do.  
"Listen to people who are minorities about the struggle that they face, listen to them about the microaggressions that they face [and] listen to them about how they feel," he said. "Because you can learn a lot from someone if you actually listen."  
@maricature @Chongyang206