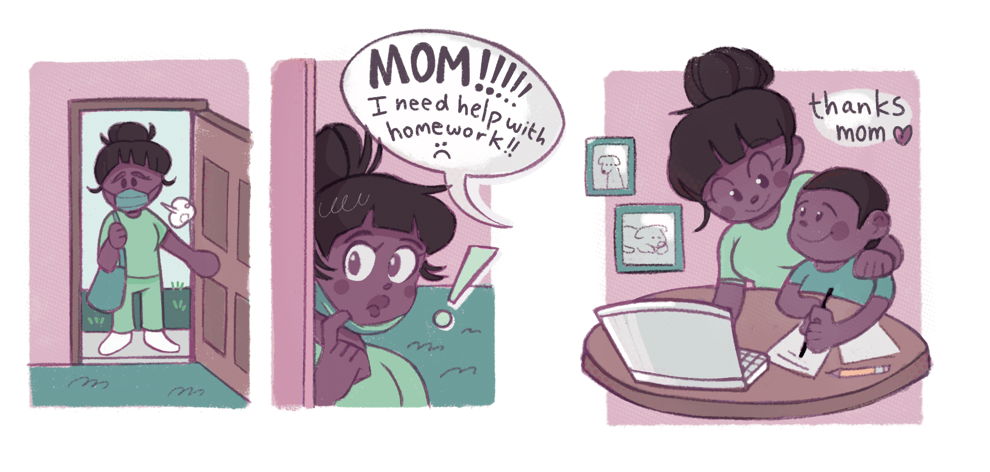 UTA alumna Noor Agha was eager to decorate her fourth grade classroom, even though her students would not be there to fill the seats for their first week back to school.
She arranged the blue chairs and tan desks in small circular groups and labeled a large white board with, "Look at what we're learning," which includes reading, writing and social studies.
This is Agha's first year teaching at Jones Academy of Fine Arts and Dual Language following two years of student teaching and her May graduation. Until Arlington Independent School District opens in-person learning Sept. 28, she will teach English and Texas history virtually from her classroom.
AISD extended its spring break by two weeks in March due to the rise in cases of COVID-19 throughout the country and within the state. The district then transitioned to completely online learning and announced it would do so for the rest of the 2019-20 academic year April 17.
Transitioning all classes completely online was a big challenge the district had to overcome because public schools aren't designed for that format, AISD Superintendent Marcelo Cavazos said.
AISD provided tablets and laptops for students who did not have access to technology at their homes. Applications such as Zoom and ClassDojo were used to check in with students and keep parents up to date.
Providing meals to students who would miss out on their school lunches was another challenge. Between spring and summer, AISD provided over 2 million meals through the help of meal service staff at the schools, Cavazos said.
For the start of the 2020-21 year, AISD has given its teachers the choice to work from home or if their health permits, the classroom. Because it was her first year with her own classroom, Agha said she was "gung-ho" to get in the room, decorate and work from that space.
"If I have to change [the classroom] when they come back I will, but for now I'm happy in my little room," Agha said.
Agha was a week into student-teaching a fourth grade class when classes transitioned online in March. At the beginning it was difficult for teachers and students alike to adjust to the abrupt change, she said.
Nine-year-olds in Agha's class were learning how to use Canvas and make a Google Doc for the first time, their teachers helping them with both assignments and the programs.
"It wasn't easy, and it still isn't easy, but [the teachers] made do," she said.
Social work graduate student Sergio Esparza has concerns about the prospect of sending his kids back for in-person classes. His two older daughters, a high school freshman and a seventh grader, will have online classes all year, but his youngest in second grade will attend in-person classes come Sept. 28.
Because he works as a custodian during the day, in the past his mom would pick up the kids from school, Esparza said. While his oldest two are able to manage their classes, his second grader lives with her grandmother, who helps her with her classes. Learning how to operate some of the websites has been a challenge for all of them, Esparza said.
"When you're an essential worker, you don't know what the hell Zoom is cause you're going to work," he said.
Esparza said he's not so much worried for himself as he is for his mom. To prepare his youngest for a return to in-person classes, he tells her not to hug or shake hands with her friends and to wear her mask at all times.
The state of Texas allows districts to be online for the first four weeks, according to the public health guidance for the 2020-21 school year released by the Texas Education Agency. This can be extended to an additional four weeks if the district applies for it.
Cavazos said AISD has been working with Tarrant County Public Health authorities to produce guidelines that need to be met before resuming in-person learning. Community spread, positive case counts and hospitalizations are all factors to be considered before reopening schools.
Once the schools are safe to reopen, screenings, temperature checks, mask requirements and social distancing will be protocols implemented for in-person learning.
With around 60,000 students and 10,000 employees, Cavazos said AISD is interdependent with the Arlington community. While complete online learning has an impact on working families, Cavazos said the district has to follow the science in order to keep its students, staff and community safe.
"We know that we don't work in isolation," Cavazos said. "When we open face to face, we have an effect on the community, and if that's done prematurely we will have an effect on positivity rates."
@megancardona_