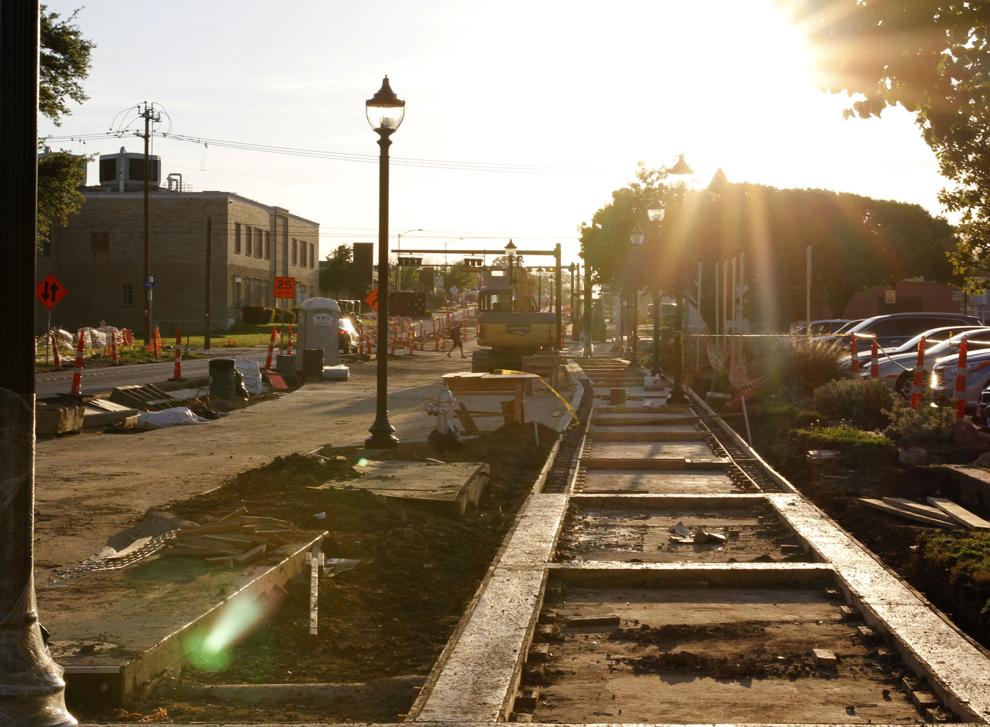 The city of Arlington continues paving the way to a new downtown area with its Abram Street Rebuild project.
The voter-approved project between Cooper and Collins streets started March 2018 and is scheduled to finish March 2020, said Andrea Ruales, Abram Street Rebuild project manager.
Renovations include road paving, street light installation, landscaping and sidewalk widening, all in efforts to make downtown more pedestrian-friendly and welcoming, Ruales said.
"The goal is to fully rebuild Abram Street," she said.
The city is on phase 4B of the project, which focuses on the north side of Abram Street and has an approximate completion time in August, Ruales said.
According to an Arlington city news release, the city will close Abram Street in front of City Hall to all traffic starting May 1 to June 30 to work on phase 4B more efficiently.
A complete closure will allow contractors to work on brick paving, retractable bollards and enhanced electrical capabilities.
The brick pavers will be used to create a plaza on Abram Street between City Hall and Founders Plaza, according to the news release. The retractable bollards will help temporarily close a street to vehicle traffic, and the enhanced electrical capabilities will provide support for downtown outdoor events.
The closure will also make the direction of travel less confusing for drivers.
With busy construction along Abram Street, Ruales said the city is making communication with nearby businesses a priority.
While the section of Abram Street between Collins and Cooper streets is a work in progress, the city remains on track to complete the project …
Randy Ford, J. Gilligan's Bar and Grill owner, said his business has not been affected by the construction because customers find their way around it.
Ford said J. Gilligan's has been a destination for many in Arlington, and he's confident that the business' history will keep people coming despite the construction.
Jeremy Washburn, Old School Pizza Tavern general manager, said he is trying to keep business as usual during the construction.
Washburn said Old School Pizza Tavern has served the Arlington community for several years.
With construction impeding customers to enter from the front entrance, he said people now have to come through the back end of the business, making it inconvenient.
"It's affected our business quite a bit, but we're doing what we can to keep the doors open," Washburn said. "Once the construction is done, it should be for the best."
Haley Page, Old School Pizza Tavern server, said a lot of their business comes from people driving down Abram Street.
With the construction, Page said people are not able to see or get to the business.
"People are probably avoiding this road," she said. "Our front entrance was blocked off for a while, and people couldn't get in. And our back entrance — you can't even see it."
Although the restaurant may be affected, Washburn said he knows the renovations will bring in more foot traffic for the business.
"You gotta get through the bad to get to the good," he said.
@rocio_mhdz