At 6:25 a.m., an hour and a half before the start of the Tarrant Area Food Bank distribution, Arlington resident Karen Draper and her sister arrived in a parking lot outside AT&T Stadium on Friday.
Draper and hundreds of other cars filed into the parking lot that was set up with 10 separate lanes to distribute food to those in need.
While plenty of other cars had arrived before, Draper said they were fortunate to be in the second row of cars inside the parking lot.
The food bank was prepared to feed 6,000 families during the distribution, said Stephen Raeside, Tarrant Area Food Bank executive vice president of development.
"Prior to COVID we distributed about 600,000 meals every week. After COVID that increased to a million, and that level's been sustained," Raeside said.
Tarrant Area Food Bank expects that number to stay consistent for the next 18-24 months as the pandemic's economic fallout continues.
Families received 100 pounds of fresh produce, meats, dairy and a 15-pound turkey for Thanksgiving.
Two hundred volunteers from different groups including American Airlines, Muckleroy & Falls Construction, The Church of Jesus Christ of Latter-day Saints and a coalition of historically African American churches helped load boxes of food into vehicles.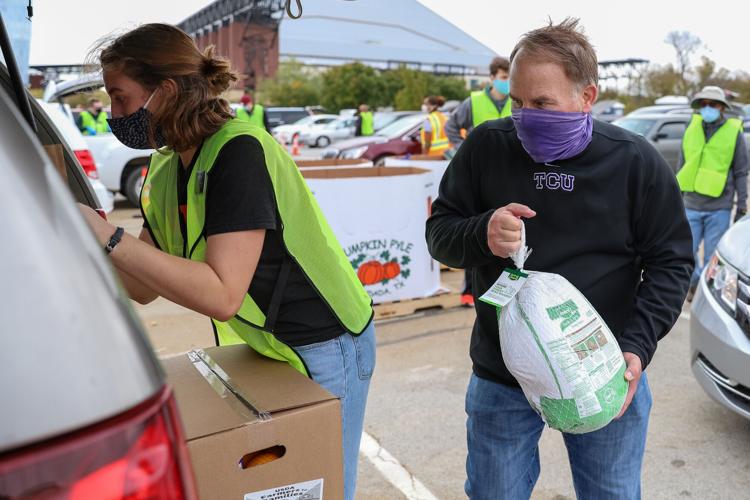 As cars made their way through the line, they were greeted by volunteers who handed out free hand sanitizer and masks.
Around 9:15 a.m. volunteers began to cheer as it was announced that 1,500 families had already been served during the Mega Mobile Market event.
Grand Prairie resident Afia Konadu arrived around 6:30 a.m. and said her husband had been the only one working during the pandemic, but he has since been laid off.
She said she's grateful for the Tarrant Area Food Bank and its volunteers since she didn't even know about the food distributions before the pandemic.
The financial effects of the COVID-19 pandemic are causing people that previously never needed help to reach out, like Konadu.
Draper and her husband have both been laid off since the pandemic started, and she said this was the first food bank distribution she has attended to receive help.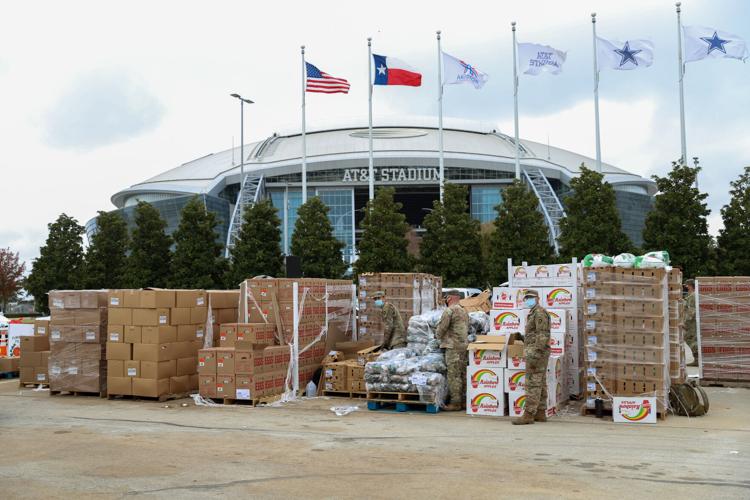 Ali Alhaque, Tarrant Area Food Bank volunteer, said he typically wakes up at 7 a.m and works from 8 a.m. until noon every Friday at a food distribution site in Fort Worth.
"I love to do this work," he said. "It makes me really appreciate the small things in life."
Despite wait times sometimes stretching from one to three hours, he said people are always happy for the volunteers who are working.
"They're always very nice to us, and they're always thankful to us," Alhaque said.
@elias_valverde