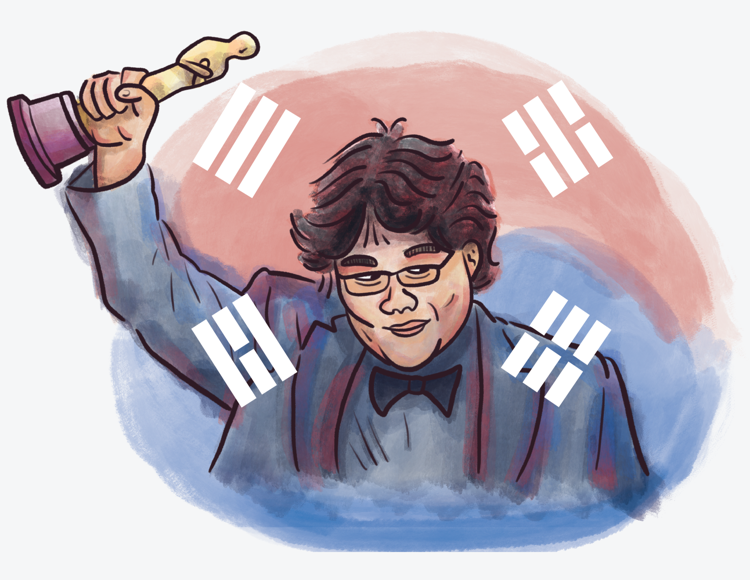 It was a night for the history books.
In the entirety of its 92-year span, the Oscars have never nominated a South Korean film for best picture. Before, a film in a foreign language had never won in this category.
That all changed on Sunday.
Parasite, a South Korean film by director Bong Joon Ho, collected four Oscars for directing, original screenplay, international film, and — in a momentous eruption of applause — best picture.
The film details the poor Kim family, who use their street smarts to con their way into the lives of the wealthy Park family. The two families form a symbiotic relationship, until a twist brings about a battle between class.
When economics professor C.Y. Choi heard the news of this historic win, he couldn't believe it. Choi previously worked at the Bank of Korea before moving to the United States.
Choi called it a national celebration for South Korea. The South Korean film industry celebrated its 100th anniversary in 2019. Less than a year later, a South Korean film became nominated for best picture for the first time and took home the award as well.
Parasite showcases a dramaticized version of the income gap between the rich and the poor, which Choi described as a universal issue. This concept could have played into the movie's global appeal, he said.
Hollywood may be the center hub for film in the world, film professor Changhee Chun said, but it has been described as a local film festival by many.
For Parasite to win best picture shows that Hollywood is willing to accept other art forms in cinema and give more opportunities to other filmmakers out there, Chun said.
"To me, it was also a symbolic moment in a way to open up the new possibility in the future," he said.
On a more personal note, Chun remembers a time when it was difficult for South Korean filmmakers to break into the international film industry.
"We didn't know that in the future, we'll have a chance to make a movie for the international audience," he said.
Chun said he was humbled and proud of Bong when he won.
"Because [Bong] said it's not just his own efforts to make this movie," Chun said, reciting what Bong had told him. "'I'm just lucky to be selected, but it's not just my own efforts, it's everyone's in Korean film industry.'"
Now, we're experiencing a Korean wave in the media, Chun said, with more and more people watching Korean dramas and listening to K-pop and BTS being invited to the Grammys this year.
These influences have surged an interest in Korean culture, especially for international business sophomore Alejandra Romero, whose initial interest came from the music. That then cultivated an interest for other cultures as well when Romero came to college.
"I came to UTA, and I was just blown away by the amount of diversity here," she said.
Growing up in a predominantly Hispanic community, Romero wanted to be aware of cultures outside of her own. The academy recognizing films outside of America is something that gives her hope.
"It feels good to have that minority representation," she said. "To have like this one little achievement out of like everything it's just it's amazing for all minorities out there."
Mariah White, critical languages and international studies senior, said the conversation started when Moonlight made history by winning best picture in 2017. It was the first film with a predominantly black cast and an LGBT theme to win best picture. It resonated with her because it was part of her own community.
For this to happen again for another underrepresented community in Hollywood shows a pattern that she hopes will be translated to other underrepresented communities, including the Latino community and the indigenous community.
"It's just kind of showing that people of color are not the other," she said.
From Hollywood blockbusters to artistic, independent films, the film industry needs a healthy balance to be better, Chun said.
"I mean, if you think about the human body, we need to have all the different nutritions," he said. "In the same way, you know, in order to make a healthy industry, that balance is really important."
If Hollywood is willing to step up and overcome those boundaries and the "1-inch barrier" of subtitles, then this is a very meaningful first step, Chun said. It can open the doors to not just movies from South Korea and the rest of Asia, but to those created by other minorities, most notably the African American community.
He hopes that this will not just be a one-time event.
"Film talks about all the different things in our world," he said. "And our world is changing."
@amnda_pdilla