When Yusra Alhuraibi left Yemen in 2014, she didn't take much with her because she was certain she'd be able to return after school let out for the summer.
Born in California but raised in Yemen since she was 3 years old, Alhuraibi came to the United States for what she expected to be a temporary time as a college student, with the ability to travel back and forth between the two countries.
But in 2015, anti-government groups attempted to overtake the Yemeni government, setting off a civil war, interference by foreign nations and a devastating humanitarian crisis.
The war caused an instability that currently has no end in sight. Most of her family has fled the country, but she worries about her friends still left behind.
Alhuraibi is a UTA architecture alumna watching the crisis unfold in the country she called home. What was already an unstable livelihood for many has fallen into total devastation. But she's decided to do something about it, starting a fundraiser page to help families in Aden, the city she grew up in.
The crisis in Yemen has now evolved into one of the Middle East's bloodiest conflicts. In 2015, Iran-backed rebel Houthi groups attempted to overtake the Saudi-backed Yemen government, and the multi-layered war has notably led to the bombing of Houthi-held territory by the Saudi Arabian government.
The bombings have been highly controversial, as they've targeted hospitals, schools and funerals, causing massive civilian casualties.
This has also limited access to necessary living supplies, such as food and water.
Even before the crisis, the country and its civilians were plagued by its corrupt government, Alhuraibi said.
When she was in Yemen, she remembers the electricity being shut off at random times during the day. These blackouts would increase in their length as time went on, despite the government boasting about having the technology to prevent such things.
She said when countries sent money or aid to Yemen, living conditions never improved for everyday people because the government would keep it.
What was already an impoverished country, with the highest levels of poverty and water scarcity in the world, has turned into what the United Nations has called the world's worst humanitarian crisis.
According to a 2019 report by the UN, 233,000 people have died in Yemen, and over half of those deaths were caused by the lack of food, health services and infrastructure.
Alhuraibi said despite Yemen's history of conflict, the current crisis is worse than anything the country has experienced in the past 20 years.
COVID-19 has created further havoc, as hospitals do not have sufficient equipment to test and treat the virus, and many doctors have fled because of the war.
In March of 2015, fighting spread to the city of Aden, where Alhuraibi grew up. A back-and-forth battle between rebels and the government involving airstrikes, heavy artillery rockets, warships and rooftop snipers lasted over a month.
Alhuraibi said during that conflict, her home was taken over by rebel forces.
Her family members in the country fled on a cargo ship to nearby Djibouti, then made their way to Egypt.
Alhuraibi and her mother were in the U.S. at the time and were constantly on their phones, checking the status of Aden and their family members.
"We got disconnected with them because of the trip," she said. "That was a little bit scary because we didn't know what was going on. We were just waiting for whenever they were gonna return our calls or texts. So we were just scared the whole time."
The conflict left nearly 200 people dead and led to a supply shortage of water, food and medical supplies. One of Alhuraibi's extended family members was even killed by a sniper while cleaning her balcony.
"There's no law, there's nothing controlling anybody," she said. "Anybody can do anything and just get away with it."
Having grown up in Aden, she said the city's community is very close-knit and she developed bonds with many families, some of which currently live in poverty. Her bond to those families helped motivate her to start the fundraiser.
However, she was always reluctant to donate to aid through typical charities. She worried that if organizations are handing over their collected donations to the government, those resources may never get to civilians.
"I don't want to be part of that," she said. "I don't want to give the government money to not do anything about it."
She set up her fundraiser through an individual website that allows people to donate preset or custom amounts of money. Alhuraibi will directly use what's donated to provide financial support for as many families in Aden as possible.
She deliberately decided to not host her fundraiser through GoFundMe or any other crowdfunding website as their percentage billing method would reduce valuable funds for families.
She said she's not sure what goal to set for the fundraiser just yet but hopes to reach $500 to $2,000.
$100 USD converts to over 25,000 Yemeni Rial, which Alhuraibi said can feed a family of four for about three weeks.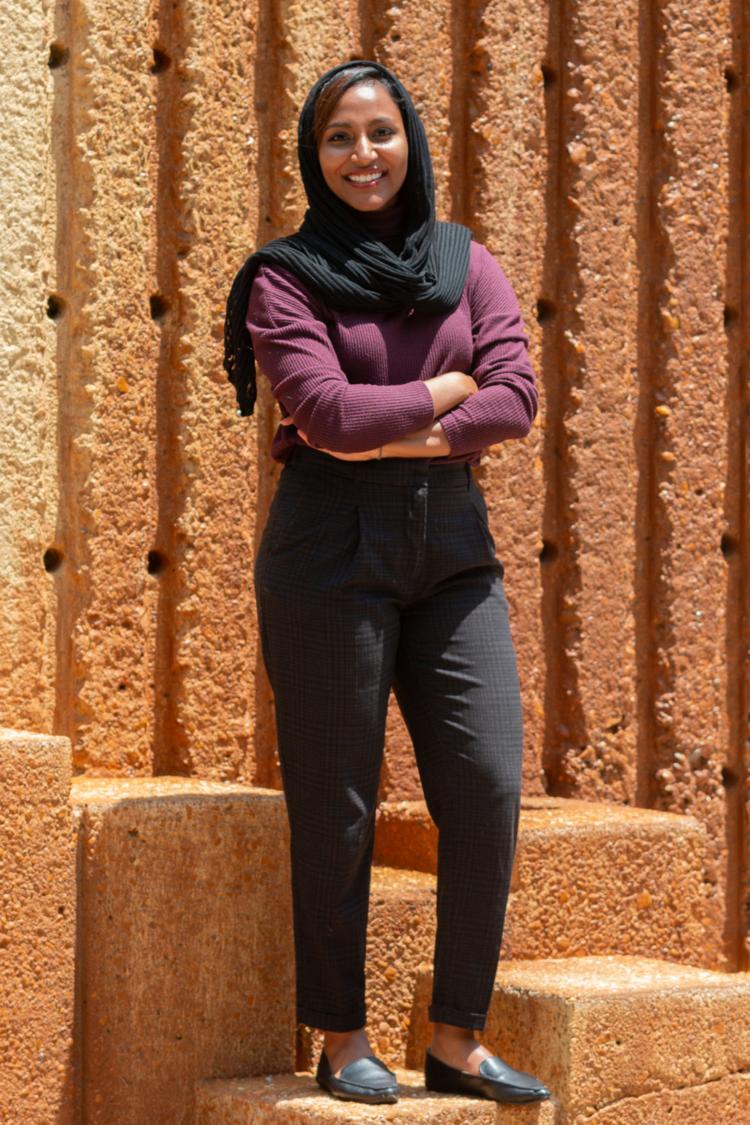 She hopes the fundraiser does well, not only to collect funds but also to raise awareness of the situation to more people.
Architecture alumnus Brannon Heake, who has been helping with the fundraiser, said establishing something like this makes sense for who Alhuraibi is as a person. Not only does the cause relate to her Yemeni identity, but she has always been a highly empathetic person.
"She feels literally what people are feeling in front of her," he said. "She's very in tune with her surroundings."
Heake said knowing that Alhuraibi can send those funds directly to families in Yemen urges him to want to donate more.
"I used to donate a lot to all these organizations, and really you're just giving something so you can have a receipt at the end of the day," he said. "But now I know that the money is going to be directly impacting families in Yemen, and I can actually see what it's doing."
Architecture professor Charles MacBride, who was one of Alhuraibi's professors, said her initiative came as no surprise. She had always clearly been a leader in the classroom.
"It doesn't surprise me," he said. "She used to be just completely 100% committed to her education and to being a student leader and taking up these kinds of roles. And because of her personality, people gravitate towards her and support this kind of effort."
Macbride said Alhuraibi is the type of professional and person to take an issue or project and look at the entire and thorough picture, which helps her take simple projects to a higher level.
As an architect, Alhuraibi has worked with the PGAL design firm in Dallas, has had a project chosen for the Venice Biennale of Architecture exhibit in Italy and has been accepted into the prestigious Illinois Institute of Technology's master's architecture program.
But right now Alhuraibi's most urgent project is the fundraiser. Although she can't return to Yemen any time soon, her goal is to reach as many families in Aden as possible to provide assistance.
The website, with donation options and Alhuraibi's mission statement, can be found here.
@ByDavidSilvaR