UTA doesn't offer a fashion degree or class, but that didn't stop alumna Amber Johnson from preparing to launch her fashion brand over a decade ago.
Johnson is now the owner and mastermind behind Jamber, a unisex contemporary streetwear collection with the motto, "Made to Motivate."
She managed the women's basketball team while at UTA and majored in exercise science, and although her clothes are streetwear and not for workouts, she did pull some inspiration from athletic styles, she said.
"It's just contemporary streetwear that you can dress up or down," Johnson said. "I come from an athletic background, but I just wanted to make something that was comfortable."
Jamber was a long time coming, Johnson said. She first had the idea for the brand 12 years ago while starting her freshman year of college.
It was a rocky process, she said. Finding the right people and bringing her dream to life took years of work.
Finally getting the ball rolling and having a physical product is recent, Johnson said, within the last six months. Although she started solo, she didn't do it alone.
"I had ideas in my head, and I eventually found a design team that helped me bring those designs to life," Johnson said.
She had many friends' and family members' support along the way, like her friend Martina Christian, who has known Johnson for 10 years.
"She's been wanting to get this clothing line, probably ever since I've known her," Christian said.
Johnson didn't know exactly what she wanted in the beginning, but Christian said she knew Johnson would succeed eventually.
Christian has seen Johnson's entire line of clothes and helped model for the official photoshoot in Los Angeles, California.
"I got to see all the sample pieces and even have to try some of them on," Christian said. "They're really comfortable, and the fabric's high quality."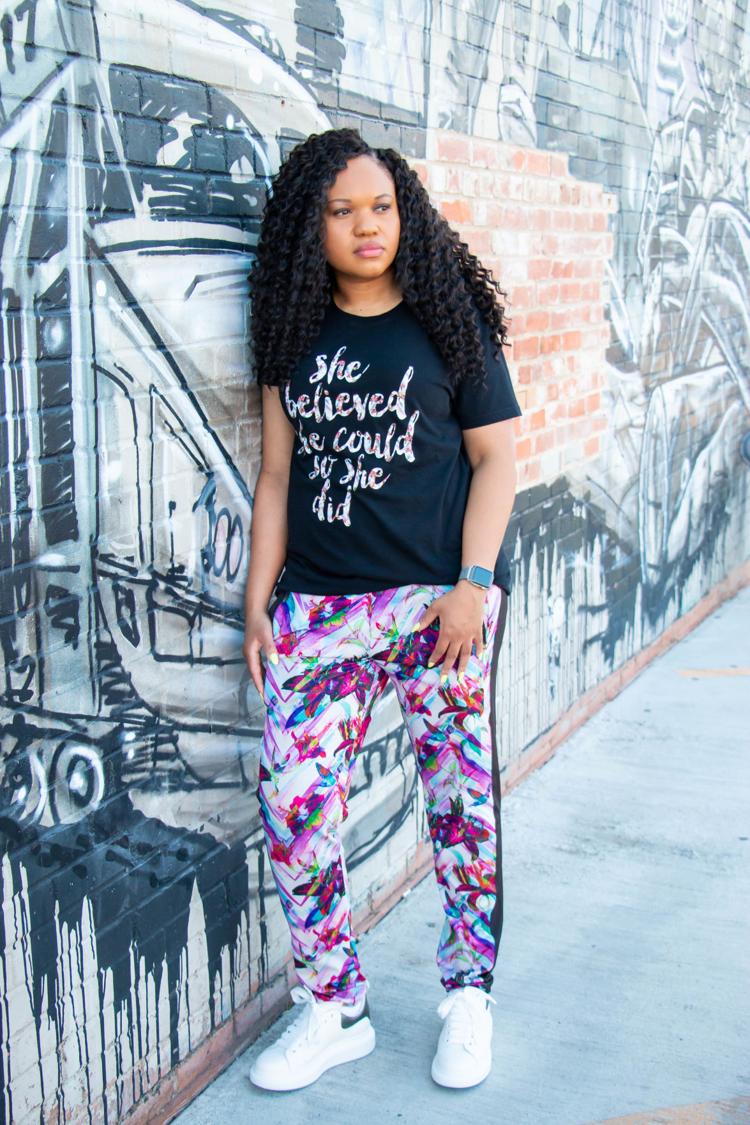 Many of Johnson's pieces feature bold colors and patterns, which is not unsimilar to Johnson herself, publicist Brandy Voirin said.
When they originally met, Voirin's first impression of Johnson was that she was confident and full of life, she said. Johnson genuinely engages with people in the fashion industry, no matter how famous, she said.
"Amber already had a product on the market when I met her, but I've seen her grow and become more comfortable with her product," Voirin said in an email.
COVID-19 put a damper on Johnson's dream as business is uncertain. But she takes victories where she can, and there are still moments to appreciate, she said.
"Being able to finally see [Jamber] on people, people actually buying the product, was a proud moment," she said.
Her ultimate dream is to sell her clothes in high-end retail stores, Johnson said, and during COVID-19 she was able to bring the goal one step closer.
"Having virtual meetings with those retail stores during COVID was a highlight," Johnson said. "Because for them, there was this confirmation that I knew my product was good enough to be in their stores."
Of all the products Jamber offers, her favorite items from the brand are in the hummingbird line, Johnson said, because the bird has meant a lot to her since childhood.
"They were never supposed to be able to fly because their wings are too small," Johnson said. "So for me, the hummingbird represented overcoming odds, resilience, determination, character strength. It represented what I wanted my brand to represent."
Jamber can be viewed and bought here.
@Sam_Knowles00