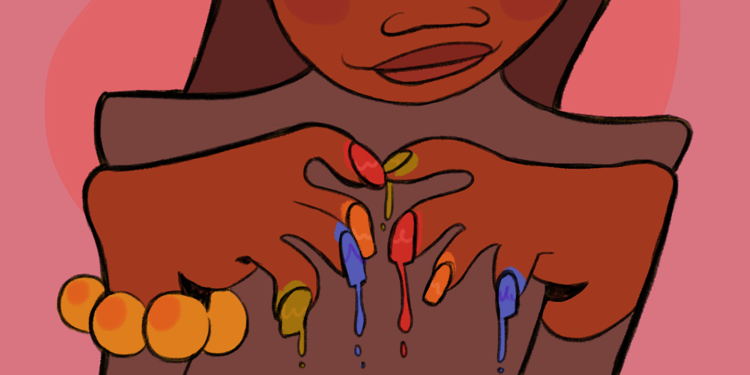 To avoid the mess and hassle doing your nails at home can bring, many students' norm is to get theirs done professionally at a salon.
However, because COVID-19 has left many businesses temporarily closed, things like fancy gel nails are left unattainable to most. But for information systems senior Jiya Sachdev (@jiyasachdev on Instagram), no salon is no problem.
Sachdev has been doing her own gel nails at home since last fall, from pastel multi-colored spring nails to reflective chrome burnt-orange.
"I've always liked when people would go to the salons and get their nails done, but that's really expensive, so I thought I would just do it on my own," Sachdev said.
At the advice of her friend, who's a nail tech, Sachdev got her start by buying a gel nails kit on Amazon, with everything she'd need included. She watched a ton of YouTube videos, she said, and the rest came with practice.
Just like Sachdev, journalism junior Haley Chavez taught herself to paint her nails through YouTube videos and practice, though Chavez uses traditional polish, not gel.
"I've been painting my own nails for three years now," Chavez said. "I used to pay to get them done, but then I started working with dogs, and I could no longer justify spending money on my nails just for them to get damaged at work shortly after."
Chavez said the transition from professional to doing them at home was actually good for her, since she ended up finding the process fun and relaxing, and easier when she changes her mind.
"I'm super indecisive and will sometimes completely change what I planned on doing halfway through," Chavez said. "I would never be able to do that at a nail salon without feeling terrible or spending way more than initially planned."
For students used to salon-quality nails, it can be daunting to suddenly be left to their own devices. But Sachdev said anyone can learn with patience and practice.
The steps for how she does her gel nails starts with something people should be doing anyway in the middle of a global pandemic: washing your hands.
"Okay, so step one would definitely [be] wash your hands so they're clean, and then you would need to file [the nails] down to the length and the shape you want," Sachdev said.
Next, take some rubbing alcohol and clean your nails again, Sachdev said.
"Your skin and your nails get, like, oily at times, so you don't want your natural oils there," she said.
Then, with a cuticle tool, push back your cuticles, Sachdev said. Apply a thin coat of base and cure it under the lamp.
"Then you do a coat of the paint and then cure it," Sachdev said. "Then another coat and then cure it and then finish off with the top coat."
It's a lot to do with layers, Sachdev said, and her top tip is to make sure you don't have too much paint on the brush.
"If you apply light coats, it's always gonna get you the best outcome," she said.
Someone who's been in the game much longer than Sachdev is Patricia Ezell, nail artist and owner of Nail Art By Mspattycake (@mspattycake on Instagram.) Ezell has been doing nails since 1999 but got her license in 2002.
Like Sachdev, Ezell said that getting the oil off your nails first is one of her biggest tips. Ezell said you can use either rubbing alcohol or nail polish remover before applying polish.
"You must apply a base coat to make your mani last and to protect your nails from getting stained by certain polish colors," Ezell said.
Additionally, Ezell said that you should do one base coat, two coats of polish and a top coat for the best results. She recommends the top coat brand Seche Vite because it dries quickly.
These steps take time and Chavez's advice for students is to simply practice constantly and have patience.
"Expect to fail a few times, or maybe even several times, before figuring out what techniques work best for you," Chavez said.
It's also helpful to keep your hands steady and make sure the polish isn't too clumpy or too thin, she said.
"My advice for those now attempting to learn how to paint their own nails is to have patience," Chavez said. "It took me way more time than I expected to master just plain nails. Designs are even more frustrating, but it is super rewarding to see all your hard work pay off in the form of cute nails."
@Sam_Knowles00