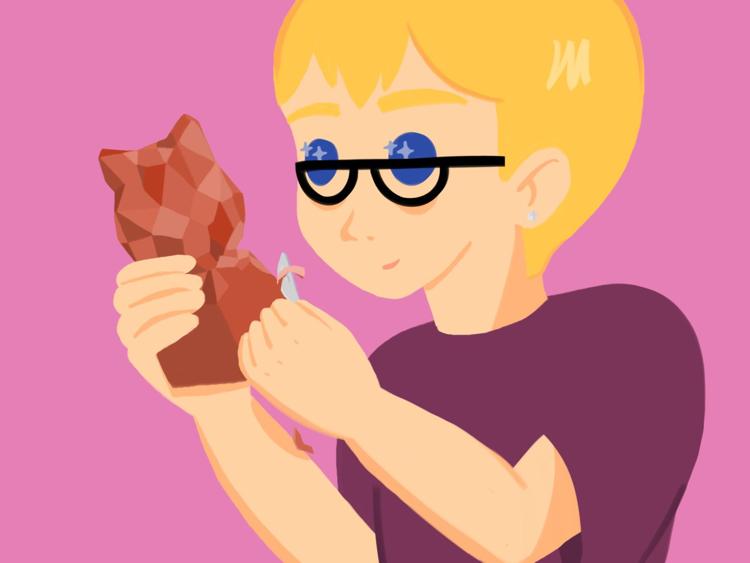 Paul W. Schieffer is the owner, designer and principal woodcarver at the William B. Schieffer Studio in Dallas, but that was never the plan.
The studio was started by his father back in 1932, and although he grew up around skilled woodworking artists, he never wanted to run the shop, Schieffer said.
"I'm a professional registered architect. I went to school in order to do that," Schieffer said. "I tried to get as far away from this kind of business as I possibly could."
His reasoning was that, at best, the job was a living, he said. At worst, you just don't have any work.
"The way I got here was I was sort of like Michael Corleone in The Godfather Part III, where he says, 'I tried to get out of the family, but they pulled me back in,'" Schieffer said. "I feel the same way about this business. I spent a lot of time trying to escape it, but here I am."
He came back because of his dad, Schieffer said, and because he realized he missed what he'd never known he had.
"I grew up with fine furniture and beautiful things," Schieffer said. "And I knew I was never going to have a substantial income, but I wanted to live like that. So I did. I just have to make my own stuff."
Schieffer recalls a time when a woman brought in an earthenware tray to their shop many years ago. His dad designed a stand for the tray, and because it was dull, he added a cat curled up to the plans, and tasked Schieffer to carve it in.
Schieffer was out of his element, he said, so the first thing he did was visit his neighbor's two cats for reference. He ended up carving the cat beautifully, leaving rough scratches in the wood with his tools to simulate its fur.
"My father never ever, ever, under any circumstances, complimented me. It wasn't that he didn't like my work. But he was a depression-era guy, and you know, if you compliment someone, they just get the big head," Schieffer said.
So his father never said anything to him about the carved cat, Schieffer said, and he didn't think anything of it until his mother asked him what his father had told him, and Schieffer replied, "Nothing."
"And she said, 'Well, he told me that he just thought it was a shame that we should let the customer take it home,'" Schieffer said. "We needed to keep it."
Although he now typically works in bronze and stone, Darryl Lauster, art and art history graduate director, started making sculptures from hickory wood several years ago.
Lauster said that understanding the grain, density and knot patterns of different types of wood is the key to successful carving, along with not forcing or rushing the project.
"When carving, it is most important to understand that wood is alive, and as such, each species has a distinct personality just like we do," Lauster said in an email. "You cannot make wood do what it does not want to, just like people."
Like Lauster, Jen Loughlin, North Texas Wood Carver's Guild member, knows the importance of patience in woodworks. And like Schieffer, her love for whittling runs in the family.
It's not an easy hobby, Loughlin said, but she's kept with it for 20 years, ever since her grandfather first taught her how in 1999.
"Between all of my siblings, I was the one that was closest with him because we shared that," Loughlin said. "He taught me pretty much everything he knew about carving and was always there to make sure my tools were sharp."
Her very first carving was of a horse, Loughlin said, and looking at it now, she describes it as "pitiful."
But several years later, Loughlin carved a new horse, and the contrast between it and the original showcases how much she's grown.
"So you have the sad, pitiful looking first one. It looks horrible," Loughlin said. "And I keep it right next to the awesome one so you can see how far I've come."
Loughlin isn't your typical woodcarver, she said, because she's in her 30s and female. But her wooden creations, from '90s-inspired jewellery to delicate photo-real butterflies, are all the more unique because of it.
Her hobby has seen a solemn slow in its community in recent months, Loughlin said, as COVID-19 brought their yearly early-April gathering to its knees.
"We have people that will come from all over the state. We have people that come from out of state to come to this," Loughin said.
As most attendees are older, it's doubly important to postpone the event to next April, when their community can gather safely.
The bond between grandfather and granddaughter is what got her into whittling, she said, but it's the community around her that keeps her in it.
"There's always something to learn, there's always someone to learn from, and there's always someone willing to share it," Loughlin said. "For me, it's as much about the community as it is about the art."
@Sam_Knowles00