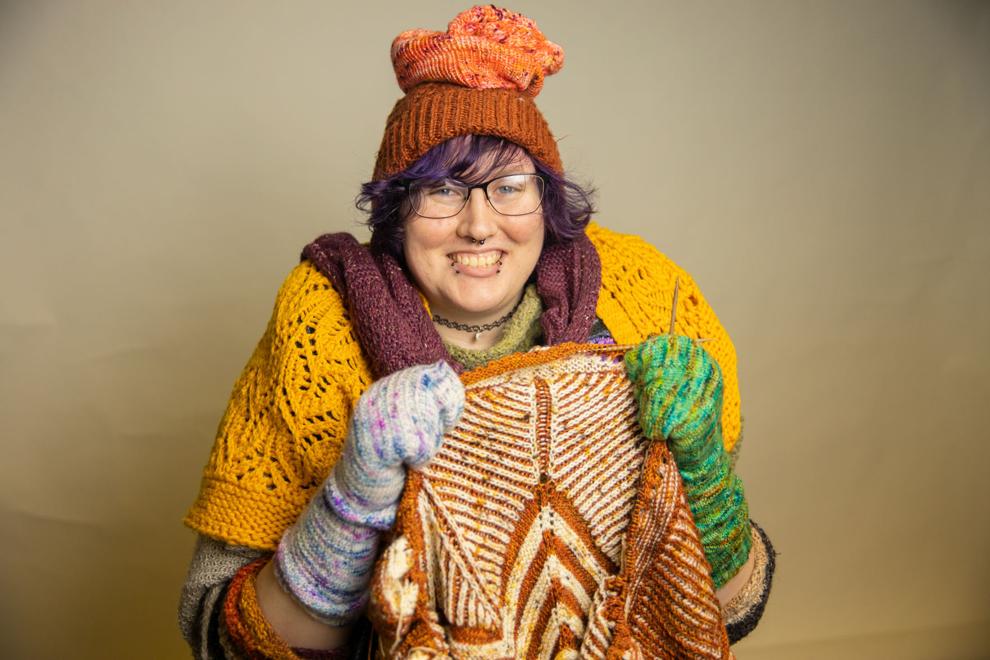 Many school-age trends have come and gone over the years, from Silly Bandz to fidget spinners. However, for nursing freshman Sharon Obaisi, the timeless art of crocheting was all the rage at her middle school in Nigeria.
She and her classmates used crocheting — the process of creating textiles from interlocking loops of yarn or string using a small hook — to make accessories to spice up their wardrobes, she said.
"I went to a boarding school, so it was really boring," she said. "Anything we could do to keep ourselves busy, we would."
Obaisi said she liked the hobby because it was a rare opportunity for self-expression in her world of plain uniforms.
Although the hobby may seem like a craft of the past, the art of knitting and crocheting are still alive and well among some college students.
Cheryl Mitchell, art and art history professor, said when she was growing up, everything was brand new, from computer systems to video games to new car models.
The world around her was so innovative, Mitchell said, but for a while, innovation became stagnant. This is why Mitchell thinks young people have become interested in both retro and tactile things, like knitting.
"It has to do with seeing something develop and grow and become something," Mitchell said. "Starting with just this one thread, and all of a sudden it's a small patch, and then suddenly it's a large section of a sleeve or a shirt and having that accomplishment there in your hands."
When she started knitting in her last year of high school around six years ago, psychology junior Karen King said she used it as a way to help her manage her crippling anxiety.
King knits almost every day and it helps her take her mind off things, she said.
"You have to count your stitches, you have to make sure you're following the pattern correctly," King said. "So it's really, really hard to worry about things and be anxious when you're too busy focusing."
A 2019 Applied Research in Quality of Life study compared the happiness of adults with different creative hobbies and found that adults who knit scored significantly higher than those who play instruments, partly due to the permanence of their physical creations.
Besides the mental health benefits, King said wearing her creations is the reason she loves the hobby.
"I've made a bunch of scarves and a bunch of shawls, which are my favorite things to knit and wear besides hats and socks," King said.
Although King said she has crocheted in the past, she prefers the look of knitting, despite it being a less forgiving practice.
"I'd say crochet is easier in the sense that if you make a mistake, it's really easy to just rip it out and fix it," King said. "Meanwhile knitting is, like, if you make a mistake you pay for it in blood."
Obaisi said that while she enjoyed crocheting in middle school with her boarding school friends, she was never an expert and only made scarves and a tiny hat the size of her finger.
For her, crocheting was a productive distraction, something she could do while watching TV.
"I kind of go into a trance when I do it," Obaisi said. "It's so easy, too, just the movement — it's so fluid. It's like, a way to just keep your mind busy."
Both Obaisi and King said that they would recommend crocheting and knitting respectively and that YouTube videos are a great, free resource for beginners.
While UTA doesn't offer its fiber arts program anymore, Mitchell said interested students shouldn't lose hope quite yet.
"The neon program, it also had kind of fallen out of favor, and then just recently, with all of the new interest, it's returned again," she said.
Mitchell said that arts programs run in waves, caused by students gaining interest in some things and not in others, meaning that a return of the fiber arts program isn't off the table.
With millennials' creativity coupled with the recent mindset of "Everything old is new again," Mitchell said she's hopeful that fiber arts might eventually have enough interested students to bring the program back in the future.
"It's interesting to me because the millennial generation gets a bad rap about not wanting to do this and not wanting to do that," Mitchell said. "But they're one of the craftiest generations I've seen in a long time."
@Sam_Knowles00