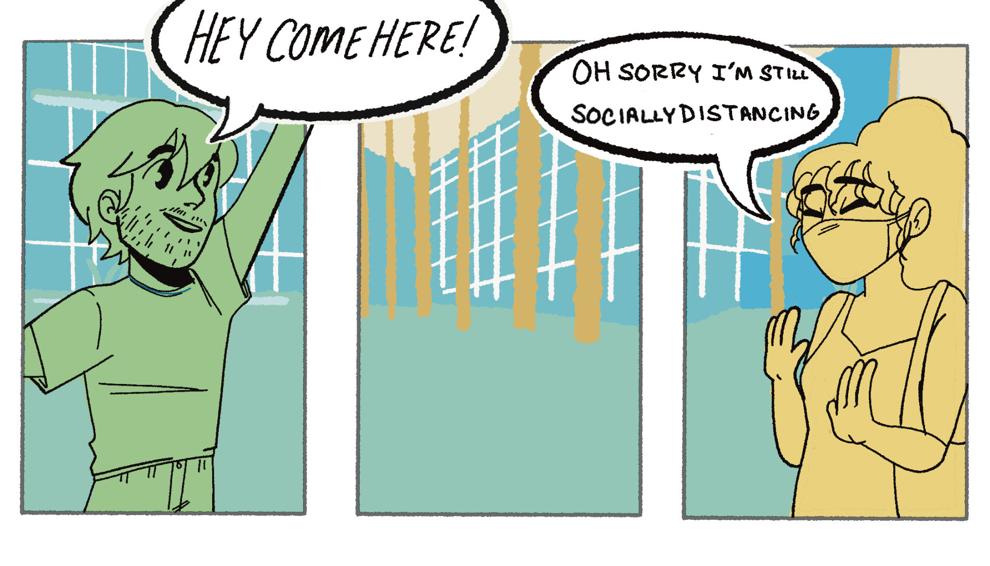 Public health senior Adam Gonzales hasn't been on campus in over a year. Gonzales on the fence about returning for in-person classes but wants to finish his last semester on campus.
He's confident he can protect himself and said he wouldn't be able to handle another semester of on-line classes. He's ready for a sense of normalcy but wary of individuals attempting to get back to normal too quickly, Gonzales said.
As classes begin, many individuals are concerned about how to protect themselves while on campus. UTA community members shared some tips on how to do that.
COVID-19 is a new virus that has not been previously seen in humans, Yvonne Medrano, Health Services communications assistant, said in an email. Therefore, medical findings and scientific understanding of the virus will evolve as more research is con-ducted and developments are made, she said. 
It's important to continue following the Centers for Disease Control and Prevention's guidelines as they are aligned with current research and findings, she said. 
The likelihood of a super spreader event happening at UTA is scary to think about, Gonzales said. There are already videos online showing maskless students crowded together on college campuses.     
"It was just disgusting to look at because no one's wearing a mask," he said. "It looks like an EDM concert, it looks like that, right in front of their student center." 
Accounting senior Shyla Camarena said she's excited to return to campus because online classes have been difficult for her, and she doesn't feel like she learned what she needed to. But she is nervous because masks aren't required and not everyone is vaccinated. She is vaccinated but said she will continue to wear a mask.   
COVID-19 vaccinations help protect people from getting sick or severely ill, Medrano said. Unvaccinated students should continue to wear their face mask while indoors and are strongly encouraged to get vaccinated.
Fully vaccinated students should continue to wear a mask indoors in public areas of high transmission to maximize protection from variant strains, she said. 
Preliminary evidence suggests fully vaccinated people who become infect-ed with the Delta variant can spread it to others, according to the CDC.
Even though we're in college, some people don't know to sneeze into their shirts or elbows and some neglect washing their hands, then touch door handles and their faces, Camarena said.
Wearing a mask helps keep people's germs to themselves, she said. You put on a mask so you can protect others.   
"If I happen to be exposed and I didn't know, I had my mask and maybe that might have helped some-body who was immunocompromised," she said.
Students should wash their hands often with soap and water or hand sanitizer with at least 60% alcohol content and try to practice social distancing whenever possible, Medrano said.
If students are uncomfortable with someone not wearing a face mask around them, the best course of action would be to get vaccinated, to continue to wear a mask and to maintain social distance from that individual, she said.
You can ask someone politely to wear a mask but accept that the answer may be no, she said. Be respectful and nonthreatening when you ask, and try to be discreet.   
"You can quietly ask them something like, 'For your safety and mine, I would feel much more comfortable if we were both/all wearing masks,'" Medrano said."If someone becomes rude when asked to wear a face mask, remember that face masks aren't required on-campus."
The best thing to do in this instance is to remove yourself from the situation to avoid further conflict, she said. 
If a student is sick or not feeling well, they should get tested for COVID-19 and stay home until they have been cleared. Getting tested routinely for COVID-19 can help stop the spread on campus and in the community, Medrano said.
If everyone does their part, we can move forward and get to fully experience and enjoy all UTA has to offer, she said.
Be mindful of your surroundings and don't let the fear of COVID-19 consume you, Gonzales said.
"It's not like we're completely sitting ducks in the pond," he said. "The good thing with this is that there's a lot of methods that we can do to protect oneself.
@Katecey1