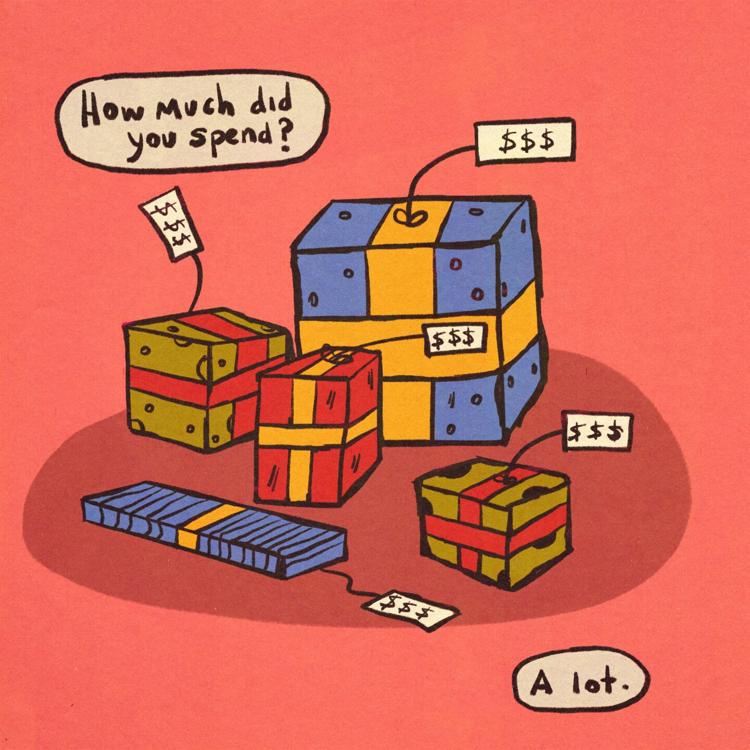 As Christmastime inches closer, enticing Americans across the country to put on their winter clothes, play their favorite holiday songs and buy gifts for the entire family, there is an inescapable complication among some young people with overconsumption during the holiday that may erode the experience.
A significant amount of the U.S. economy peaks during Christmas, with billions being spent on goods for gift-giving, according to the U.S. Census Bureau.
But many young people are turning away from the holiday splurge, or at least voicing their disdain against it.
Sociology professor David Arditi said this disdain for overconsumerism during the holidays (and for consumerism itself) has always been present.
"There's always been this movement to try to end the contradictions of capitalism," he said.
Arditi said he enjoys Christmas and gift-giving and points out that we have a deep cultural affinity for Christmas and it's consumerist traditions.
Political science senior William Mohamad said he enjoys Christmas time, but there are aspects that he finds discouraging. Income inequalities give him pause during the holidays, seeing that people's wages have remained stagnant while prices for items have increased.
Mohamad said there seems to be a lot of pressure to buy gifts or try to get the most expensive item.
"I noticed as I get older that there is a need to buy things, and a part of me wonders if maybe that's because me and my siblings are trying to make up for the fact that we didn't get a lot when we were little," he said.
Chinese and political science senior Thienthanh-Mimi Vu said although she enjoys gift exchanges among friends, she and her family try to avoid emphasizing gifts during Christmas.
Vu said her family tries to focus on celebrating the Christian aspect of the holiday, attending church and giving each other small gifts. Sometimes, she'll even crochet ornaments and gift or sell those.
"[Consumerism] has largely taken Christmas out of proportion to what it was originally supposed to," she said.
Along with making gifts, others have encouraged buying from local stores and from black-owned businesses.
Some people boycotted Black Friday in an attempt to end an undercutting of local businesses, mass materialism and the profit of billion-dollar companies.
Arditi said he's skeptical of these attempts to rid Christmas of its mass consumerism because not enough people participate. And ultimately those affected worst by boycotts are often the workers.
Another thing that young people are turning to is emphasizing experiences over material gifts.
Vu said she likes the holidays because she can get together with people she may not have seen all year, although that likely won't be the same this year.
Mohamad said he prefers the experience of being with family or hosting events over gifts.
His family didn't celebrate Thanksgiving because his parents tested positive for COVID-19 during that time, so he wants to make Christmas more eventful.
He said Christmas is worth celebrating every year, but he doesn't want to lose sight during the holiday because they're obsessing over gifts.
@ByDavidSilvaR