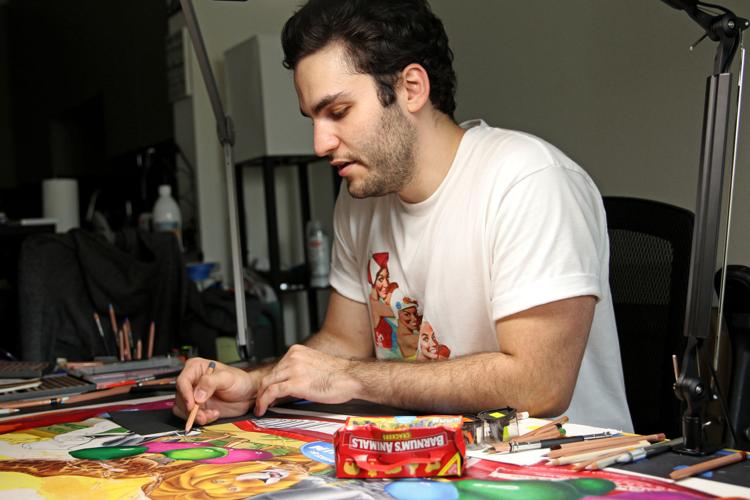 Layering color after color, Juan Carlos Cristobal siphons his emotions onto a blank page.
His latest piece will hang at "Psychedelic Robot," an immersive pop-up art show in Dallas, through Nov. 15. Although art has always been a part of the university studies senior's life, he has only been pursuing it seriously for the past year.
"I've never been an eloquent or articulate speaker, but I do like to let streams of, like, words or thoughts flow through my head," he said. "Very, like, powerful, deep thoughts that I have only come to me in the middle of the night when it's quiet out and all I have is light and my pencils and this piece of paper."
Drawing has been in Cristobal's life as long as he can remember. 
He doesn't remember being taught by anyone specifically or if it was some naturally acquired skill he picked up along the way, but he said he started taking the art more seriously about a year ago.
He said he has received an amazing reaction showing his work so far, and he doesn't take that for granted.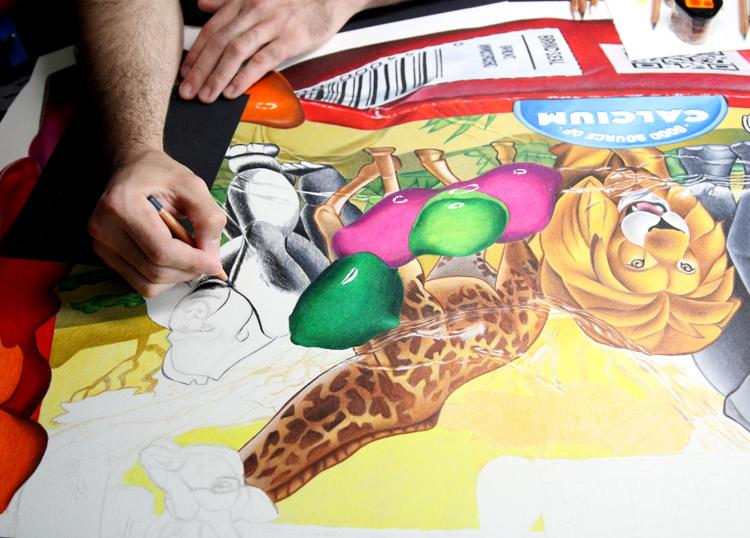 "I think that's one of the most important currencies of all time, like, the effect you have on others," Cristobal said.
Long-time friend Andy Garcia, said Cristobal's current achievements through his art don't come as a surprise. Garcia went to the opening night at "Psychedelic Robot" with Cristobal. 
"He is one of those people that whatever he wants to be good at, he'll just practice it," Garcia said. "Anywhere from two weeks to a month, and then he'll just be stupid talented at it."
Cristobal's knack for art may run in the family. 
While  Cristobal is a first-generation Mexican-American, his parents came from Mexico City, Mexico, where members of his family have been in the art gallery business for years, he said.
"They have one of the oldest art galleries there, but they run traditional, early 20th century, late 19th century Latin American art," Cristobal said. "That style isn't really what I'm into."
Cristobal has experimented with different techniques and subjects, but is still trying to define his artistic style.
Right now he works at Bivins Gallery in Dallas, where he describes his job as "laissez-faire," or doing whatever the gallery needs.
He started there by painting stripes on a wall. Next, he was asked to paint a mural. 
After the director noticed his skills, Cristobal was asked to hang one of his own pieces in the gallery. It sold almost immediately. Now he's working on a new piece to submit to the gallery.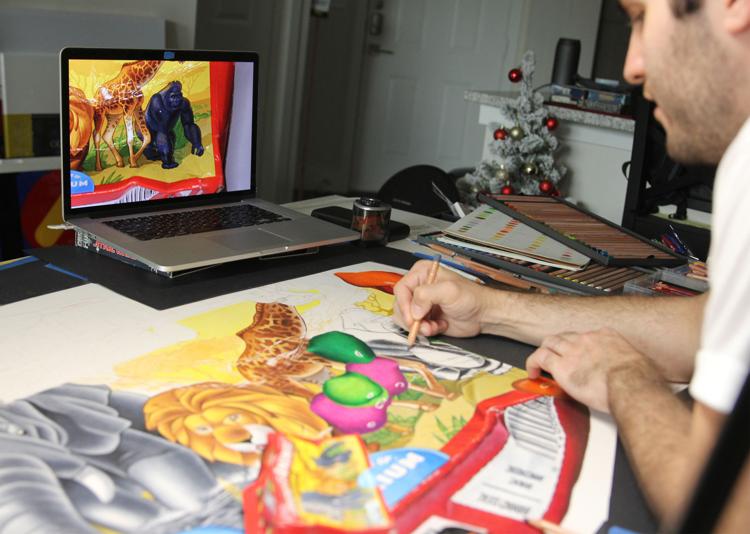 "They've also taught me that it's one thing to have talent and skill and everything, but in terms of content that you produce, it's almost vital creating something that's universally enjoyable to people," he said.
He sold his first piece, a drawing of a distorted, colorful Campbell's soup can, at the Bivins Gallery art show "Psychedelic Robot." He spent 139 hours creating the 65-by-42-inch piece, using Caran d'Ache colored pencils on paper.
Colored pencils weren't always Cristobal's choice medium. He didn't start using them until a little over a year ago. 
Cristobal used to draw using regular graphite pencils until he decided to step out of his comfort zone. Through inspiration from other artists he admired, like photo-realist artist Heather Rooney, he said he learned how adding more color can appeal to people universally.
Once he adopted the media, he loved the depth he could add to his art by layering colors. 
The process for Cristobal is more spur-of-the-moment than planned, he said. He spends a lot of time alone, in his own head, trying to figure out how to put it all on paper. 
The drama behind the way he emphasizes lighting and small details of his work reflects how he feels in that moment, he said.
"Anything that's bubbling in my head, I let it sit there and brew and then let it out all at once," Cristobal said. "We all wish we had that eureka moment, where we wake up and know what the next best thing is. Never happens to me."
If anything, he said he'll have a broad idea and refine it. It's all about capitalizing on those thoughts, he said.
Cristobal said sometimes embracing emotions and thoughts are a good thing for his work.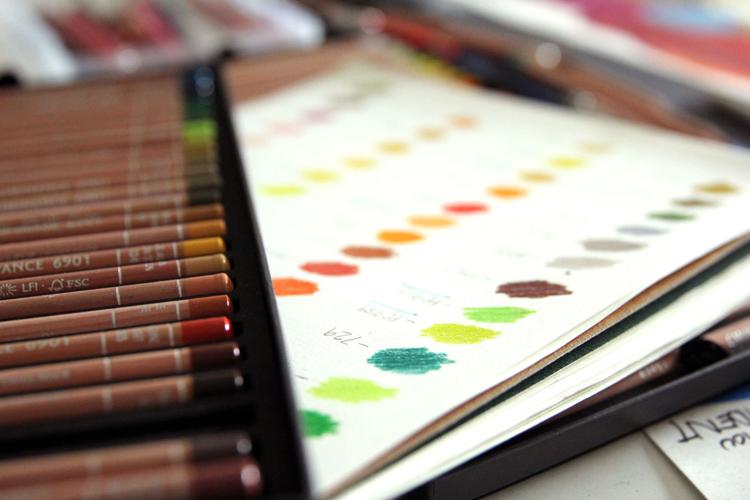 Instead of fighting them, he allows impatience and anxiety to flow through him, inspiring his artwork.
Cristobal maintains his mental health through 5- to 10-minute bursts of meditation sessions.
Being aware of how he breathes helps him focus on the now instead of being too focused on the future. Meditation has taught him to ground himself.
"It's really taught me to anchor myself in the moment," Cristobal said. "I'm always thinking of, like, the future, always, constantly. Tomorrow, an hour from now. Always the future, it's never the present."
Part of his process is centered around the time it takes for him to finish a piece. Cristobal said he used to work on two or three different pieces at a time because he would get bored or impatient. Now he dedicates himself to a single piece at a time.
Multitasking often seems like a good idea, he said, but it can end up being like a hole in the ground you walk right into.
While he works he likes to have documentaries and podcasts playing in the background, he said. He listens to those, along with interviews, hip-hop music and other ambient sounds to fill the space loneliness creates. He said sometimes he has to switch to instrumental tracks so he doesn't get too distracted while he works.
"I'm constantly trying to listen to the words and analyze their poetry, " he said. "But I'm doing this and so it's, like, too much for my brain to process at once."
Business management senior Dante Anderson met Cristobal during a summer orientation in 2015.
When Cristobal showed Anderson some of his early drawings, Anderson admired his work. Anderson said Cristobal's drawings felt relatable. His favorite drawing of Cristobal's is a portrait of boxer Muhammad Ali.
"I tell him all the time about it, that I want a copy, and that whenever I get enough money I want to purchase it from him," he said.
Anderson said he is excited about the opportunities that have lined up for Cristobal and for his future.
Cristobal said he's trying to make the most of this gift he's blessed with. Finding more creative people on campus, like musicians and other artists, has been an incredible experience for him, he said.
"It's a little bit of me for all of humankind to enjoy," Cristobal said.
@Christianburno @minadeltex