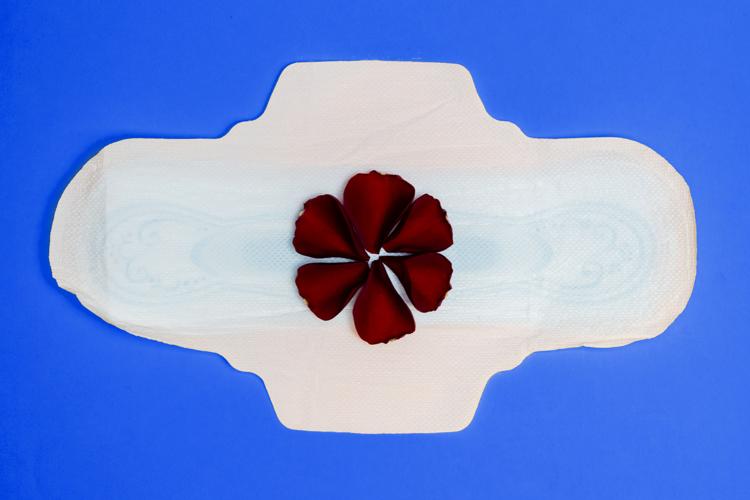 During a meeting, work shift or class lecture — it can happen at any time. A menstrual cycle's timing can vary irregularly month to month often catching menstruators by surprise. Those who ovulate are familiar with the pain and messiness of menstruation.
Many suffer in silence for fear of making others uncomfortable with the stickiness of period talk. The trouble of others lies with accessibility to proper hygiene products because of money or simply because of distance from the nearest dispenser of tampons or pads, said Cecilia Silva, political science and history junior.
In the worst cases, a woman might leak through her clothes or miss work or class because of a period, experiences familiar to Silva.
The stigma surrounding the female menstrual cycle has been a topic of discussion for years, with many asking for equal ground when it comes to the taxation, availability and the dialogue surrounding this bodily function.
The documentary Period. End of Sentence. took home the short subject documentary award at the 91st Academy Awards. In it, women from a rural village in India work to make feminine hygiene supplies easily available and end the stigma surrounding periods.
To an extent, conversations over the female menstrual cycle in India are still largely scarce. The people are hungry for this information, but it is still mostly mothers who deal with educating girls about their biology, social work professor Vijayan Pillai said.
Closer to home, the conversation continues. A bill that would exempt feminine hygiene products from taxation awaits to be heard by the Texas House Ways & Means Committee this legislative session. A similar bill failed to be heard during the last session in 2017.
Silva, who currently serves as speaker of the Student Senate, authored a resolution February 2018 that would require every campus store to sell women's hygiene products and make sure restroom dispensers are maintained and filled regularly. The resolution remains in research.
Don Lange, Auxiliary Operations and Logistics director, told The Shorthorn in October that dispensers are no longer stocked and had actually started to be removed by campus operations.
If a student going to class begins their period unexpectedly, Silva said, they are presented with a decision because of the lack of dispensers in some campus buildings: to prioritize hygiene or education.
"Right now it's a very unequal playing field," Silva said. "We're asking for the bare minimum. We're not asking for these products to be free or to be given to us at any time. We're just asking for the dispensers to be there for when we need them."
Similar efforts have been made in several universities and high schools across the state, including UT-Dallas, UT-Austin and the University of North Texas.
If the use of the same hygiene product is prolonged, leaks, skin rashes, urinary tract infections, vaginal infections and foul odors can occur, said Melinda Madison, Health Services health practitioner.
"There is absolutely no opportunity where a facilities team should ever be able to tell a student that they can't afford the necessary products for a student to survive," said Brooke López, IGNITE National program facilitator for Skyline High School.
A policy request requiring free feminine hygiene product dispensers to be present in all district high schools and middle schools was recently accepted by Dallas Independent School District and is expected to begin implementation next year, López said. During the process, female students presented to male school district administrators, sharing personal stories of times they came close to missing class or extracurricular events because of a lack of hygiene products.
"The only way to tackle [the stigma] is to really educate the current community that we are working in, the current community of activists and policy makers and community leaders, to embrace these issues that menstruators are having to face or embrace other issues that might be uncomfortable to talk about," López said.
The dialogue surrounding periods has also gained more ground culturally within media representations.
Television shows such as Netflix's "Big Mouth" and Comedy Central's "Broad City" have largely used humor to start conversations about menstruation that are relatable or uplifting without hinging on shame.
Many have even used social media to share their menstrual frustrations with the world.
putting my overheating macbook charger on my stomach to help period cramps because I'm a modern woman

— Bec Shaw (@Brocklesnitch) May 14, 2017
"If I am cramping up a storm because my literal uterus is falling apart, then I should be able to express my pain or my displeasure in that moment," Silva said. "I shouldn't be shamed for talking about it, or I shouldn't be made to hide about the topic because it's something that's affecting me."
For López, change is not possible without uncomfortable conversations. It is critical for people to start talking about things that are putting a burden on them, she said.
"It's something that I think a lot of people have started to become more open about because they've started to understand that the correlation between how the problem is handled depends on how personal we make the problem," Silva said.
@edmedeles