One by one, cars light their high-beams around a DIY stage made of four black rackable pallets and a small sound system with two speakers and a mic.
Setting the mood for the drive-in iteration of The Speakeasy Open Mic, the parking lot's glaring white lights are obscured by trash cans taped to 14-foot poles.
Before, red rose petals littered the floors of low-ceilinged rooms, but now the open mic is characterized by tire marks from doughnuts and burnouts under the open sky.
A U-Haul truck with a projector screen taped to its side is parked at the back of the lot on West Division Street. Before the night is over, more than one audience member will have danced on its roof.
After four months of self-isolation, poets and vocalists like open mic veteran Chynna Oliver have come here to purge their emotional baggage and reconnect with the creative community.
"It's a space to grow," Oliver said. "It's a space to develop and get better."
Since its inception in late 2017, The Speakeasy Open Mic has provided a haven for Arlington's budding musicians and poets. Because of the pandemic, the movement adapted into a weekly outdoor open mic and a community drive-in theater.
Inspired by the secretive speakeasies of the 1920s, Tre Michael Dae, UTA alumnus and Speakeasy founder, hid the address of the grand opening from social media, requiring attendees to DM the event's Instagram account for the details.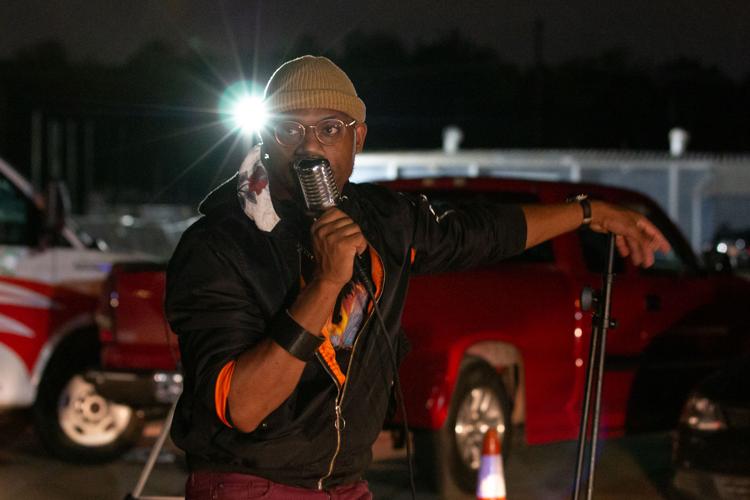 "It's a little being playful," Dae said. "I was just testing things out. With a limited audience I could find out what works and what doesn't without the pressure of having everyone out at once."
Artists write their names down on a white board and wait for their chance to shine. A 6-foot perimeter marked by traffic cones divides the performers and the audience listening from car radios.
"Every time I see some people touching, I'm like COVID," Dae said. "Even the mic, I've got to start wiping it down. People are sweating on this thing."
Oliver said self-isolation has been a blessing in disguise. Not being able to perform or record in the studio for almost half the year forced her to get comfortable recording herself and learning new audio programs.
"It's like the universe was kicking me in the ass," she said. "Like, girl ─ get it, it's time to stop depending on other people and to depend on yourself."
Vocalist Travis Gore said with everything going on in the news between COVID-19 and police brutality protests, the opportunity to get on stage and vent helped him express his frustration and anger.
Those same emotions influence the messages of his lyrics, especially when expressing his issues with religion. In the song "Lamb," the lyrics begin "Burn the church, save myself. God wouldn't care if I off'd myself."
"It just feels like, with everything going on, he's not looking out for us right now," he said.
With two and half years of experience organizing The Speakeasy events through his nonprofit The Backroom, Dae said his new fixation is a project dubbed Dream Theater Community Drive-In.
The Speakeasy has always been more than just the open mic, Dae said. People fall in love, learn to network and build business together here.
During the shutdown, Dae began collecting equipment to host these outdoor events: an inflatable screen, a projector and a radio transmitter.
The Dream Theater is currently showing movies and shows chosen by the community such as the Netflix original "The Midnight Gospel" or Sorry To Bother You, which stars LaKeith Stanfield. Dae said his goal is to one day make the Dream Theater a space for local independent filmmakers.
"This feels like family; this feels like home," Dae said. "This is definitely what I feel naturally called to do. I can't stop doing this kind of work."
@peytonnorth
features-editor.shorthorn@uta.edu
Photos: The Speakeasy Open Mic operates as drive-in concert due to COVID-19
Thursday night marked the first transition of The Speakeasy Open Mic event to an outdoor drive-in format. Drivers parked their cars around a small pallet stage with a sound system that broadcasted the performances into the vehicles' radios. The Speakeasy has been operating since late 2017, offering a platform for budding musicians and poets. Many artists said social issues like police brutality and COVID-19 have influenced their creative processes lately.