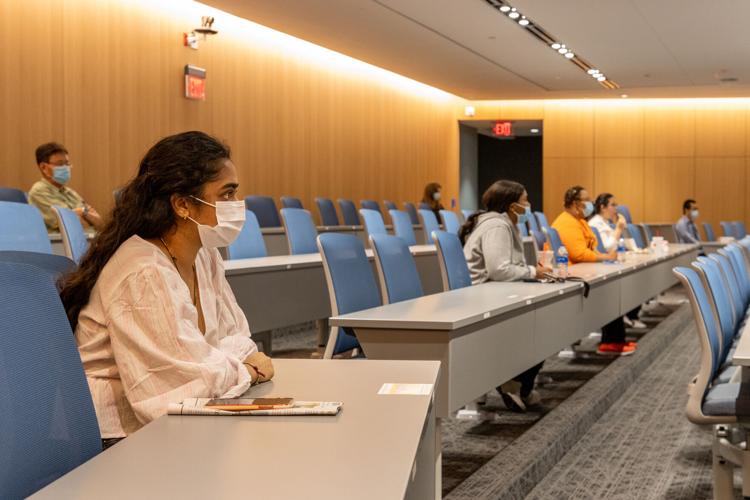 Theater senior Abby Humphreys said one of her classes this semester is held in the exact same place as a class she took her freshman year, but the experience is nothing alike.
Her class, singing for the actor, is held in the Mainstage Theatre in the Fine Arts Building. Each student is spread out with several seats and rows of separation between them, and the only person who is allowed to take off their mask is the person singing on stage.
"It's weird because when you're six feet away from each other and you're wearing a mask, I feel like you almost have this weird perception that you can't talk to anybody or that you can't interact with anyone," she said.
Despite the majority of classes transitioning to an online format this semester to prevent the spread of COVID-19, some courses are still meeting in person.
This means students like Humphreys still have to make their way into socially distanced, sanitized classrooms several times a week, and the experience is unlike anything they've witnessed in their academic careers.
Along with the on-campus mask requirement, students in her face-to-face or hybrid classes must enter the classrooms one at a time and are completely socially distanced.
Humphreys said she doesn't think students should have even returned to campus this semester at all, and she has seen some people around campus not completely cover their nose with their masks.
But ultimately she knows she can't avoid leaving her house, not only because she has to complete her courses but because she works in the service industry.
For other students like chemistry graduate Arzoo Patel, coming to campus is one of the few reasons she's had to leave home since the start of the pandemic. Now she's on campus every single day.
The majority of her classes were scheduled to meet face-to-face, but some of them are in limbo and have had to be temporarily held online because there are no classrooms available to accommodate them. However, she still has to come to campus for a face-to-face class that is only ten minutes apart from her online classes, so she has no choice but to stay on campus.
Patel also has graduate-related group meetings and lab research that she must attend.
Her grandparents live in her home, so Patel worries about being on campus because they're considered at-risk.
"We've been following [restrictions] very strictly," she said. "We rarely go out for things that aren't necessary… so I know that school is necessary, but of course I'm scared that I have to meet with other students, and I know that a lot of students my age group don't really worry about the situation."
Patel said if everyone would follow the guidelines and take the risks seriously, she would feel completely safe on campus, but she's already seen students not follow those guidelines or take the situation as seriously.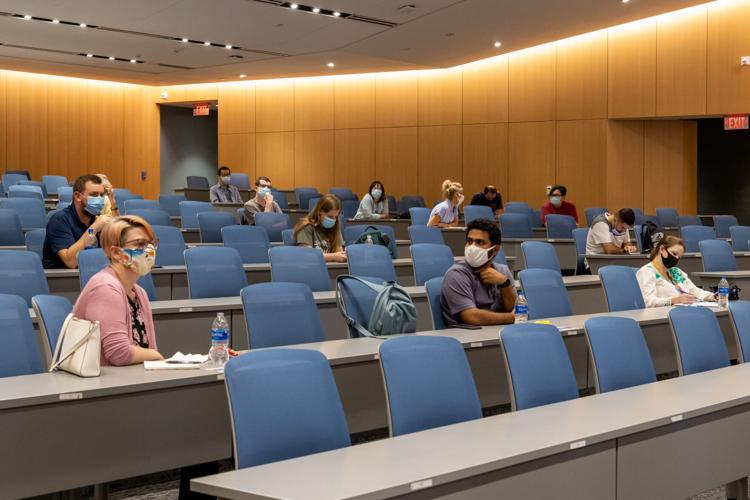 Many other students share Patel's concerns.
Shanna Banda, mathematics learning resource director, said she's heard from students with underlying health conditions who are being very cautious about being on campus as well as other students who don't understand and don't think certain protocols are necessary.
But from what she's seen, everyone is abiding by the rules.
Banda said the math labs are following the universitywide guidelines of wearing masks inside, as well as ensuring that the lab seats are properly distanced, sanitized and that students enter and leave the lab with as few clusters of people as possible.
To do this, classes are split up and rotated into different lab times throughout the week, and students enter and leave the lab in a one-way system.
Banda said she's not scared of catching the virus herself, but she does commend university leadership for preparing for this semester.
"I'm not afraid to be on campus for a variety of reasons," she said. "But I think primarily it's just because our leadership has done such a good job prepping everybody for the fall term that I think we're in really good shape."
Humphreys, too, acknowledged the steps that the university has taken to ensure safety, but she said now it's up to the community to follow those guidelines.
"If we're going to be open and this is how we have to live life, we should do our best to follow the guidelines and be as safe as we can," she said.
@ByDavidSilvaR