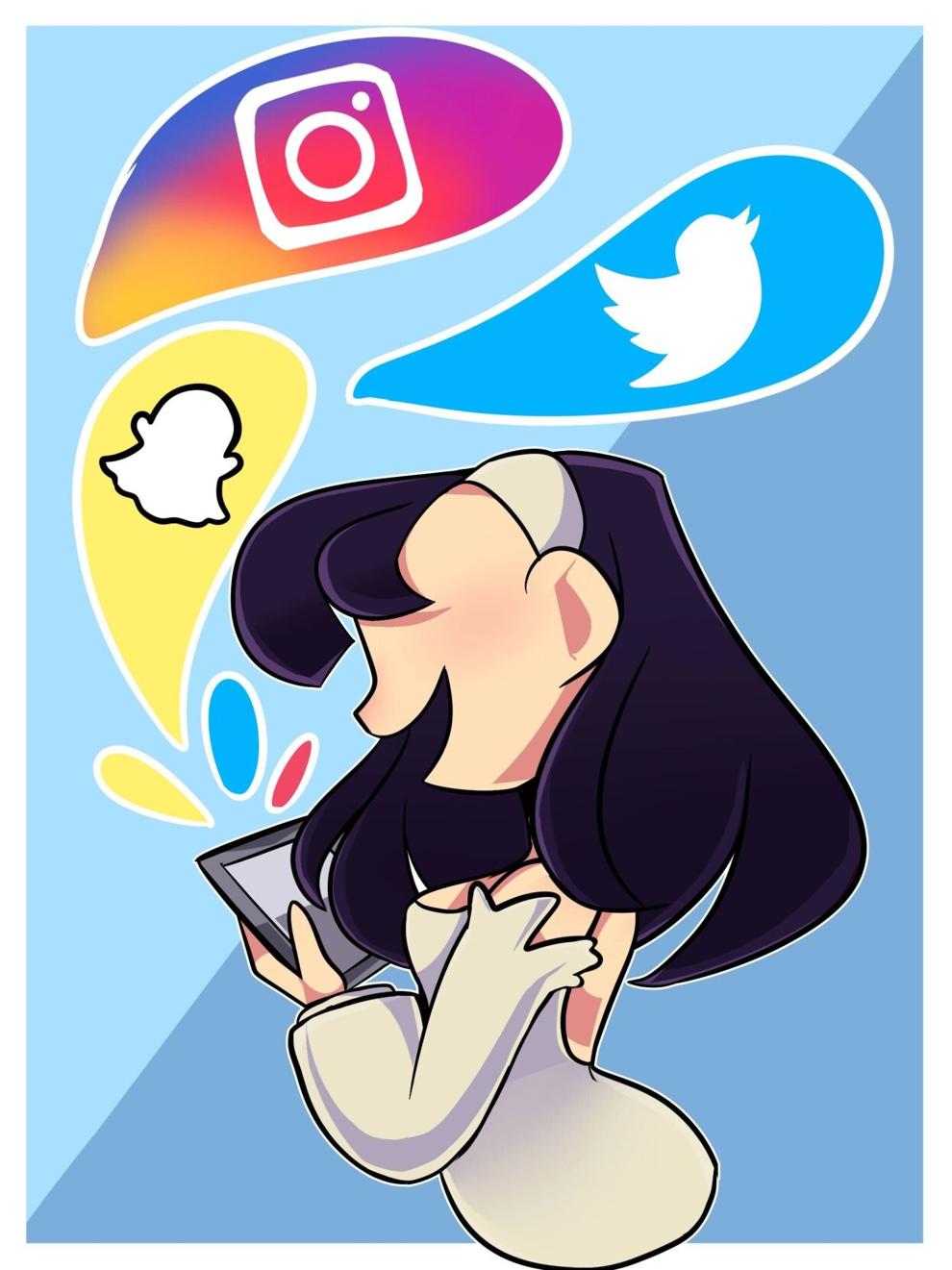 Taking a break from social media can give people time to focus on themselves and take a breather, psychology freshman Ariel Awuwoloye said. People can get too caught up and don't process what they're seeing and feeling.
Internet users spend 147 minutes per day on social media as of 2022, according to Statista.  
Amanda Jordan, advertising and social media lecturer, said people should take a step back from social media if it's consuming their life and thoughts or causing them more harm and making them unhappy.
"You're still going to measure yourself up against other people," Jordan said. "That's kind of a human thing."
Education sophomore Vianey Moncada said social media impacted her negatively because she's always comparing herself to other people and what they're doing.
She said she uses TikTok to entertain herself, Instagram and Snapchat to see what her friends are up to, Twitter for news and Facebook to keep up with family members who don't use other social media platforms.
Computer engineering freshman Kopil Sharma said he's an international student, so he uses social media to keep in touch with family and see what's going on in their lives.
However, social media affects people's mental health because it's addictive and can trigger more sadness than well-being, according to Forbes. Social media also triggers jealousy as users compare their lives to others and think having more followers means they're social.  
Moncada said everybody wants to be perfect, so they use social media to give people a different idea of who they truly are.
"There isn't anybody to say, concretely, 'This is true' or 'This is not true,'" Jordan said.
People can curate an image showing only the best parts of their lives, she said. Great things may be happening for someone, and they're happy to share it on social media, but people should realize it's not the full picture.
They can benefit in making social media content, keeping in mind how Instagram differs from reality because reality isn't always perfect, Jordan said.
"I don't use it to the point where it's become my whole life, and I have to stay on it," Awuwoloye said. "It offers just a break from all the other things I have to do."
Jordan said social media platforms are designed around game theory where it's like gambling in Las Vegas with no clocks or windows for people to tell how much time has passed.
Moncada said she's struggled with social media being a distraction because she hardly notices when she spends about four hours on social media a day.  
Electrical engineering junior Justin Yurillo said using social media has both negative and positive aspects because people can find information that interests them, but it also makes them unaware of other views.
"Maybe not everybody needs to take a social media break," Jordan said. "But I can see some value in at least considering it."
With finals week coming up, students should make sure to not set themselves up for failure by spending too much time on social media, she said. Students should also protect their mental health by realizing their life is fine.
"If you use it correctly, it's gonna be beneficial for you," Sharma said.
@ritchie3609