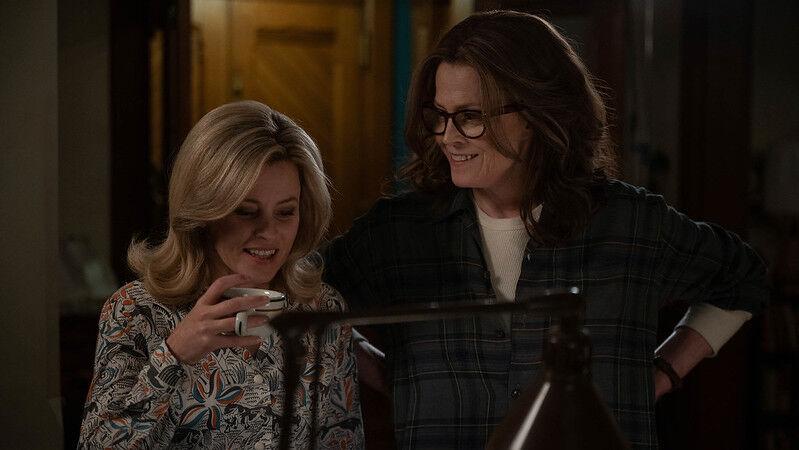 It's one thing to find an abortion clinic in the '60s. It's another to help contribute to an underground network of women providing abortions. In 2022's drama Call Jane, the portrayal of finding safe abortions was poignant yet sometimes passive. And with the overturning of Roe v. Wade last June, the depiction of what could happen to people looking for a safe abortion could have been heavy, but Call Jane paints the issue in a brighter light.
The film, which premiered at the 2022 Sundance Film Festival and on Hulu on March 23, follows Joy, portrayed by Elizabeth Banks, a sunny, suburban housewife with her loving husband Will, portrayed by Chris Messina, and teenage daughter Charlotte starring Grace Edwards. One day, Joy's picture-perfect life took a different turn when she realized she was experiencing a life-threatening pregnancy.
Despite her heart condition, a boardroom of men strikes down her request for an abortion as soon as they hear there is a 50% chance of her surviving.
As the scenarios layer to prove that the only way Joy can get an abortion is through illegal means, director Phyllis Nagy and writers Hayley Schore and Roshan Sethi amp up the fear and brutal realities for many women experiencing the same situation at the time. One secretary in the psychiatrist's office even tells Jane, "Just fall down the staircase. It worked for me," in the most nonchalant way imagined.
But a large portion of the film is dedicated to when Joy finds an advertisement that prompts her to "call Jane" and what happens after. After the call, she gets dropped at a small apartment, which, while not as shady as the illegal abortion clinic she initially went to, the ambient lights, clangs of medical instruments and colder color palette of the scene immediately make one uncomfortable.
Joy is eventually pulled into the group, which consists of Janes, even though she didn't initially want to be involved. The '60s and early '70s again came to play, as the main character had to hide her actions from her successful husband, maturing daughter and widowed next-door neighbor.
Although the movie follows the perspective of a white, suburban mother, it smartly weaves in details of other women with different backgrounds. As Joy learns about them, the audience also follows her journey.
Whether it was Gwen, the only Black member of the group and who fought with the leader constantly about the steep price that many poor women of color can't afford or Virginia — played by the film's MVP Sigourney Weaver — who is headstrong and has to fight through many obstacles to find a solution to support clients, each woman tells an important story that still relates to this day.
After the Supreme Court overturned Roe v. Wade last June and returned the power to grant access to abortion to the state, multiple questions about whether legal abortion would be restricted by income disparity have been raised.
However, what's interesting about Call Jane is that it never goes into the victim mode. From the beginning, the filmmakers believe that a woman's right to an abortion is a given. As Joy, Banks' performance was restrained, muted at times, but grounded enough for the audience to comprehend how the pre-Roe v. Wade era affected people wanting an abortion.
Toward the end, the film starts losing momentum, even when the Janes are at risk of getting caught by a detective. However, the resolution was more of a copout and arrived too quickly since the problem was brought up with less than 30 minutes left of the running time. Because it covers a lot of stories and subtexts at once, its 121-minute feels too short since no character receives a climatic moment one would expect this type of story to have.
But it still has a powerful ending. The audience already knows what eventually happens with Roe v. Wade. Yet, it was still a powerful moment to see each of the Janes throw a client's card into a fireplace as nationwide abortion access was legalized by the end of the movie.
With the film's timely release, it may serve as a reminder to the audience that people may have to return to those times again following the Supreme Court's decision last June.
@DangHLe