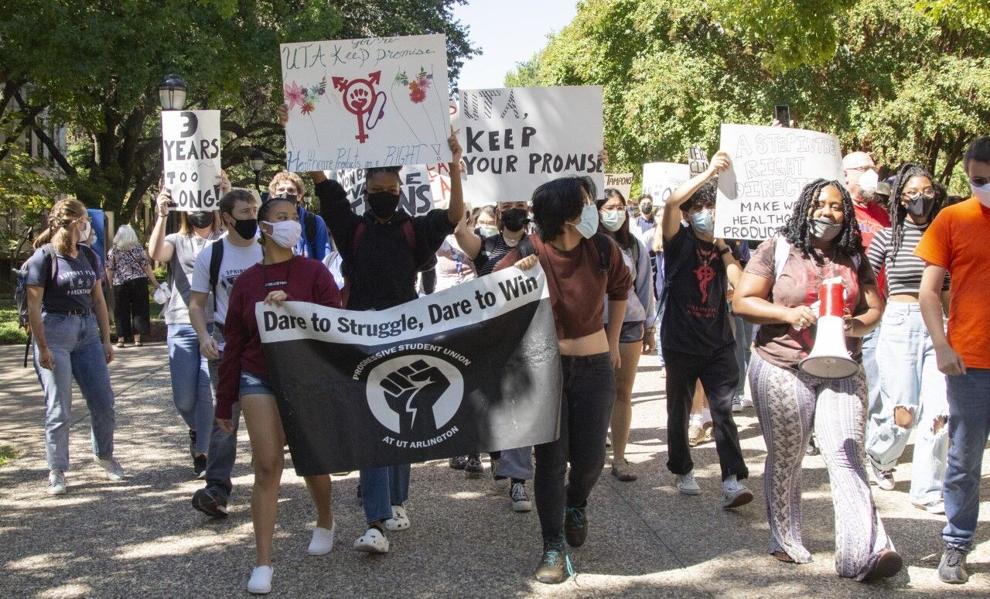 The Progressive Student Union led a rally and march in front of the University Center to express dissatisfaction with UTA's failure to fulfill a Student Government resolution. 
Resolution 18-04, ''I am Woman, Give me Options,'' was written by Cecilia Silva in 2018 and was passed by the Student Senate in 2019. Mark Napieralski, Progressive Student Union president, said upon personal survey, many restrooms still lack the products this resolution states the university will provide.
"We feel that this is ultimately a failure on part of the school to provide the necessary and basic health care services," he said.
Speakers took turns on the megaphone conveying their frustration with campus administration, relaying facts about period poverty and demanding the university fulfill resolutions passed by the Student Government.
Afterward, attendees marched from the UC to the University Administration Building to deliver a petition signed by about 500 students.
Environmental science freshman Katy Atkins said she attended the rally because she enjoys being an active voice on campus and being able to participate in a safe way.
Women make up 62.9% of the UTA campus, according to College Factual. Atkins said she feels that period products should be accessible to period-having bodies, especially on campus.
Nursing freshman Katherine Pardo said it's important to stand up for what we believe in. Students need free period products in the restrooms because not all of us carry quarters, she said.
"We don't choose to bleed," she said.
Tampons aren't a luxury, we need them, she said. If the university can distribute free condoms, they can give away free period products.
"Resolution 18-04 needs to be in progress more, rather than on the backburner," Atkins said.
The administration hasn't done enough, Napieralski said. People either thought it passed or thought it would eventually be done, and the momentum died, but we want to restart that momentum, he said.
"People are tired and fed up of having to deal with halfway to bare minimums, or being told that it will be done just eventually, people want actions now, they want success now, they want things done now," he said.
@katecey1