Nursing sophomore Zyria Lott has had more experience at UTA online than in person. Her first semester at UTA, fall 2019, was her only semester in-person before the university moved online last March. 
Like the rest of the community, she's now entered her third semester of online learning at UTA. It's almost normal now.
Nevertheless, many students are still facing their own unique challenges with the online modality, and the university has been gathering information to analyze the situation and better accommodate students. 
Average GPAs 
A University Analytics report, which includes average GPAs from all undergraduate and graduate students, indicated that overall GPAs haven't declined nearly as much as some might think. In fact, they haven't declined at all. 
The report was divided into two categories: students enrolled in nine hours or more, and students enrolled in any number of hours. Doctoral students and students taking accelerated online courses were not included in the statistics. 
The average GPA of all undergraduate students from spring 2019 to spring 2020 showed an average GPA "bump up" of 0.31, said Pranesh Aswath, interim provost and vice president for Academic Affairs. That's almost a 10% increase.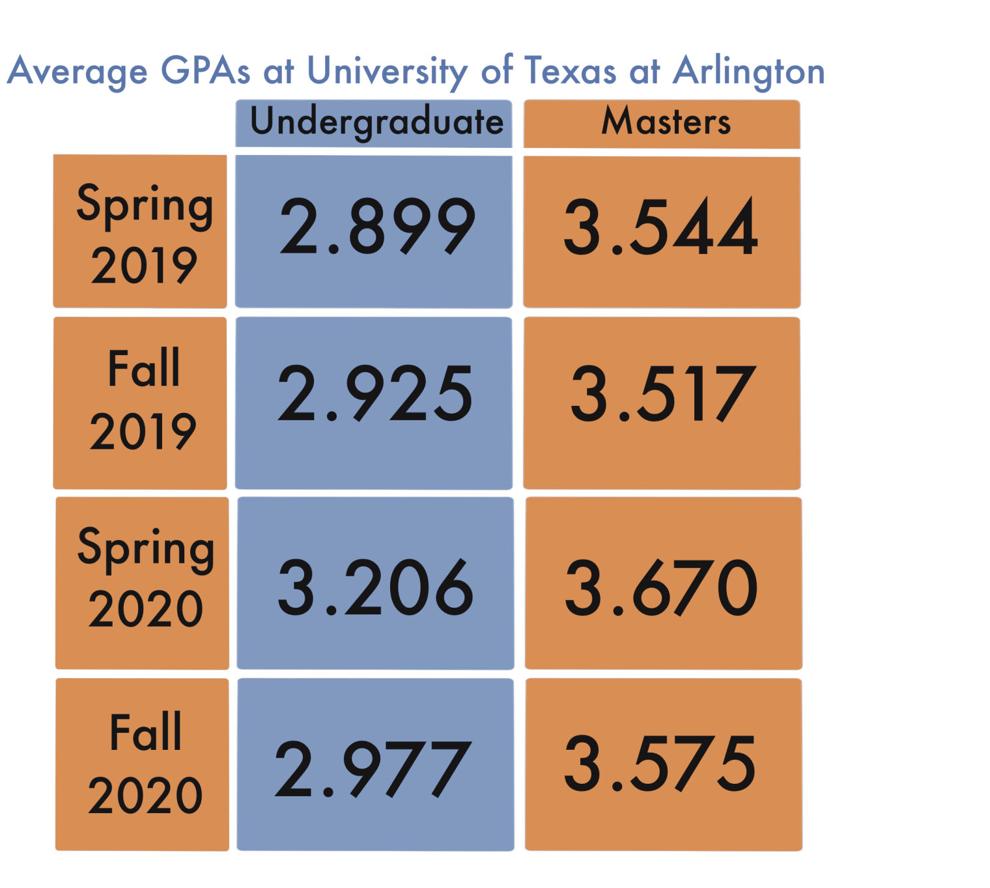 Meanwhile, the average undergraduate GPA from fall 2019 to fall 2020 stayed about the same, with a 0.05 increase Aswath attributed to a "rounding error." Graduate students' average GPAs experienced a similarly insignificant rise from spring 2019 to spring 2020 and fall 2019 to fall 2020. 
Aswath said the stable GPA averages show that faculty have been more accommodating while adhering to the same standards, and that students were able to adapt to the new modality. 
Aswath said it's important to note that the average GPAs didn't seem to differ based on how many credit hours students took. On an individual basis, students surely faced several issues, Aswath admitted, but not as a whole based on the numbers. 
Still, the university must consider students' unique situations because their living circumstances factor into their academic success, said civil engineering sophomore Thuyan Nguyen. Faculty don't really know what's going on behind their screens. 
Individual GPAs 
Nguyen described her GPA before the pandemic as "really good," but since the university transitioned to online learning, she began struggling to keep her grades up. With stay-at-home orders, it was hard for everyone, she said. 
"The circumstances are different, and so we can't really handle as much as we could before," she said. "That's how it is for me. I couldn't really balance [everything]." 
Lott's GPA has risen slightly since the transition to online classes, but she said it's harder to maintain that performance level. 
Public health senior Mykala Nwatu's GPA also rose, which she said may be due to the fact that it's her senior year, and she's moved to more independent classes. 
"I can't really say it's because of virtual learning, or it's because we went online," she said. "It could just possibly be because my classes are more independent, and the professors are letting us work at our own pace." 
Pros and cons of online learning 
For Nguyen, online learning has been a "mixed bag." 
She does appreciate that she can watch lectures on her own time, but on the other hand, it's hard to take the initiative. Even getting out of bed to stare at a computer screen is hard for her sometimes. 
It's even harder when the material isn't engaging, Nguyen said. In an in-person setting, students are more likely to ask questions and have a conversation, but that energy hasn't translated behind the screen.
Lott agreed that it's harder to participate freely online.
"Talking to a computer screen rather than a human is very different," she said. 
Although she likes that many professors essentially give their students the class materials and allow them to work on their own time, Lott said it sometimes feels like she's teaching herself. 
For easier classes, that's convenient. But for harder classes in topics she doesn't understand, more hands-on teaching would make the material more digestible. 
For Nwatu though, virtual learning has actually been better than in-person classes. As an independent contractor, she's been able to build her own work schedule around her online classes. 
Most of her professors record their online lectures and don't take attendance, unlike when they were in person. Now, if she has to miss class, Nwatu can simply head to Canvas and find any class lectures she missed. 
Still, she said online classes aren't her preference. For many professors, it's clearly their first time teaching in a virtual format. 
"They're trying to format it as if we're in class — to the best of their ability of course — but it just kind of overcomplicates the class and causes more issues," Nwatu said. 
In her asynchronous classes where she isn't required to attend, some professors still try to push students to attend and interact during class time. That's not the point of asynchronous classes, she said. 
In-person classes
This semester, all of Nwatu's classes are fully online. And she said she wouldn't attend classes in person this year even if she could. 
As a public health major, she follows COVID-19 news constantly. Given the rising cases and new strain of the virus, she understands the need for virtual learning. 
Until the vaccine is readily available to everyone, it's better to remain online, she said. 
One of Nguyen's classes is a hybrid, but her professor gave the option to not attend class for safety purposes. She chose to stay home. 
Lott, however, said if she could, she would attend small in-person classes. For courses like her microbiology class, which has about 190 students, it makes sense to have it online to limit the spread of COVID-19. But for smaller classes like her English class, with about 15 students, it's much more feasible to be safe, she said. 
Pass/Fail options 
Currently, the university has no plans to continue offering pass/fail options for students. 
In the spring 2020 semester, about 3,250 students chose to use the pass/fail option, Aswath said. Of those, about 2,400 students elected to use pass/fail for one class and the rest chose more than one class. That's about three to four percent of classes that students have taken, as the student body averages about 100,000 individual classes per semester. 
That's about 3% to 4% of classes that students have taken, as the student body averages about 100,000 classes per semester. Hence, pass/fail didn't hugely impact average GPAs. 
Still, Lott said a pass/fail option should be implemented for this semester, and it should also be expanded. The way it's been formatted the last two semesters, it's only beneficial if a student is about to fail a class. Even then, the pass/fail option can't be used if the course is a prerequisite for another course. 
She used the pass/fail option for one of her classes last semester, and it helped save her GPA. 
Many professors require tedious assignments, and it can be hard to keep up, Lott said. Even requiring students to attend every lecture with their cameras on and pay perfect attention is asking too much. 
"That's kinda horrible, but I mean I'm gonna do it," she said. "Because I have to." 
Overall satisfaction 
According to a fall 2020 survey by the National Survey of Student Engagement, 77% of UTA students believed the institution helped keep them safe and healthy this school year. About 74% of UTA students surveyed said the university provided substantial support to help them succeed academically, compared to 70% of all U.S. college students. 
Although the university has done a fair job keeping the community safe from COVID-19, they need to do more for students living in unstable situations, Nguyen said. Mental health and domestic safety resources are technically available to students, but it's hard to reach out to those programs, she said. 
"I tried it once, and it didn't go through," she said. "That kinda discouraged me from doing it again." 
Aswath said the university is in a "reasonably good" position with online learning, so now administration is focused on looking at the lessons the community learned through a virtual format. For example, it's become evident that students enjoy online academic advising and tutoring rather than needing to come to campus. 
Once the pandemic ends and classes are able to switch back fully to an in-person format, it's unlikely things will go entirely back to how things were before. Aswath said the university wants to still incorporate the good things learned during the pandemic. 
If the vaccine rollout is effective and successful, then Aswath anticipates transitioning back to a mostly in-person learning format by the fall semester. 
Although the first semester online was definitely rocky, the university is making progress, Lott said. As long as faculty continue to listen to students' needs, the experience can only get better. 
@CecilLenzen