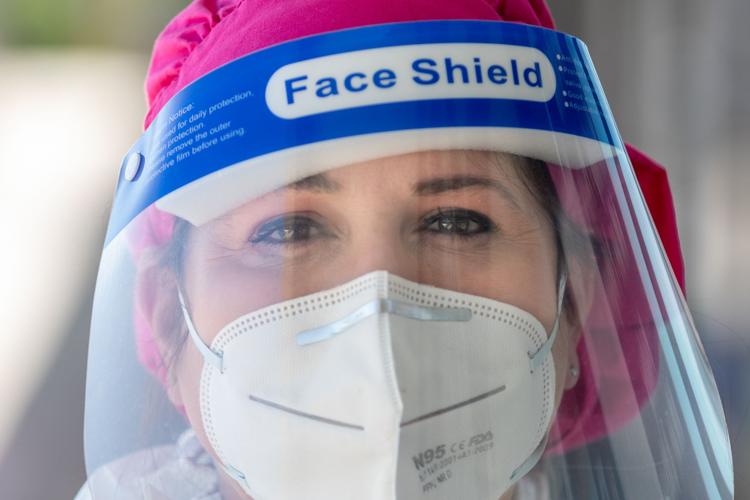 Every day after her eight-hour shift, nursing alumna Isabel Muñoz drives home from Dallas to Arlington, strips all her clothes off in the garage and heads straight to the shower. Her clothing goes directly into the washing machine.
Before heading to bed, she calls her father to let him know she, her husband and two sons are still OK.
Her nightly ritual is a necessary precaution in the midst of the COVID-19 pandemic. Muñoz works all day as a family nurse practitioner at Clinicas Mi Doctor, a family medical clinic in the heart of Dallas.
"It's just a change of lifestyle," she said. "It's something new, but it's what we're going to keep doing until this ends."
Muñoz is part of a team of 12 staff members at Clinicas Mi Doctor. The clinic uses a triage system to vet each of its patients for COVID-19, Muñoz said. If a patient meets the criteria to be tested for COVID-19, they're sent to the Mi Doctor testing location down the street from the clinic. Although the clinic itself isn't a testing site, she said the team is infrequently forced to perform emergency tests.
Daniel Saldana, Clinicas Mi Doctor COVID19 response lead, said the Mi Doctor system has 59 active locations and 15 drive-thru COVID-19 testing centers throughout Texas and tests 600 to 700 patients for the virus daily. Each clinic is also equipped with testing swabs for those emergency situations.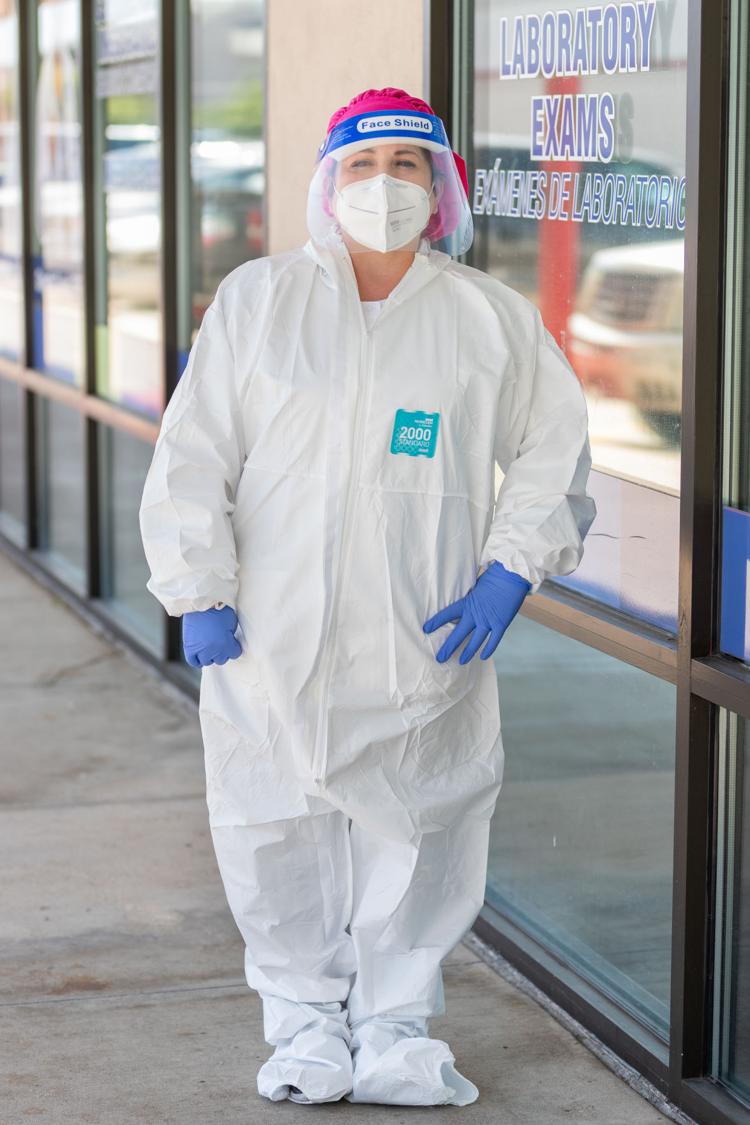 Clinicas Mi Doctor tested its first COVID19 positive patient during the second week of March, Saldana said. Since then, over 11,000 patients have been tested, with over 1,200 positive results at numerous Clinicas Mi Doctor testing sites. Every day, those numbers grow, and the nurses at Clinicas Mi Doctor have to adapt.
Muñoz said she always wanted to be a nurse; even as a child, she sought to help others. If another child fell down at school, she'd rush to help them up and check if they were OK. Throughout high school, she worked at a nursing home through a nursing assistant program called HOSA.
"I just always wanted to help others since I was a little girl," she said.
Nursing was the best outlet for her to continue that.
This isn't her first time handling infectious diseases, though. In 1994, she worked for a year at Harris Methodist Hospital on the infectious disease floor, handling patients with tuberculosis, AIDS, MRSA, hepatitis and chicken pox in adults.
Still, she said nothing she has experienced compares to the large-scale magnitude of the coronavirus.
When the virus initially became widespread, Muñoz's first concern wasn't for herself.
"I just started worrying about all my patients," she said. "I'm hoping they're staying at home."
Most of Muñoz's patients are Hispanic, and she said she's especially glad to work at a clinic where she's able to speak Spanish every day. She sees a lot of need in Hispanic and Latin communities, and those needs haven't changed because of COVID-19 — they've grown.
However, sometimes those needs go unmet or unsatisfied because of language barriers. People aren't able to let go and truly connect to medical personnel unless you speak their language fluently, Muñoz said.
Because of this, she felt drawn to Clinicas Mi Doctor.
"I did look for this community," she said. "I've always served in communities with high Latin populations because I'm able to speak Spanish and understand it. It's a calling, it is. It's a wonderful community."
Muñoz's father, Victor Alcocer, a 1978 criminal justice alumnus, said it's especially important to have Latin nurses serving Latin communities because they can understand and break down large, complicated medical terminology in a way that Spanish-speaking patients can understand. That type of representation is sorely lacking, he said.
"Most of her patients are Hispanic, and she can relate to them," Alcocer said. "And the patients can relate to her and trust her."
Much of Muñoz's personal motivation and inspiration comes from her late grandmother, who had diabetes, hypertension and high cholesterol. Her grandmother spoke mostly Spanish, and Muñoz had to give her insulin shots every day.
"I just always think of her when I see my patients," she said.
In return for her dedication, she's seen an outpouring of support, especially during the outbreak. Patients reach out to her virtually to offer comfort and tell her daily they're praying for her and the other nurses at Clinicas Mi Doctor.
Even Alcocer brings homemade meals to the clinic each week, just to make the nurses feel good and enjoy something that isn't microwaved.
He said he's enjoyed cooking for the clinic each week, bringing them Swedish meatballs, brisket, pulled pork, smoked chicken and other meals. As someone who loves to cook, he said he's just trying to do his part to help out his community and support Clinicas Mi Doctor and its efforts.
Muñoz said these random acts of kindness, either from her family or her patients, have reinforced to her that she's truly part of a community. One that she's proud to serve.
Although the pandemic prompted a number of protocol adjustments and transitions, she wants her patients to feel comfortable and safe coming into the clinic for their usual care. During her appointments, she's covered head to toe in personal protective equipment and her patients wear a face mask.
Muñoz said one of the major changes she has had to adjust to during this pandemic is curbside care and telecare. She's able to treat and diagnose patients from their car or in a video chat. With each curbside patient though, she's required to completely cover herself in personal protective equipment.
"It's been different but creative," she said. "I love that we're able to help in whatever manner possible here."
Saldana said the overriding sentiment he's seen in Muñoz and the other nurses at Clinicas Mi Doctor is an excitement to be able to truly help their community in a time of such unprecedented need.
It's a humbling experience to be able to work on the front lines of a pandemic, Muñoz said. She receives plentiful praise for her service during COVID-19, but to her, it's just part of a nurse's job.
"It's what we signed up for," she said. "This is what [I] signed up for, to take care of others."
Many people have hailed nurses as heroes, commending them for their work during COVID-19, and Muñoz's son, Jovi Muñoz, a supply chain management junior at UT-Dallas, said that term couldn't be more accurate. His mother might "just be doing her job," but it's a service that the country couldn't survive without.
"A hero is somebody that goes ahead and thinks of other people more than themselves," he said. "They know in the long term it's going to help not just them but the community."
To him, that defines Isabel Muñoz. Alcocer's emotions mirrored his grandson's.
"Isabel is — she's my hero," Alcocer's voice cracked with pride. "And all the other nurses that work there, they're heroes to me because they're on the front line."
Jovi Muñoz said he's proud of his mother for keeping her job during this difficult time. While many nurses have quit their jobs or at least considered it because of the pandemic, quitting was never an option for his mother. She visibly loves her job every day, he said.
Although it's a difficult time to be a nurse right now, Isabel Muñoz said her family and her church help her keep a positive outlook on life. There's no definitive end to COVID-19 in sight yet, with the number of cases growing daily. So far, Dallas County has seen over 6,000 cases and over 145 total deaths.
It's concerning having to work in one of the state's COVID-19 hotspots, but the most Muñoz said she can hope for is that people follow social distancing guidelines and try to minimize the spread until a vaccine is developed.
"We're all a community here," she said. "We're all in this together."
@CecilLenzen