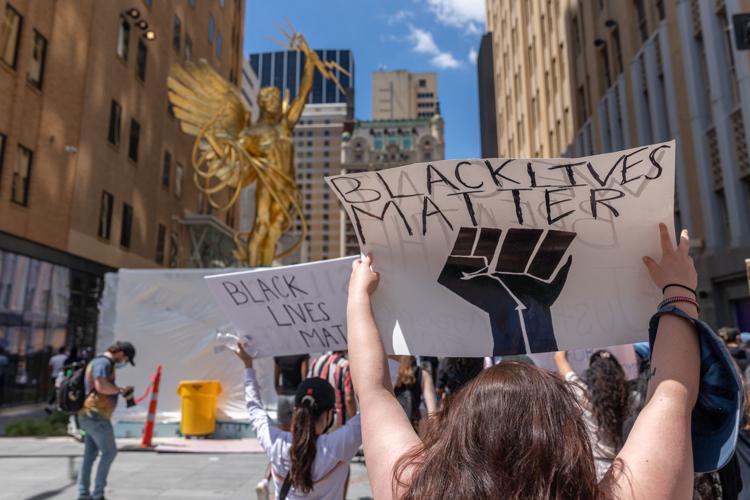 The Office of Multicultural Affairs hosted a virtual town hall meeting Monday to discuss the Black Lives Matter movement in light of recent protests stemming from the death of George Floyd, a 46-year-old black man from Minneapolis, Minnesota.
Floyd died May 25 at the hands of Derek Chauvin, a white man and former Minneapolis police officer.
Other topics of discussion included living as a black person in America and how to be an ally to black people.
Relius Johnson, Multicultural Affairs assistant director, said in an email that the purpose of the event was for members of the UTA community to learn, express their emotions and participate in a dialogue about the Black Lives Matter movement.
The session, which had 267 people in attendance, began with a spoken word video by UTA alumna Debbie Alamrew talking about her frustrations regarding police brutality as well as the need for the Black Lives Matter movement. It progressed into a history of the movement, highlighting the deaths that gave rise to it and the women that started it.
"Black Lives Matter is a call to action in response to violence, systematic oppression and anti-Black racism," Johnson said. "People who believe in this movement have a shared desire and determination for justice and equality."
Johnson spoke about racial trauma and gave background on some of the recently publicized police brutality incidents and alleged racist encounters, such as the Amy Cooper case last week.
Participants broke up into smaller groups facilitated by faculty and staff where they shared their opinions on racial injustice and police brutality.
Alumna Nia Pierce said she chose to attend the event because as a black woman, the movement is personal to her.
"I hate seeing people in my community being murdered without a reason besides the color of their skin," Pierce said. "I want to do what I can to educate myself more on this issue and do my best to make a change for the future."
She said she hopes to see changes such as an increased awareness within and outside of the black community, police reform, greater government accountability and voter education.
"I hope that educating others about the power of their vote and how this can change their local government, encourages them to vote in their elections other than presidential elections and that this brings the change we need," she said.
The meeting ended with a debriefing session. Faculty and staff summarized the essence of the movement and shared tips for staying safe while protesting, such as bringing a change of clothes and being aware of one's surroundings.
Multicultural Affairs director Melanie Johnson said she hopes attendees left with a feeling of empowerment.
"I hope they feel united and empowered to stand on their own to be activist[s] whether that is simply talking to their family or lobbying for legal changes," she said.
@TritimaAchigbu