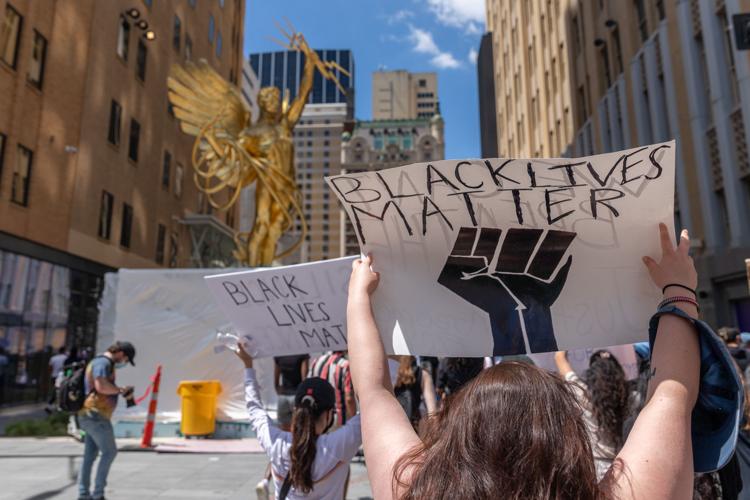 As protests around the world erupt in response to the police killing of George Floyd, many have opted to stay home to avoid large crowds amid the COVID-19 pandemic.
Here is a list of films, documentaries and TV shows you can watch from home to educate yourself about the struggles black people have faced — and continue to face — in the United States.
The Hate U Give
This movie is a must-watch because it relates to current issues that black Americans face by showing how the killing of an unarmed black man affects a community that only wants justice.
It focuses on the aftermath of the death of Khalil (Algee Smith), a black man fatally shot by an officer as he reached into his vehicle to grab a comb after being asked to step out. It follows teenager Starr Carter (Amanda Stenberg), who witnessed the incident and lives through the aftermath.
Carter lives in two different worlds since she goes to a predominately white private school while living in a predominantly black neighborhood. From both places, she feels pressure on whether or not to testify in court.
Watch it on Hulu, Amazon Prime and YouTube.
When They See Us
This limited documentary series about the Central Park Five focuses on telling the story of five young boys who were prosecuted on sexual assault charges of a female victim without any evidence that tied them to the incident.
The Central Park Five consist of one Latino and four black teenagers who were at the wrong place at the wrong time. In a matter of days, their entire lives changed. The five boys were exonerated in 2002 after spending years behind bars for a crime they didn't commit.
Watch it on Netflix.
See You Yesterday
Two high school students invent technology that allows them to travel back in time. They then use the technology to try to prevent the death of their brother, who is fatally shot when he reaches for his phone in his pocket.
The brother and his friend were in the wrong place at the wrong time, and he was shot by officers simply for reaching for his cellphone.
Not only does this movie depict how black Americans are treated in America, but it also shows two black teenagers capable of creating technology when minorities are rarely seen in STEM-related fields.
Watch it on Netflix.
13th
This documentary focuses on the 13th amendment and the clause "except as a punishment for crime," which relates to the disproportionate number of African Americans incarcerated in U.S. prisons.
It shows how the aftermath of the 13th Amendment produced an increase in African Americans in American prisons after slavery was abolished. It discusses how the increase started in the early stages when black Americans were charged for minor incidents, which we continue to see in today's society.
Watch it on Netflix.
The Death and Life of Marsha P. Johnson
This documentary focuses on the life and death of Marsha P. Johnson, a transgender black woman. The filmmakers look at her case by speaking to people who last saw her and people who knew her. Her death was ruled a suicide, but many believe she was murdered.
Now, Johnson is commonly remembered as a transgender activist and a prominent figure in the Stonewall riots of 1969. During times like this, it is important to remember that black LGBTQ community members are also part of the Black Lives Matter movement.
Watch it on Netflix.
Hidden Figures
This film is about the true story of Katherine G. Johnson (Taraji P. Henson), Dorothy Vaughan (Octavia Spencer) and Mary Jackson (Janelle Monáe) and their roles in the NASA space program.
This story not only shows the importance of representation for young black children but recognizes the group of black women who made it possible for the U.S. to reach space.
The film showcases how the group of black women were treated in a predominantly white profession. During this time, the facilities were segregated, so when Johnson began to help in the facility for white people, she had to walk across the grounds to the colored facility to use the bathroom every single day.
Watch it on Amazon Prime and YouTube.
@Angie_Perez99