UTA alumnus Frank Ridout started Frankly Good in Garland, Texas, to make great chocolate chip cookies, but that's not the only thing that the company provides. He said he wants Frankly Good, his vegan cookie startup, to help promote the fact that being vegan doesn't mean you can't enjoy tasty food.
"The overall mission of the company isn't necessarily to make cookies," he said. "It's to show people that yes, you can make a delicious-tasting cookie that's maybe even better than its traditional counterpart without using milk, eggs or butter. Just because you're going vegan doesn't mean you're going without."
Last year, Ridout started the company because of his sweet tooth.
Now, the business has found its way into farmer's markets and local stores, has been featured by local publications and is a recent $15,000 grant winner through UTA's Maverick Entrepreneurship Program and Award, a competition that encourages students and graduates to express their business ideas through video and in-person pitches.
Frankly Good's roots date back to 2015, when Ridout started following a vegan diet but couldn't find a vegan cookie that he truly enjoyed. He continuously searched for one but had no luck.
Determined to please his sweet tooth, Ridout decided he was going to make a tasty vegan cookie himself.
He made the first batch for himself, but once friends and family got a taste, they asked him to make them more whether they were vegan or not.
Ridout had always wanted to start a business, so he decided that if people really enjoyed his cookies, they would be the perfect centerpiece for a startup.
In early 2019, Ridout launched Frankly Good and sold his vegan cookies via table booths at Dallas-area farmer's markets.
"Pretty much immediately we discovered, just from the fact that we were selling out every different market, that we were on to something good," Ridout said.
With the previous business ownership experience that his mother Andrea Ridout had, the two teamed up and continued to expand the business, renting a commercial kitchen, increasing their farmer's market circuit and finding small local stores to distribute his products to.
The impact of COVID-19 created a road bump for the company as their usual farmer's market visits were canceled. However, the pandemic allowed them to concentrate on setting up their website and online orders, and they now have added cookie dough to their inventory.
In spring 2019, Frank Ridout entered the UTA Maverick Entrepreneurship Program and Award competition and was recently awarded a $15,000 grant for becoming a finalist. Now, Frank Ridout and Frankly Good will have an opportunity to compete in the fall competition for an additional $25,000.
Andrea Ridout said the reason why Frankly Good cookies are such a success is that Frank Ridout keeps his menu items minimal but high quality.
The company offers three main cookies, the Chocolate Chipster Cookies, the Nutty Chocolate Chipster Cookies and the Chewy Ginger Rosemary cookies, the latter of which is based on an old family recipe.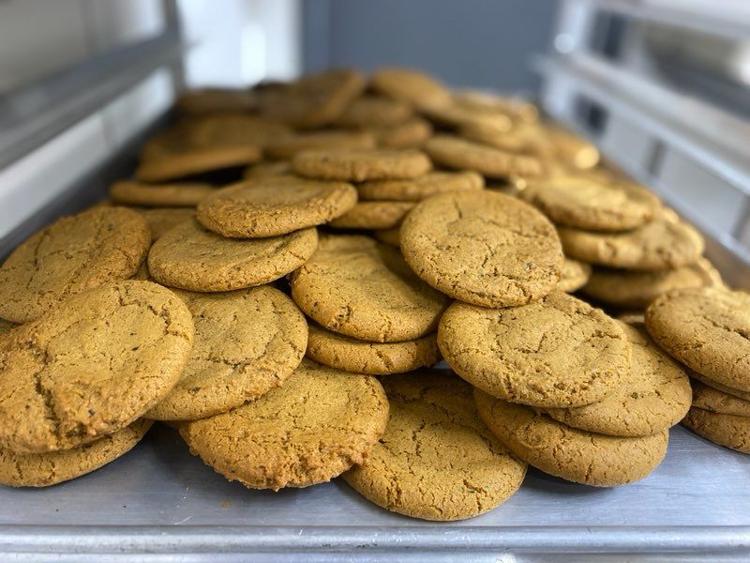 The base ingredients for his cookies include unbleached wheat flour, organic palm oil, organic sugar and egg-replacer. The Chocolate Chipster and the Nutty Chocolate Chipster use vanilla extract and vegan chocolate chips, while the Chewy Ginger Rosemary uses rosemary, sea salt, cinnamon, organic ground clove and organic ginger. These ingredients might not seem like much on their own, but Frank Ridout combines them to bake some sweet vegan treats.
Andrea Ridout said many cookie companies and vendors offer over 20 different cookie flavors, but that's not her son's focus.
"His goal is more: 'Let's do six or eight kinds, but let's do them all really well,'" she said. "They don't have to be fancy, but they need to be knock-your-socks-off delicious."
@ByDavidSilvaR