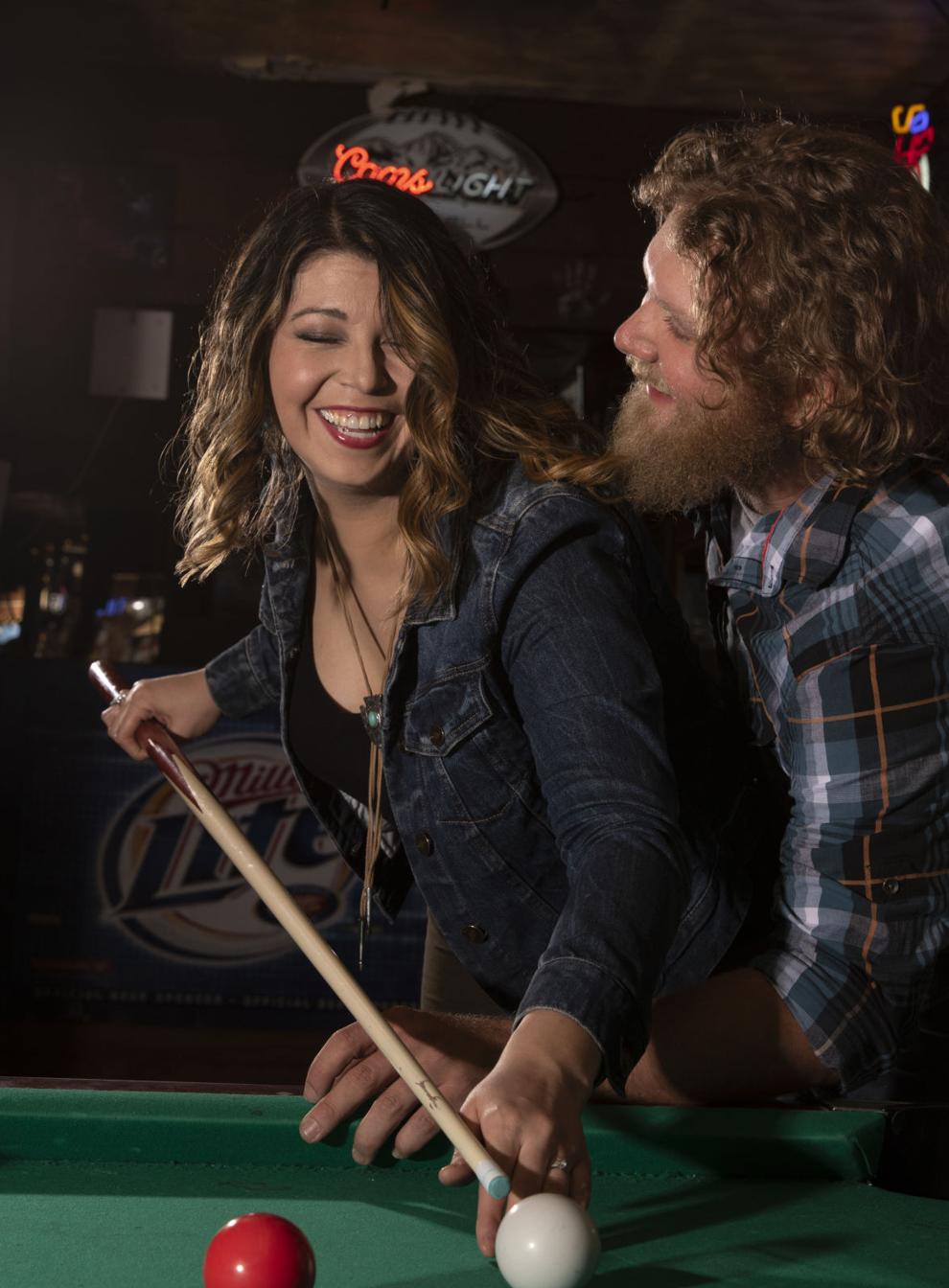 With Kacey Musgraves playing out of a Black Ford F-150 in an abandoned field off of Cooper Street, alumna Katherine Rublein taught Daniel Brown how to two-step under a super blood moon.
She realized this would be the perfect time to tell Brown she loved him.
"So damn Hollywood," Brown said with a laugh.
"I know it's cheesy, but it really happened!" Rublein said.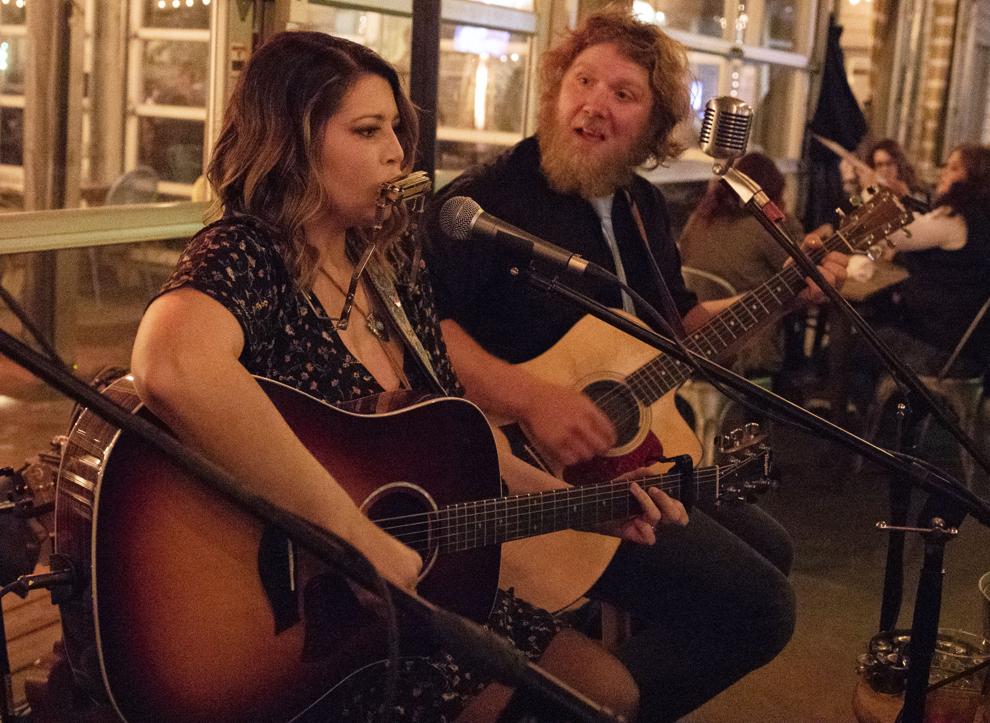 This would inspire the name of their band, September Moon.
September Moon is a five-piece folk/country band based out of Fort Worth. The band released their first album, Float Away, in April 2018. The band began as a duo in 2015 with Rublein and her bandmate and fiance Brown.
Last week, the couple met at their "old stomping grounds," J. Gilligan's Bar & Grill, where they began doing open mics together and reminisced about their story.
Brown first saw Rublein as she was competing in a singer-songwriter competition at the Whiskey Girl Saloon in the Fort Worth Stockyards in 2015. For the first time, Rublein was performing original songs. She was performing her song "Waiting for You," when Brown noticed her.
When he heard Rublein, he walked up to the front of the stage, he said.
Rublein said the saloon consisted of tables near the back and a dance floor. Almost everyone stayed in the back, so it felt like she was performing to an empty crowd. Brown was in the shadows, so she couldn't make out his face, but she thought, "Finally someone likes it!"
It wasn't until they started dating she found out that guy was Brown.
"It was like a moth to a flame" he said.
Even now at J. Gilligan's, without Rublein belting a single note, Brown is like a moth to flames. As they speak, and even when they speak to others, his eyes and body stay turned to her.
Brown didn't approach her that first night because he "chickened out." He returned the final week of the competition, competed and invited her to a friend's upcoming open mic night at J. Gilligan's. She went.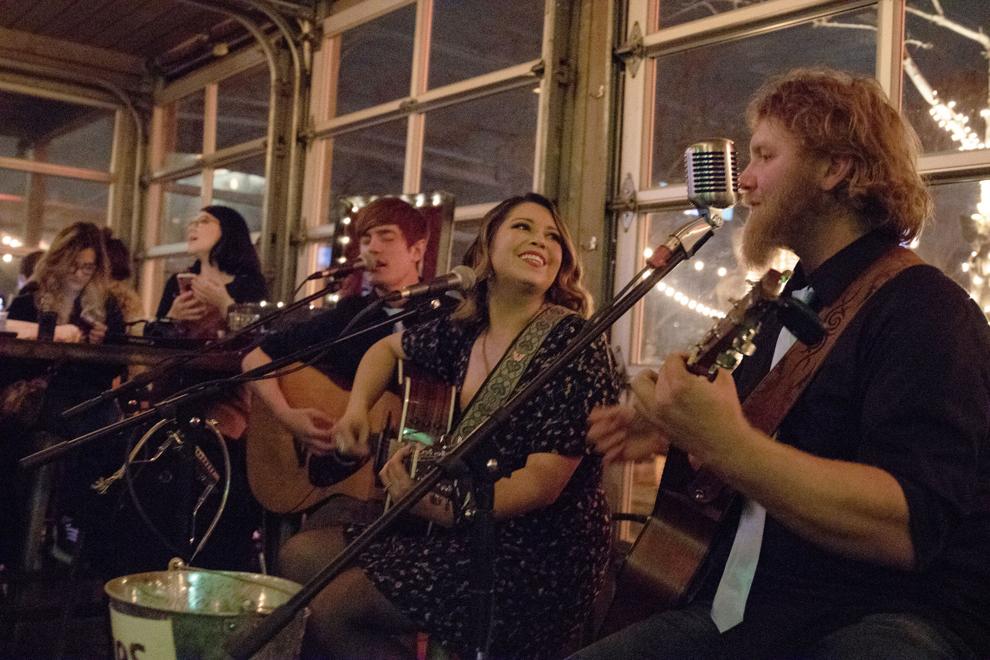 As a female musician, Rublein said that men are always saying they want to play together. Brown was different, she said.
After talking all night about Harry Potter, he invited Rublein to "jam sometime" but added he had ideas for harmonies. This let Rublein know he was serious.
He was more serious than she thought. Rublein arrived to guitar accompaniments and harmonies to her original songs. He typed and printed all the lyrics.
They talked and played music till 4 a.m. that night.
"The minute he came in with those harmonies, our voices just blended," Rublein said. "The thing with harmonies is both people can be singing the right pitch, the right notes, and their voices won't always necessarily blend."
Brown enlisted mutual friend Morgan Shotwell to find out what kind of engagement ring Rublein wanted. The two pretended to go jewelry shopping for Shotwell's mom.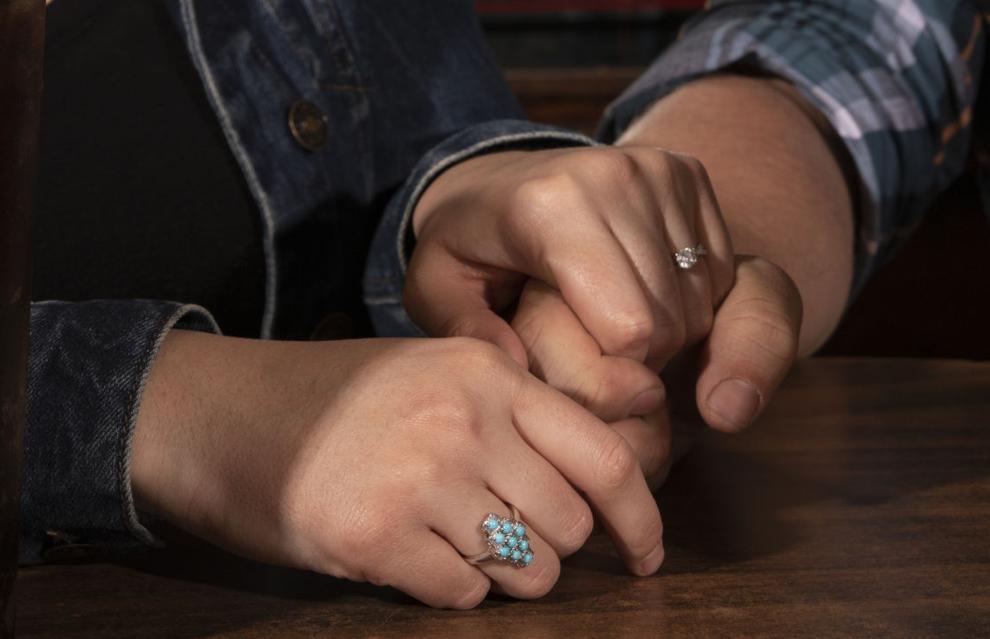 Rublein was suspicious at first. But it wasn't until a year later that he proposed, at their album release party at the Texas Musicians Museum. The duo added additional band members for the album release that would eventually become the rest of the band. He proposed during the break of the first song they wrote together.
"She was so shocked. She thought that there was something wrong with his guitar," Shotwell said.
The two will get married on July 1 in Florida on the beach with water to reflect the moon.
In between now and then, they spend their date nights doing escape rooms and catching Pikachu on Pokemon Go. But band practices and open mics feel like date night too, they said.
Those pessimistic about love might feel like they could never relate to the moonlight two-steppers. But Brown didn't use to believe in soulmates either.
"I never even believed in the one," Brown said. "But, I changed my mind."
@arianamariel_