School starts in three weeks. Let that sink in. 
From summer classes to working multiple jobs, some students have been so busy that they haven't had a chance to go out and enjoy their vacation before school begins in the fall.
Students recommended what they would do as a "stay-cation" in the Metroplex with $40.
Nicholas Patterson, international business Spanish junior, said he likes going to Studio Movie Grill in the Arlington Highlands because of the deals on tickets and the atmosphere of the movie theater. 
"You get a little bit more of a high-end feel with it. You have more space with your seating and you can have a little bit more fun with it," Patterson said.
A student-discount ticket cost $8 for Dawn of the Planet of the Apes. A regular-sized popcorn was $4.50 and a large was $6.50. Other menu items included burgers, wines, pizzas and ice cream.
Across from the theater is Cold Stone Creamery ice cream shop. The shop specializes in combining flavors to which you can add mix-ins such as chocolate chips, graham crackers and gummy worms. The servers added more flair for the customers' experience by tossing the ice cream into the air to each other before mixing the flavors and mix-ins.
Other businesses in the highlands include: Jo-Ann fabric and crafts store, Dave & Buster's, PetSmart, Pluckers Wing Bar, Rocky Mountain Chocolate Factory and Old Navy. 
During the day, the Fort Worth Stockyards is filled with restaurants, shops, a museum, rodeo shows and more for people of all ages. At midnight, the streets were filled with people in boots and cowboy hats headed out to bars where live music can be heard across the area, though many of the businesses and restaurants had closed.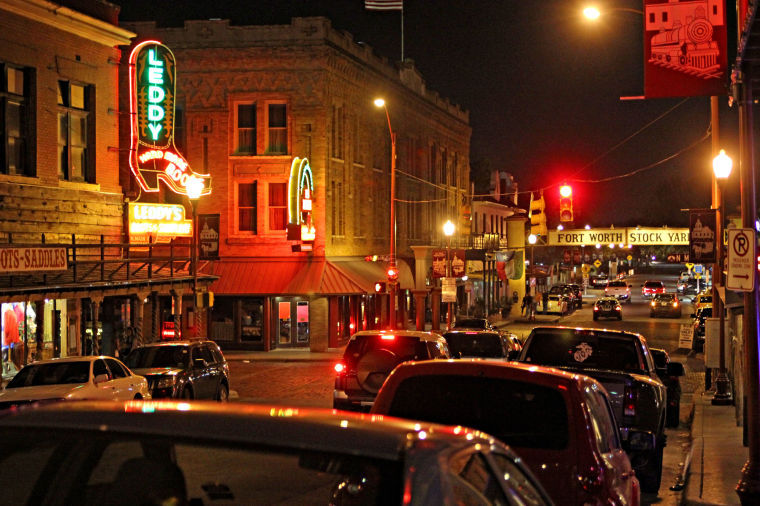 Cars line the street of the Fort Worth Stockyards on Sunday. The area is home to a variety of western themed restaurants, bars, museums, and more. Located in the area is Billy Bobb's Texas, the world's largest honky-tonk. (The Shorthorn: Richard Hoang)
Business management freshman Nancy Garcia lives in Fort Worth and said she likes going to Sundance Square because of the restaurants in the area. 
"It's just like an open place where it has Starbucks, Jamba Juice and different restaurants around," she said.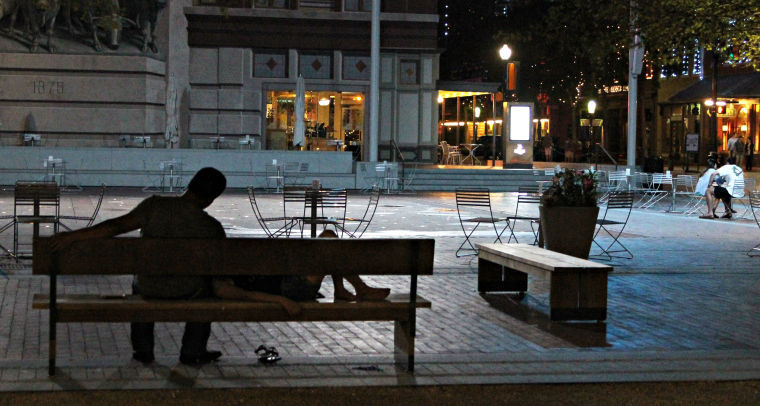 Sundance Square is located in Fort Worth and features seating arrangements throughout the plaza, live music, jetted fountains, and illuminated umbrellas. Shops, restaurants, bars, clubs and more surround the plaza. (The Shorthorn: Richard Hoang)
Italian restaurant Picchi Pacchi was filled with customers that came from a night out. A table of fully-dressed ballerinas were seated at one table, while a group of people in tuxedos and black gowns with glow sticks hanging around their necks were at another table.
Interdisciplinary studies senior Miranda Moore recommended Plush dance club in Dallas, because of the atmosphere and music. 
"I like the mix of music they play," she said. "I like a mixture of genres, and so I found that club Plush is really diverse."
Plush dance club, open 10 p.m. to 2 a.m. Thursdays through Saturdays, requires attendees to be 18 or older and male attendees to be 21 or older on Friday and Saturday nights.
Nursing junior Nina Stephen said that students looking to salvage their summer should utilize the time they're free to relax, go out and socialize. 
"Go out to the movies, relax, sleep a lot, go out to eat, watch a movie, you can even go out to the park," she said.
@rich_hoang
---
With a budget of $40, Hoang went out around the area and experienced various restaurants and venues in the Metroplex.
$8 for a student ticket at Studio Movie Grill.
$5.18 for a medium ice cream with an extra mix-in at Cold Stone Creamery.
$3 for a tank top at Old Navy.
$6 for points to play at Dave & Buster's.
$7 for a slice of pizza and a drink at Picchi Pacchi.
Total spent: about $29.
---
Here are the recommendations that students have shared for venues and restaurants to go to in the Metroplex.
Arlington:
Ninja Sushi and Grill
Studio Movie Grill
AMC The Parks at Arlington
Grease Monkey
Mavericks Bar and Grill
Cowboys Dancehall
Levitt Pavilion
Dallas:
Plush dance club
Lizard Lounge
Perot Museum of Nature and Science
Far West nightclub
Ojos Locos Sports Cantina
Fort Worth:
Sundance Square
Jamba Juice
Cowtown Bowling Palace