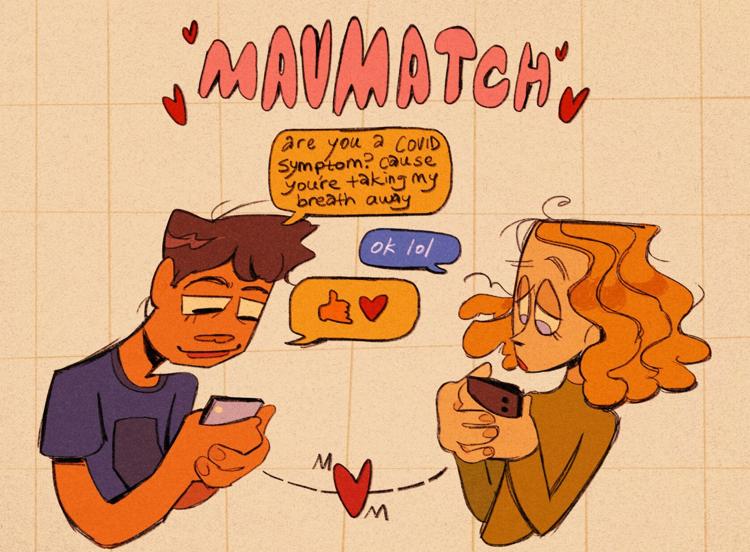 Before COVID-19 hit, the UTA Discord server had around 100 users. Now almost a thousand students and faculty members are on the server, with hundreds active daily. It's something information systems senior Mario Oliveros never thought he'd see.
Since then, the online chat server has expanded into subchannels catered to students' interests.
Information systems senior Steve Le credits the server's success to students feeling lonely during the early months of social distancing and their desire to talk in a safe way.
Oliveros, the Discord server's co-creator, also believes the pandemic positively affected its growth.
"This might be the only chance [students] actually have to socialize with other college students," he said.
That loneliness led to a new channel on the server that was originally just a joke by Oliveros: MavMatch.
MavMatch is a more exclusive version of the regular Discord server where users can meet, knowing that all have been verified with their student ID by computer science junior Diego Vester, the Discord's other co-creator.
From there, some students submit dating profiles similar to those on popular dating apps, Vester said, complete with answering questions about themselves.
Students enjoy the private chat because they can talk more explicitly and without getting banned like they would in other channels, Oliveros said. Plus they know there are no random internet strangers or professors in the chat.
Vester doesn't know if anyone has actually found love in the chat yet, but there's no reason it couldn't happen, he said.
He plans to update the dating profile feature to look more like Tinder and eventually wants to create an app to house it.
It's a lot of work, and the app part might be a pipe dream, but computer science students are dreamers, he said, and he'll just keep moving toward his goals for the server.
He and Oliveros have worked too hard creating the server to give up.
Oliveros and Vester started the Discord server in early 2020 to be a platform where all student organizations could coexist.
They had experience working on Discord servers together because a few years previously Vester manually created the roles for a computer science server, which housed a channel for every class offered at UTA.
After investing six months into the project, he was discouraged when no one seemed to understand it.
But when Oliveros messaged him with ideas to make the site more accessible, they became close friends, and the server took off.
"If it wasn't for him, I would have given up a long time ago, and then none of this would ever have happened," Vester said.
He and Oliveros then took their knowledge and set about creating a Discord server for all campus organizations around February, Vester said.
Once quarantine began and they had more free time, they decided to expand the server to include channels for many hobbies, organizations and majors.
With Vester expanding the roles and functions on the site and Oliveros and his wife creating the designs and artwork for each channel, the server took off, mostly from promotion on the UTA subreddit.
Eventually, MavMatch was born with the goal of helping students find their Maverick mate.
Le isn't active in the MavMatch channel anymore since joining back in March but said he would be interested to check it out again once Vester adds his planned updates.
"If it does go well, though, I think it's pretty cool to have a specific UTA Tinder or dating thing," he said.
Oliveros is satisfied with the number of students who have made new friends because of MavMatch, which is active every day.
For a channel that started as only a joke, MavMatch has evolved into a community for friends and like-minded people, providing the chance for love for those willing to take it.
Interested students can join the UTA Discord online.
@Sam_Knowles00