Raven Downing gently patted Duchess' neck, kissing her on the nose. She had diligently groomed the thoroughbred mare, combing the tangles out of her long, thick brown tail and cleaning the clumps of dirt from her hooves.
After cinching her leather saddle straps, the biochemistry freshman pulled her own long, wavy hair into a tight bun at the back of her head. She settled her black riding hat snugly over her hair and strapped it under her chin.
Duchess pranced impatiently. They were ready to practice, just after the crack of a Saturday dawn.
Duchess is one of many horses at Smallside Farm, a horse training and riding lesson facility on Cooper Street.
Smallside is a training home to many riders, and Downing hopes to expand its number of UTA students through the Maverick Equestrian Club, a soon-to-be official student organization that promotes involvement in horse-related topics and activities.
One of the aspects the club will focus on is English riding. Many people automatically think of "western riding" when they think of horses, Downing said. While western riding is the stereotypical, rough cowboy, spurs and lasso type of riding, English riding is a form of horseback riding that focuses on jumping and show riding.
Downing said she found where she belongs at Smallside Farm and UTA as president of the upcoming club.
"It's a meant-to-be kind of thing," she said.
Her grandfather owned a ranch, and they would ride together during spring break and other school holidays. She took up English riding about three years ago after her grandfather died as a way to feel connected to him.
"I thought I would probably quit within a little bit because I was just doing it for him," Downing said. "But then I really liked it, and I actually decided to keep doing it."
Horse riding became her biggest passion. She trains twice a week for about an hour and 45 minutes and visits the horses just as often while volunteering at the barn.
Through Smallside Farm, Downing met Vanessa Mapes and Daniela Santana, two other UTA students who are just as passionate about horses as she is. They became Downing's club officers.
Mechanical engineering junior Santana said she's been obsessed with horses ever since she was a toddler, but she could never afford to pay for English riding lessons. When she moved to UTA, she discovered Smallside Farm, located just minutes from campus and decided to finally give it a go in November of last year.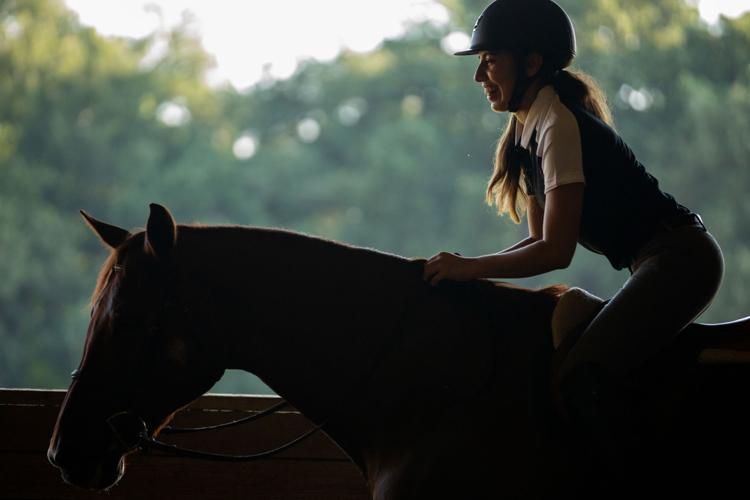 Santana acknowledged her horse obsession sounds "cheesy," but said it feels "magical" when she's in the barn, bonding with the animals.
She treasures the moments spent atop a horse's back, trotting, galloping and jumping obstacles through the barn arena. Santana can't help but smile broadly as she and her training horse Ranger leap the barn fences during training.
"They understand you. They know your emotions," she said. "They can sense you, and they just know how to lift you up."
Riding is a team sport between the rider and the horse, she said, and there's no feeling like connecting with such a powerful animal.
Amy Greene, UTA music alumna and riding coach, hopes to foster strong relationships between horses and riders and eventually evolve the club into a competitive team.
UTA is one of the few universities in Texas that doesn't have a competitive equestrian team. The University of North Texas, Baylor University and Southern Methodist University are just a few of the schools that compete nationally.
"There's so many equestrian opportunities in this area, so gosh, why not?" Greene said.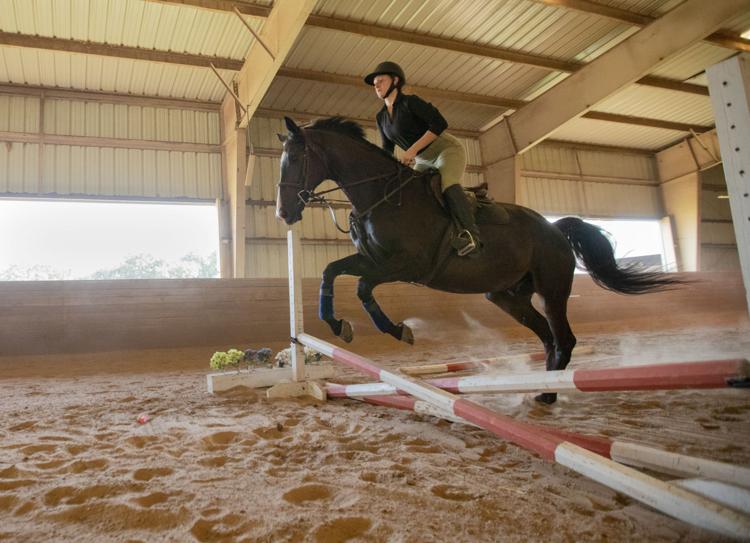 For now, Greene will focus her attention on training the club. When Downing, Mapes and Santana train together, she stands in the middle of the arena, calling out instructions and keeping an eye out for subtle nuanced behaviors. Rather than trying to control the horses, she teaches her riders how to work together with the animals.
"Yes, you ride it, and you are telling it what to do," she said. "But you also have to respond to this 1,200-pound animal underneath you that has its own brain and its own thoughts on things."
Downing said that while she can't wait to see the club take off and hopes to compete for UTA, she's just excited to continue working with the horses and introducing them to new club members.
@CecilLenzen