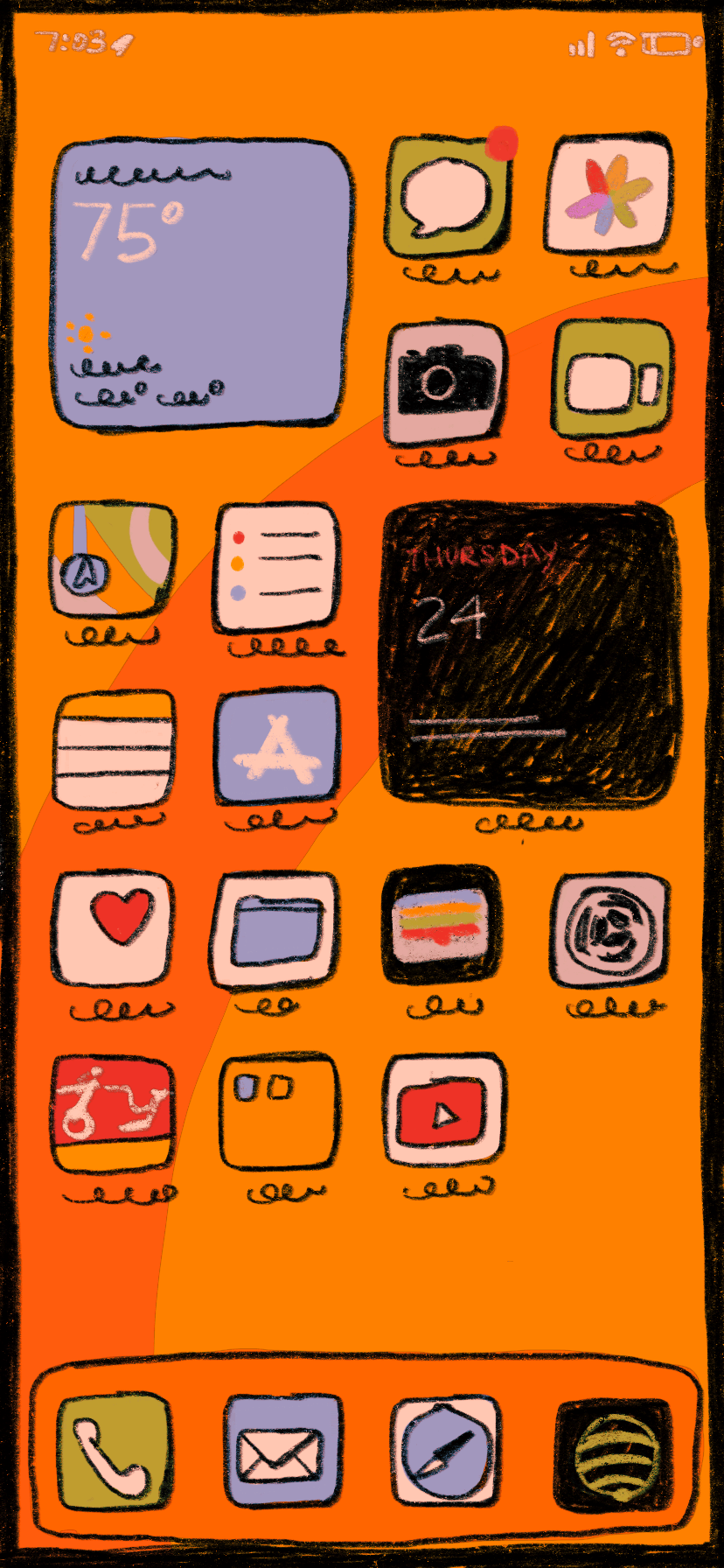 Following Apple's iOS 14 update last week, many iPhone users have spent hours upon hours crafting their dream phone layouts and sharing their results on social media.
From transparent icons to the new widget functions, students have added their own aesthetic to their phones like never before.
International business freshman Keyuntae Henderson is one of those students, and she used the new update to make her phone fit a neon cityscape theme.
Henderson used the photo widget to display a picture of a pink, purple and blue Asian city with neon signs, traffic and skyscrapers that fit her aesthetic.
Her app icons are also set to a neon purple now and sit over a lightning strike black and white background.
Curating her layout is something she's invested a couple of hours in so far, Henderson said, but she's still not done.
"It takes a long time, especially cause I'm really picky," she said.
Henderson also enjoyed nonvisual aspects of the update, like the addition of double-tapping the back of her phone to perform a function, in her case to take a screenshot.
Unlike Henderson, economics senior Akram Abbadi isn't one for spending hours on his phone layout, although he said he would if he could.
"Man, I could make something magical happen on my phone, but I don't have the time for that," Abbadi said. "Nor do I have the design skills or, you know, the vision."
Although he hasn't changed much aesthetically, Abbadi has an appreciation for the newfound freedom in iPhone design and can tell from his social media that people are having a lot of fun with it.
"Now everybody feels like they can, like, personalize their phone a lot more," Abbadi said. "It's an expression thing."
Instead, he's been getting used to the new functions that came with the update, and so far he likes what he sees.
For example, the way he can now multitask while FaceTiming was a long-awaited change, Abbadi said.
Abbadi is also thankful that incoming phone calls don't take up the entire screen .
"I don't like to ignore people. But when I feel like I need to ignore somebody, you know, I have that option," he said.
Various TikTok users have posted videos sharing their iOS 14 hacks and other aspects of the update that the average user may not know about.
Calls only taking up a portion of the screen was something nursing sophomore Sariah Richard was pleasantly surprised to see as well.
Richard wasn't expecting the update to be as radical as it was when she downloaded it a couple of days late, but she can see where the hype is coming from.
From the new shapes and sizes to the customizability, Richard got a little more than the new emojis and a couple of widgets that she expected.
Richard just got the update two days ago, so she hasn't done much to the theme yet. But she has a plan.
She's already explored the new widgets, so she'll keep the useful ones, like her battery, social media, map and daily reminders.
Then she plans to color-code each page of her home screen so that each group of apps is a different color of the rainbow, Richard said.
So whether you're into the aesthetics or the tech upgrades, iOS 14 has something for everyone. Between the improvements, widgets and personalizations, there are plenty of new ways to make your phone your own.
@Sam_Knowles00