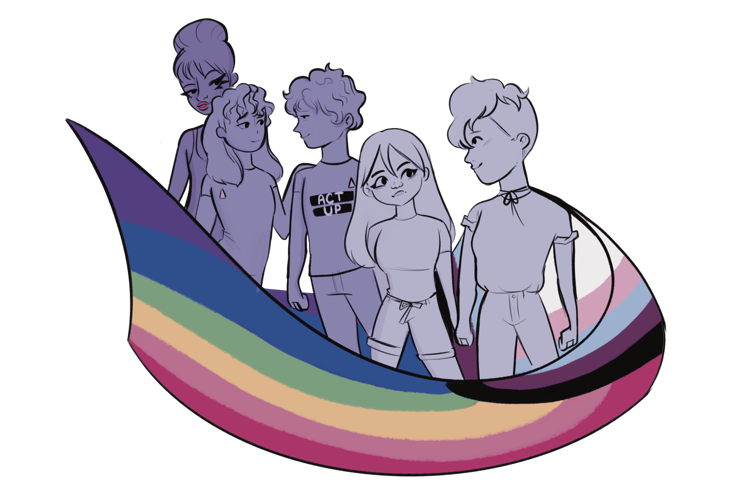 Despite fewer elections in 2019, the number of LGBTQ elected officials has grown around the country. As they continue their fight against stigma and discrimination, some have found a way to leave their mark on this country.
As of June, there are 843 openly LGBTQ elected officials across the U.S., and 26 of them were elected in Texas, according to the Victory Institute. The number of LGBTQ elected officials has increased 88% since the time of their first report of 488.
According to the institute's Out For America 2020 report, there has been a 21% increase in LGBTQ elected officials in the last year. This includes a 53% increase in individuals who identify as bisexual and a 71% increase in queer elected officials from last year.
As someone who often pushes for the election of transgender officials, seeing the number of them elected continuing to grow over the last few years is something that physics sophomore Finn Mikeal is glad to see. Coming from a conservative family, he didn't know queer people existed for most of his life, so this is not something he would have imagined 10 years ago, he said.
"Knowing that there's more trans people fighting for trans rights and LGBTQ rights in government is very encouraging to me," Mikeal said. "For the future of the U.S. and even just for the world."
The report showed the number of trans men elected stayed the same as in 2018 at five people, but there was a 40% increase in trans women.
Seeing the growth of elected officials in the queer community is a step forward for the country, psychology sophomore Liam Rhodes said. But there is still more work that could be done to improve representation.
LGBTQ people remain severely underrepresented in government. About 4.5% of the U.S. adult population identifies as LGBTQ, but they make up only 0.17% of all elected officials.
There would need to be an increase of at least 22,544 more LGBTQ people elected to achieve equal representation.
This is definitely lower than what Mikeal would like to see. Especially since the LGBTQ population makes up so much of the voting population.
"It's definitely frustrating that there's not much representation for the LGBTQ community," he said. "I think it does stem from the fact that, generally, America doesn't want to vote in queer candidates, for whatever reason, especially here in southern states."
Public health junior Noah Puente feels there are many harsh stigmas against LGBTQ people right now, he said. Representation will get better with more open discussions to help educate people and change "social norms."
"What I've learned so far, being in college and being a part of the LGBTQ community; I wish I would have learned it sooner," he said.
Seeing the way LGBTQ rights are being handeled by President Donald Trump feels like a major setback for a fight for rights that's gone on for well over 50 years, Rhodes said.
"Trump's handling of LGBTQ rights has been so far out the window, just unacceptable," he said. "He's done nothing but hold us back and dehumanize [us]."
President Barack Obama was the first president to support same-sex marrage. His administration coincided with the 2015 U.S. Supreme Court's ruling in favor of marriage equality, which helped lead to a cultural embrace of the LGBTQ community.
In contrast, Trump reversed a previous decision by Obama that allowed transgender people to serve in the military, appointed several anti-LGBTQ judges and expressed his support for business to refuse service to LGBTQ people if they site religoius objections.
It's disheartening to see what Trump has done to stop trans people from serving in the military, Mikeal said. He knows several trans veterans who were forced to wait until after they finished serving before transitioning because of the push back from their superiors.
"It just shows the extent to which America is still more intolerant of the LGBTQ community than even other countries," he said. "I wouldn't want to join the military, but I know people who would, and now they're unable to, just because of the fact that they're transitioning and trying to better their mental health."
It's yet another example of discrimination and lack of representation.
Growing up, Rhodes didn't have any role models in the LGBTQ community to look up to. He said it's good seeing younger members of the community have so many positive role models to look up to.
"It's been beautiful, really," he said. "I've grown up to see this representation become normalized and more common in television and movies and stories."
The issues surrounding the LGBTQ community in politics was one of the major issues he looked at when deciding how to vote in this year's presidential election, he said.
"How are they going to make equal rights for everyone?" he said. "Not even just for the LGBTQ community, but for racial [minorities] and religious [minorities] and everything under the sun"
When it comes to inclusiveness and tolerance in policy decisions or new laws, you never know who will be affected, he said.
"Everybody can vote for who they want to vote for," he said. "But at the same time, if it's someone that's going to be hurting the people around you more than helping, what's the point?"
@DJ_Shaw_