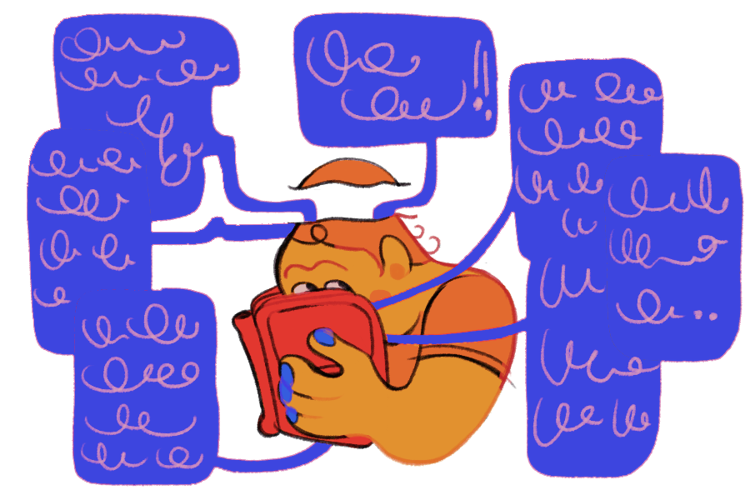 When COVID-19 closed campuses across America, millions of language-learners' journeys were moved online.
Learning a new language is like any other skill, Modern Languages chair Sonia Kania said in an email. The challenge is to maintain your skills because if you don't use them, you'll lose them.
Some students haven't let the virus derail their progress, and instead have used their social distancing period to double down on language studies.
Information systems junior Muskan Patel, for example, has been teaching herself French for a few months, ever since COVID-19 shut down UTA, she said.
She became interested in French because the culture and language fascinated her, Patel said, and especially since she has a friend who became her main inspiration to learn.
"She comes from Zimbabwe, in which French is [a common] language," Patel said. "And I used to hear it a lot from her, so I decided to learn."
Patel is already multilingual, she said. She came to UTA from India, and speaks two other languages besides English and French.
However, just because she's done it before doesn't mean learning another language is a walk in the park.
"[French is] very different from the languages I've learned so far, especially when it comes to accents and pronunciation," she said.
To study, Patel uses a wide range of resources, including flashcards, Quizlet, YouTube, French books and other stories.
"I listen to short stories, which are for beginners," Patel said. "And that helps me learn about the conversation and the culture."
Patel isn't the only one learning a language to better understand someone else.
Engineering alumnus Adil Mohammed is currently teaching himself American Sign Language to better communicate with someone he met at his local mosque, he said.
"Whenever I go to pray I meet him, but I don't know his name or anything," Mohammed said. "So the next time I go to the mosque, once the center of worship reopens, I'll introduce myself and have a discussion with them."
Through YouTube, Mohammed has familiarized himself with the basics and learned the signs for A through Z and conversational phrases like "How are you?"
ASL has been easier for him to learn than a spoken language, Mohammed said, because there's no grammar or pronunciations to worry about.
"It's more of a memory, like visual memory," he said. "I would say it's easier because you only have to visualize something, and most of the stuff in ASL is pretty common."
Unlike Patel and Mohammed, political science senior William Mohamad isn't learning a language -- he's learning two.
Mohamad's mother is from El Salvador, he said, and his father is Lebanese and Syrian. As a result he's slowly but surely learning both Spanish and Arabic, he said, trying to get closer to his heritage.
Mohamad has visited Lebanon in the past, where he picked up a little Arabic, but was mostly reliant on the common English translations on signs.
"I'm disconnected because even though in my heart I felt like I was where I belong, at the same time I could not communicate with my own people," Mohamad said. "I could not communicate with people that look like me and, and it felt very bad. I wish I could learn more and feel more connected to my people."
When it comes to learning Spanish, Mohamad's had more luck. He practices with his mother to learn conversational Spanish, but he also recommended watching TV shows on Netflix in Spanish to increase fluency.
Whether it's for a friend or yourself, learning a language has its benefits, Kania said.
Because of recent globalization, many employers rely on multilingual employees, making demand high, Kania said.
"No matter which profession a student would like to pursue, language proficiency is an invaluable skill to have," she said.
Patel said learning a language has helped her train her brain because it's not an easy process, she said. It also helps her creativity and helps her alter the way she approaches problems.
"Learning a language is more of a creative side of me, rather than me, like, taking it as a task," Patel said. "And because of that, I can analyze other things critically as well. If I have a task, I can think of it in a more interesting way."
@Sam_Knowles00