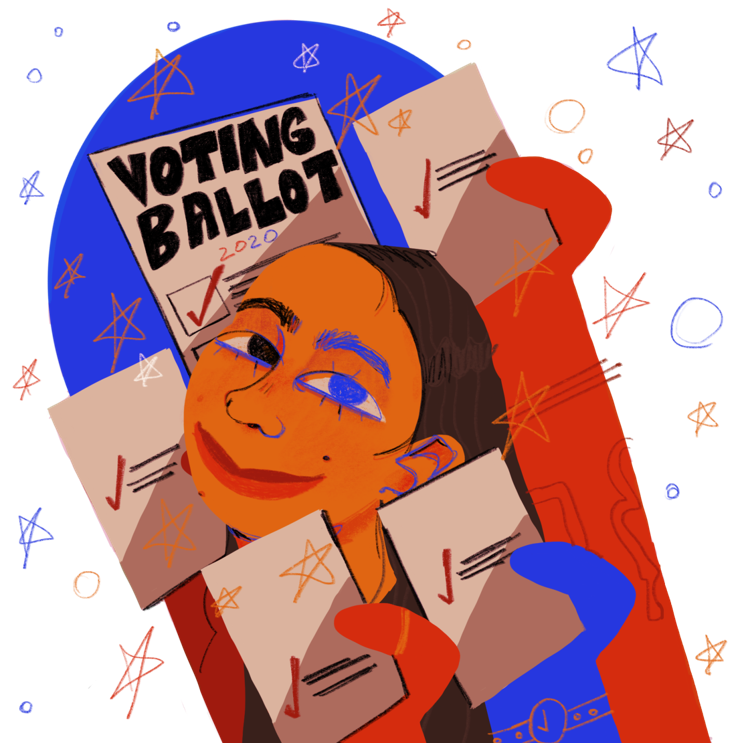 This November, public relations alumna Maria Yolisma Garcia will vote in a presidential election for the first time in her life. The 26-year-old Mexican native became a U.S. citizen in 2018 and will finally be able to perform her civic duty to help elect the highest office in the country.
Although this is her first time being able to vote for the commander in chief, she's been politically active for years. She got involved with the League of United Latin American Citizens, advocated for the DREAM Act, became the president of the North Texas Dream Team, helped people apply for the DACA program, heavily participated in local protests and demonstrations, and much more.
Garcia is a part of a growing number of young, passionate Latino voters who contribute to what is the largest minority voting bloc for the 2020 election.
Thirty-two million Latinos will be eligible to vote across the country, with 5.6 million of those voting in Texas, according to the Pew Research Center. This is the first election year that Latinos make up the largest voting minority group.
But despite sharing some similar priorities in policy, the Latino vote is one that can't be described singularly.
Latinos are defined as people in the United States with cultural ties to Latin America, including Mexico, South America and the Caribbean, and range from different economic classes, immigration statuses and political ideologies.
Political science senior William Mohamad said it's important when having a conversation on Latino voting to remember that there are many countries represented in that umbrella term, something that he feels is often forgotten.
Mohamad, whose mother is from El Salvador, said the issues he cares about include health care, immigration reform and access to well-paid jobs.
Garcia said she cares most about equity and access to education, housing, Medicare and public safety — things she considers basic human rights.
And for political science alumna Alyssa Aquino, who is of Puerto Rican descent, reproductive health care, immigrant rights and the management of the pandemic matter most.
Aquino said although her support for Democratic presidential nominee Joe Biden is lukewarm, she believes that voting for him is for the best. She has serious concerns going into this election about what the results could mean not only for the next four years of this country, but also the status of democracy.
"We are under a presidential administration that has continued to overstep presidential norms [and] democratic norms," she said.
So Aquino believes that beyond the presidential race, there are candidates who do closer represent her views.
Aquino said even though she's not in her district, she's watching Candace Valenzuela's run for Texas' 24th Congressional District. Valenzuela, who has the backing of EMILY's List, End Citizens United and the Congressional Hispanic Caucus, Congressional Black Caucus and Congressional Asian American Pacific American Caucus, would become the first Afro-Latina member of Congress if she wins.
Mohamad said he supported Bernie Sanders in the Democratic primaries, but has now also turned his support to Biden.
There were many candidates who he supported in the primaries that aren't in the general election, Mohamad said. Now, he's concerned that some of his fellow Latino voters who supported Sanders may not turn out for Biden or may not vote at all.
Latino activists have noticed this, with many sounding the alarm to the Biden campaign to actively seek out the Latino vote.
Mohamad said he understands that many young voters get discouraged when their views don't seem to be represented by any candidates on the ballot, but it worries him to hear of people skipping the process.
"If you don't vote, the election is still going on without you," he said. "The country's not going to pause because you didn't vote, so you might as well push things a little bit in one direction or the other."
Mohamad believes that if young people and young Latinos don't show up to vote, the candidates they envision will never be able to run for office because their voting base won't be reliable.
Ultimately, Garcia said this election needs to be a rebuttal of President Donald Trump, as his actions, rhetoric and policies have directly attacked Latino communities and communities of color.
"I have to understand where we're at," she said. "My excitement isn't there, but my willingness to vote for somebody who is going to protect communities against the legislation that's coming out of the current administration, I feel like I have to."
Garcia said she wanted to see more new candidates to transform the Democratic Party, but she said there's too much on the line for communities of color to not vote for the Democratic candidates on the ballot.
She said there are congressional races and state legislature races that people need to pay attention to, as well as local school board elections.
Garcia is excited to see a rise in young elected Latinos with new ideas, ones that can change the Democratic Party from a reactive party to a proactive party that doesn't just try to defend vulnerable communities, but tries to provide the opportunities they need to improve.
She believes that the people in charge in Texas are afraid of this kind of progress and therefore afraid of young voters.
That's why she's eager to cast her vote, to ensure that young voters and young Latino voters are a force to be taken seriously.
"People really felt the weight of his presidency," she said. "As a young person, what you do now is going to impact generations [after] you. As insignificant as people may think voting is, it's actually a huge deal, and if it wasn't a huge deal, they wouldn't try to stop our voice at every turn."
@ByDavidSilvaR