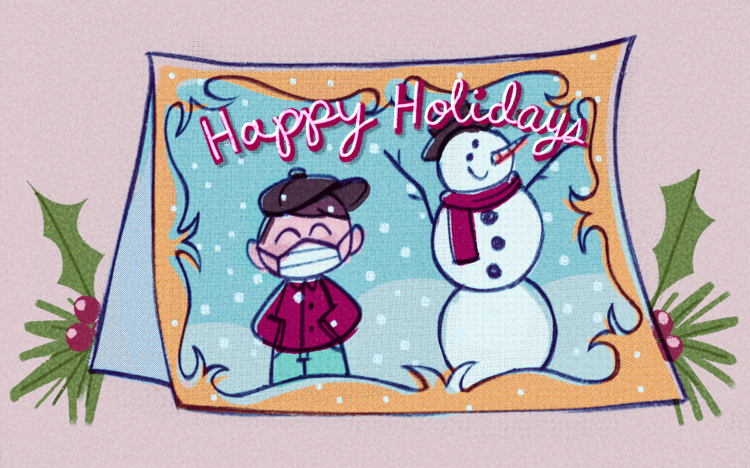 In a typical year, political science senior William Mohamad's holiday concerns usually involve deciding which family member will host the family gathering and what he's going to cook for it.
But this is not a typical year, and the dangers of the COVID-19 pandemic have hit close to home as the holidays are around the corner.
Mohamad's parents recently tested positive for the virus, which not only means their plans for a small Thanksgiving gathering must be canceled, but it could also mean a tough few days ahead for his parents, especially because of his mother's already fragile health.
"I'm concerned they may not make it to Thanksgiving," he said.
As students prepare for the upcoming winter holidays, the connections with immediate family are taking on a different meaning for some. As large gatherings and traveling are highly discouraged by the Centers for Disease Control and Prevention and most medical experts, many students will have small, intimate gatherings, while others like Mohamad may be dealing with the consequences of the virus' progression.
University studies senior Hughes Cowart said he's anxiously waiting to see his family again when the semester ends, especially now that his mom has developed various coronavirus-like symptoms.
Cowart said he typically gets to see his family, who live in Waco, during the semester, but that hasn't been possible at all this fall.
The opportunity to go back home this winter break is much-needed, he said, to help ease the stresses of the online format, relieve his recent sense of isolation and finally reunite him with his mother and grandparents. He hasn't seen his family since August.
"It's been a pretty long three months since I've seen them," he said. "I've kind of hit the point now where every day I wake up and just want to see my family. As we limp toward the end of the semester, I'm counting the days now."
Cowart anticipates his family's Christmas gathering to be different than years past and said he and other family members have been taking the pandemic seriously to avoid spreading COVID-19 to his more vulnerable grandparents.
Interior design junior Grayson Hooker also said her family's holiday gatherings will be very different from years past in an effort to reduce the spread.
She said her typical holiday family gatherings usually consist of 20 to 30 people getting together, but this year she'll likely be eating Thanksgiving dinner with just her parents and siblings.
Although Hooker says she'll miss seeing her extended family and already isn't a huge fan of the holidays, she looks forward to having a more intimate dinner with her immediate family.
"With just me, my parents and my sisters, it will probably end up being a really, really good Thanksgiving, so I'm excited for that," she said.
Mohamad said his family will also have to avoid a large gathering. Typically, about 30 people get together at a family member's house for Thanksgiving, Christmas and New Year's.
"I do wish for those moments a long time ago when everybody could be together, and we didn't have to worry about dying or killing each other with the pandemic," he said.
And now that his parents have tested positive for COVID-19, the next few weeks are filled with uncertainty.
"I guess Thanksgiving is canceled, and then I don't even know what's going to happen for Christmas," he said. "With everything being so hectic, it's one step at a time."
@ByDavidSilvaR