When photography senior Trista McCormick woke up with a sore throat and a headache in early August, she thought it was just allergies.
She worked throughout the week, with her "allergies" coming and going. But toward the end of the week, she woke up sweating. She didn't have a fever, but she felt awful.
Nevertheless, she donned her face mask and went to work anyway. She needed the money.
Her co-workers told her she looked to be in rough shape. McCormick caved and went home, deciding to get tested for COVID-19 soon, just in case.
"My whole body felt weird. It was aching, and it just didn't feel right," she said, and that weird feeling is what convinced her to schedule the test.
Reluctant diagnosis
As she began experiencing symptoms of COVID-19, McCormick was in a state of disbelief. She'd been careful since the beginning of the pandemic and wore her mask everywhere. She thought she'd done everything right.
Since the lockdown started in March, all she did was go to work and come home. She works at a closed-door pharmacy and doesn't come into contact with patients or anyone except her co-workers.
She didn't go inside grocery stores, instead opting for online pickup. She wore both her face mask and gloves at work and sanitized her desk regularly.
And still, McCormick tested positive for COVID-19 on Aug. 18.
"It kind of makes me upset that I followed all the rules, and I still got sick," she said.
McCormick felt a sense of denial even after she acknowledged she had a couple symptoms. Even when her co-workers told her she had symptoms, she'd reply: "Don't say that! I do not have COVID."
Increasing symptoms
On Aug. 22, McCormick's breathing declined. Her blood-oxygen level was a worrying 89 (a normal level is typically between 95 and 100).
On the car ride to the hospital, McCormick remembers feeling scared of being admitted. She knew that she'd be separated from her family, including her husband.
Due to current guidelines, even family members who are positive for COVID-19 can't be in the same room to minimize face-to-face interactions, McCormick said. She had to go through the tests alone.
During her five-hour stay at the hospital, doctors drew McCormick's blood, took X-rays and did a CT scan on her lungs in the big white machines just like you see on TV, she said. It was scary.
"Then the doctor came back," she said. "He said he can see the COVID in my lungs. Like, this is only after having it for at this point, I think a week and a half. He said he could see the COVID in my lungs."
The doctors couldn't decide whether to keep her at the hospital for fear of her condition worsening.
She felt OK then, but things could potentially worsen quickly, McCormick said. In the end, she was sent home with a nebulizer to begin her breathing therapy, which she still does now a week later.
Asymptomatic husband
Coronavirus manifests differently for different people, and many people are asymptomatic and spread the virus without ever showing or knowing that they have it.
McCormick's husband, photography alumnus Max Grace, is one of those people. Although he tested positive for the virus, Grace had only two days of flu-like symptoms, McCormick said. He has since been completely symptom-free and bored "out of his mind" in quarantine.
Seeing Grace test positive for COVID but feel completely normal explained why some people don't quarantine as thoroughly anymore, McCormick said. It's hard to subject yourself to two weeks of isolation when there's no consequences for you if you don't.
Not being able to do simple things like walk around a grocery store or see family has made Grace feel stuck because he can't fix the situation they're in.
Grace didn't know how to take care of a sick person before all this, and suddenly his wife has the most intense illness of her life. He said he does what he can, but frustration is his recurring symptom.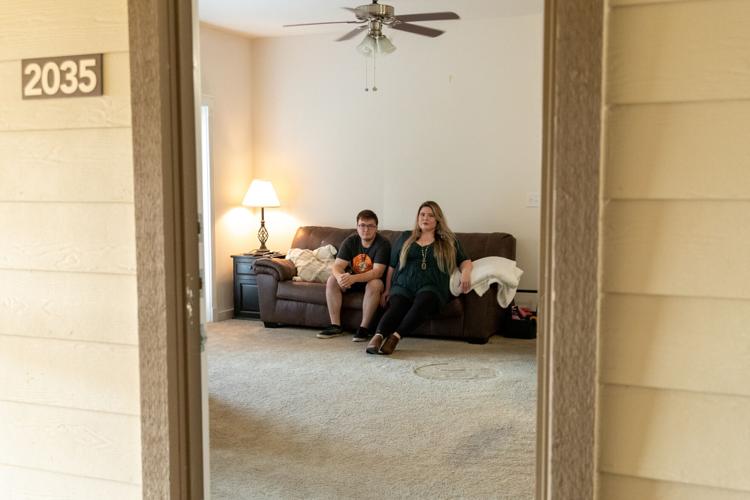 Varied effects
Grace may be asymptomatic, but for McCormick, the virus hit hard.
Following her initial allergy-like symptoms, McCormick experienced horrible headaches, and she was too nauseous to eat.
When she woke up and couldn't taste anything Aug. 14, she knew for sure it was COVID-19.
McCormick remembers waking up with her mouth completely dry, as if she'd slept with it open all night. She went to have a drink of water, and although water doesn't really have a taste, she said it felt wrong to her.
So she tried a can of soda, and again, it wasn't right.
"I don't know how to explain it," McCormick said. "Your brain is trying to make a taste, I guess, because it knows what it's supposed to taste like, but it's not happening."
She floated from symptom to symptom, from too hot to too cold to nauseous and tired. McCormick said there were times when she would just cry out, "I really can't do this."
"I'm young and healthy, and it's affecting me this much," McCormick said. "I can't even imagine how horrible it is for someone who's not healthy."
Now, weeks after her first symptoms, she sometimes sleeps 18 hours a day because her body is so tired. Even watching TV is too much activity, and it makes her nauseous.
Sleeping isn't safe anymore. Every four hours, McCormick has to wake up and do her breathing exercises to ensure her lungs heal well and fluid doesn't build up in them overnight, which could cause pneumonia.
Family strain
On top of the physical strains that come with having the coronavirus, McCormick can't see her mom, who's terminally ill with liver failure, lupus and other health complications.
The two FaceTime often, but it's not the same, and every day since McCormick got COVID-19, her mother texts her to ask if she's OK. She even mailed vitamin C tablets to McCormick's house.
But it's not the same without physical interaction.
When McCormick's friend, university studies alumna Seongmin Hong, heard McCormick was scheduled for a COVID-19 test, she felt scared and worried.
Hong moved in with McCormick's family as a foreign exchange student in 2012 and grew close to the family that treated her like one of their own. Hong is listed as a "younger sister" on McCormick's Facebook page, and hearing the news made her fear for her sister's well-being.
"Many people who get COVID [have] a lot of damage in their body," Hong said. "Although they can recover [and] live with the damage from COVID, so I was scared that she's gonna have the problem, too."
Hong lives in Korea now, so there's not much she can do for McCormick from so far away.
Like McCormick's mother, Hong messages her regularly and sends reminders to eat well and sleep enough and that she's rooting for her.
Additionally, Hong recommended the medicine used to fight COVID-19 in Korea for McCormick to ask her doctor about. Hong reads the Korean Centers for Disease Control and Prevention and sends links to McCormick, telling her how the virus is handled in her country.
Although it's all virtual, Hong does her best to help McCormick through this time.
Lingering effects
McCormick's two-week quarantine ended Monday, and she will be returning to work at her doctor's instruction. But her life is far from returning to normal.
She now has an inhaler prescribed by her doctor and feels tired all the time. She can't stand up without feeling out of breath, and doing the dishes for the first time again Thursday was a major accomplishment.
She lives on the third floor of her apartment, and by the time she gets to the top of the stairs, she can't breathe at all.
But for McCormick, something that disheartened her even more was the response people have to the virus on the internet.
McCormick joined a Facebook support group for people with COVID-19, she said, because after two weeks in quarantine she began feeling alone.
The group has 23,000 members, McCormick said, but that doesn't stop some people from leaving comments saying that the virus is fake and calling the members rude names.
Lack of care
Seeing family members and Facebook friends going out to birthday parties and get-togethers with their children without taking any safety precautions irks her, McCormick said. It sucks being inside, but it'd suck even more to lose a family member to COVID-19.
"It's like a slap in the face. Like, you don't even care that I have COVID and that it's affecting me," McCormick said.
McCormick hasn't had COVID-19 for long in the grand scheme of things, yet it still bothers her to see others behaving this way.
Many people have it worse than her, she said, like those who are in the hospital or working there, and she wishes more people would respect them by at least wearing face masks.
"All those people who have made sacrifices, staying inside and doing the right thing, and haven't seen their family or friends in months," McCormick said. "And then there's people who are selfish like that and just do whatever they want."
Her fear now is the many people like herself out and about who have one or two symptoms but write them off as allergies or a cold, unconsciously spreading the virus to others.
They'll never know because some symptoms may never appear. Even when she felt like she was burning up and slept with ice packs on her head, she never had a fever, which is a common symptom of COVID-19.
"You don't get all the symptoms at once, and so you don't really even realize it sometimes," McCormick said. "Like I have symptoms on different days of different things.They were never really all at once."
Even now that she's tested positive for COVID-19, it's hard to believe, McCormick said. When you don't know anyone with the virus, you never think it will happen to you.
@Sam_Knowles00