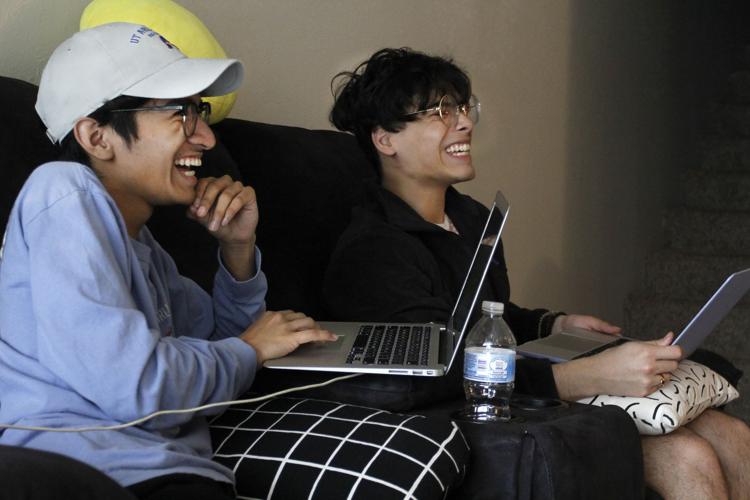 Many college students may wonder if making the leap to live with their significant others is the right move.
Jesus Torres, advertising and public relations junior, and microbiology sophomore Juan Galaviz have lived together for almost two years, yet the couple couldn't be more different from one another.
Galaviz is a neat freak while Torres grew up with his family taking care of most of the housework. Galaviz takes his shoes off while at home and Torres leaves his yellow Vans on. Galaviz needs music to study, while Torres needs complete silence.
Despite their differences, the couple still finds a way to enjoy their late night dinners together, which last week consisted of elote, roasted corn in a cup, and Dr Pepper.
There are many factors for couples to consider before moving in together, said Jay Adame, licensed marriage and family therapist.
"People are taking things that they learn from their family, their peers, society, and they're meshing all those things then with somebody else in the most intimate of settings," Adame said.
There are five things Adame encourages couples to consider before moving in together:
1. Argue about the little things productively
Arguments over issues ranging from leaving your shoes in the wrong place to forgetting to unload the dishwasher are normal, but they shouldn't result in a scorekeeper mentality, Adame said. He also said a partner responding combatively to a pet peeve isn't helpful either. Both partners should ask questions and discuss why the other is upset.
"You should be able to express yourself and not feel judged or ridiculed," he said.
2. Balance each other out
Two partners don't need to have the same habits in order to live together successfully, Adame said. But the two should be able to divide labor by what pertains to their strengths.
A couple that works through their differences is actually better than a couple that is one and the same, he said.
3. Sleep over at each other's places
Sleeping over can help a couple experience relevant situations when it comes to living together, Adame said. What's it like to spend the whole day together? What happens when someone leaves the water running when they brush their teeth? How do you each take care of school work?
"It could be a good experience. It kind of gets you a little bit of pretend marriage," Adame said.
4. Go on long trips together
During long trips, the stress levels of couples are tested by the confined spaces of the plane or car, unfamiliar territory and unexpected factors, Adame said. This can be a good opportunitty to see how the two of you react under pressure and to see what happens when neither person can just walk away and visit with a friend.
"These are opportunities that you kind of can notice those habitual practices of each other. Try and be curious about those things and why the other does those," Adame said.
5. Examine your motivations
Couples may move in for convenient reasons such as location and finances. Those are just extrinsic reasons. But there should also be intrinsic reasons that motivate a couple to move in together, Adame said. For example, when you're with that person you feel valued.
"When I'm with you I feel like I have much more potential than when I'm not with you. I feel secure. I feel respected," Adame said, referring to examples of intrinsic reasons.
Galaviz said that although part of their decision was motivated by convenience and finance, he said it's more than that.
"Waking up to that special person in the mornings is always, like, A1," Galaviz said. "The best part of living together is the fact that I can wake up, know that I'm going to have that one special person right next to me and work with that special person and see that person smile."
@arianamariel_