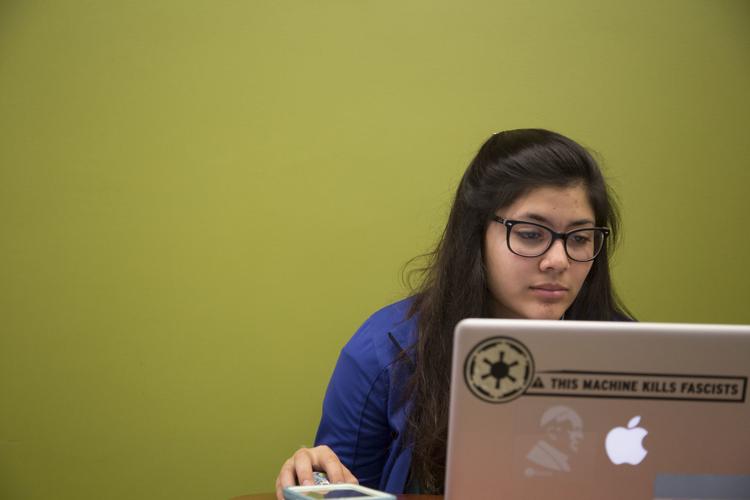 UTA announced Thursday that it will transition all classes to an online format on March 23 after a one-week spring break extension in response to the coronavirus outbreak, according to a previous Shorthorn article.
Although many students are looking forward to the extended spring break, some have their concerns about mandated online classes.
Some students might worry that the material of their classes won't transition well from face-to-face to an online format. Many students rely on lectures, hands-on experience and office hours with their professors to absorb class information, business management junior Juan Christman said.
His business law class, for example, is so largely information- and research-based that it'll be hard to condense and understand online, he said.
Waking up in the morning and going to a physical class that you have to participate in is a vastly different experience than waking up and staying isolated with a laptop, Christman said. Many lack the discipline or organization to get the work done on their own without those daily class experiences.
"Those who lack a little bit more discipline will just kind of blow things off sometimes, thinking that it's accessible, and they can do it anytime, anywhere," he said.
Aware of their own procrastination habits and need for social learning, many students enroll in face-to-face classes intentionally because they don't think they'll perform well in online classes.
Because of this, the transition to online will be intimidating at first, said Shanna Banda, mathematics learning resource director. But the main thing to remember is communication.
Some students aren't used to checking their email or Canvas notifications for class announcements, but doing so will become essential. Banda, the 2020 recipient of the President's Award for Transformative Online Education, recommends double-checking that all Canvas notifications are turned on so that you'll be able to stay constantly updated on class information.
The convenient thing, Banda said, is that students already have class periods blocked off on their schedules. Now that classes will be online, students still have those set times that they can use for classwork.
Don't be afraid to ask for help either, she said. Navigating the entirely online system might be tricky at first, but professors want to help. UTA professors received a special training last week to teach online.
"Taking an online class takes self-discipline," Banda said. "If you're a disciplined student, you're going to be just fine."
Nursing freshman Kessa Carter said she's never taken an online class before, but she's actually happy about classes moving online. Now that she doesn't have to worry about attending class, she has more time to spend with her family and can schedule studying based on her own preference.
She said she isn't worried about falling behind in her classes because she keeps both a planner and calendar on her wall to manage her daily tasks.
"Time management is the number one thing, 'cause if you don't have that, then you're running around like a chicken with your head cut off," she said.
Carter is already getting ahead on her coursework and plans to do so over the extended spring break.
Students who lack self-discipline and motivation can still succeed in online classes, but it will take more effort to stay engaged, Banda said. Anyone can be successful in an online environment, they just have to stay engaged in the process.
Students who choose not to take action and view the situation as an extra long vacation will be less likely to succeed, Banda said.
Although spring break has been extended, students might want to use that extra week to get ahead on their assignments. That extra week is still a week of course material that needs to be covered, so getting ahead if possible wouldn't hurt, she said.
Stick to your schedule, and get online during the time professors would normally hold class. Many professors will host a live online session during the same time period, Banda said, and students should use that time to communicate with their professors. Even if professors aren't online, students can still use that time to study.
"It's really easy in an online environment to procrastinate, you know, when you're not coming to campus all the time," Banda said.
Right now, it's uncertain whether the online format will last only two to three weeks or the rest of the semester. To prepare, students should mark assignments on their calendars to help keep themselves on track and accountable.
Because of the accessibility to the internet, the transition may lead to some easy A's, Christman said. Even with lockdown browsers, many students find loopholes to get better grades on tests and assignments without studying.
"Academic performance is gonna go up, definitely," he said.
Banda said the university takes cheating very seriously even with online classes and has measures in place to help ensure academic integrity. If the online classes only last two to three weeks, she said many professors will likely wait until the return to campus to issue any tests. However, if it lasts the rest of the semester, lockdown browsers and other online formats will be used to keep students from cheating on tests.
Banda said even though students can find loopholes, they should keep in mind the university's academic integrity policy. Anyone caught violating it will be handled accordingly. Getting a few answers right on a test isn't worth a possible suspension, she said.
With the proper amount of care and effort, everyone will be able to manage the transition.
"There's not a particular type of student that's more successful than the other," she said. "It's all about action. It's all about communication and all about self-discipline."
@CecilLenzen