Musical theater senior Vincent Witherspoon said he has always been active when it comes to voting and staying informed on political issues. But this year during the Black Lives Matter movement, his political activism heightened.
When he decided to attend Black Lives Matter protests in the Metroplex, he felt supported by people from all different walks of life.
"There's white, Black people, Asian, Mexican — you have all sorts of people out there supporting the cause," he said. "It's empowering because it shows that there are people who care. Because I think sometimes, especially as a Black man in America, you can feel like you're very much alone."
The tragic events of the last few years have come and passed as people continued their busy lives, political science senior Sam Dennehy said. This year was different because it finally clicked. More people stopped to pay attention and take action.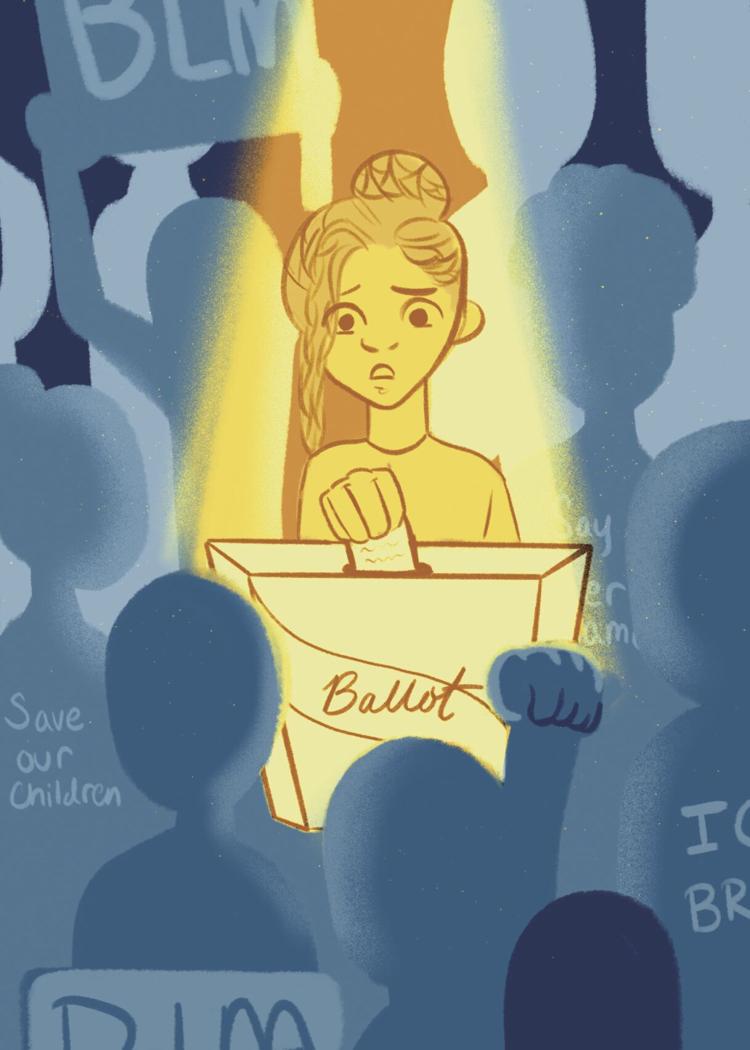 "For a lot of younger people, it's sort of lit a fire under them to start paying attention," he said. "Or if they were already paying attention, it just happened to be that there's this big opportunity in November to take some kind of action in a political sense."
This year has seen a record number of people turn out in support of Black Lives Matter protests against police violence and racial injustice, triggered by the deaths of George Floyd, Breonna Taylor, Ahmaud Arbery and many other Black Americans.
Black Lives Matter, a civil rights movement founded in 2013 to combat and counteract acts of violence against Black people and eradicate white supremacy, played a major role in the way people voted in the 2016 election. It could be energizing young and first-time voters even more this year.
Protest turnout was not the only thing Texas has seen record numbers in, though. A record 16.9 million Texans have registered to vote in this year's presidential election, up from 15.1 million in the 2016.
Besides the pandemic, the Black Lives Matter movement has impacted the lives of so many young people in a profound way, Dennehy said. People motivated out of anger and wanting justice are going to the polls.
"Part of why they've been so impactful now and not the past was kind of due to lockdown, and everybody was home watching TV all day," Dennehy said. "All they were seeing was the George Floyd video and the police officers in the Breonna Taylor case not getting charged."
During the first five days of in-person early voting, Texas saw over 13 million ballots cast, according to the Texas Secretary of State website. By comparison, there were only 6.9 million votes cast during the same time frame in the 2016 election.
These numbers were almost unthinkable at the beginning of the year. Because of the pandemic, there was a dramatic decline in voter registration, partly because Texas does not offer online voter registration, said Charlie Bonner, communications director for nonpartisan engagement organization MOVE Texas.
"We saw that trend really start to shift as a direct result of the Black Lives Matter movement," Bonner said. "I think that was a real impetus for people to get involved, and to many of them, for the very first time."
Some counties in Texas went from reporting no new voter registrations while the state was under a lock-down order to higher than normal levels after the protests, he said. He's seeing more and more young people getting involved, especially at the local level.
More people are turning out to vote because they feel like this is the most important election of their lifetimes, said Ryan Poppe, deputy communications director for the Texas Democratic Party. There are many social justice issues on the table, including Black Lives Matter.
"Folks know it, they are fully aware that this issue is on the ballot," he said. "The scab of our past country's social injustices has been picked away. We have an open wound now that needs to be treated."
Bonner said he's never seen voter turnout like this before. Texas normally sits near the bottom of the list, so seeing the state lead the nation in turnout is surprising.
"On the first day of early voting alone, more than a million Texans across the state voted, waiting in line for hours, just to be sure that their voice was heard," he said "People didn't want to wait. It's a really inspiring thing to watch happen."
The Black Lives Matter protests started on May 26, one day after the death of George Floyd, a 46-year-old Black man who died in Minneapolis after being handcuffed and pinned to the ground by Derek Chauvin, a white police officer.
Since then, nearly 40% of counties in the United States have held protests, and nearly 95% of those counties were majority white, according to The New York Times. It's estimated that about 15 million to 26 million people participated, making the protests the largest movement in the country's history.
Although the Black Lives Matter movement has gained a lot of support from across the country, there are still many others who haven't been won over.
Aerospace engineering junior Jean Luc Reynolds says that while he agrees with the idea of Black Lives Matter, he does not agree with the actual organization.
"As an organization, it's extremely flawed, and it's kind of helped to further divide our already divided political climate," Reynolds said. "That's not to say that all the ideas are bad."
Calling out police brutality on an individual basis isn't a horrible idea, he said. But calls for defunding police or slave reparations will just worsen the divide.
"If anything, it's made people who already agree with it agree with it more and people [who] already disagree with it disagree with it more," he said. "I think it's sort of an anti-Western idea, and I have a problem with that, personally."
Witherspoon said he has been tied to the ideas of the Black Lives Matter movement since its inception. This year's protests helped reinforce his decision on who he plans to vote for.
"I was going to vote for Joe Biden regardless. And I still am, but I don't necessarily trust him to put forth any big social or economic change for Black people," Witherspoon said. "I don't expect that to happen, regardless of which administration ends up being in office, and it's unfortunate to say that."
Biden doesn't have a stellar record with Black and other minority communities, political science junior Elijah Witherspoon said. He couldn't see himself voting for President Donald Trump, someone who he felt was racist, or Biden, one of the architects of the 1994 crime bill.
"I was out there protesting. I gave a speech at a Black Lives Matter rally in Roanoke, Texas," Elijah Witherspoon said. "After I started getting more involved with the movement, I found it even more difficult to bring myself to vote for Joe Biden."
The reason he ultimately did decide to vote for Biden was because of the passing of Supreme Court Justice Ruth Bader Ginsburg, he said. But he still wasn't convinced Biden would do anything "extremely" beneficial for the Black community given his track record.
Some of the issues he would like to see addressed include the gentrification of historically Black neighborhoods and the voter suppression tactic of gerrymandering, he said. He wants to see an end to the "school to prison pipeline," more funding for Black and brown schools and an end to the 1994 crime bill.
"When you hear Black Lives Matter, they paint a picture of [people] only focused on police brutality," he said. "But my firsthand experience, whenever I was out there with people repping Black Lives Matter, they're talking about these issues."
Biden's response to the Black Lives Matter movement hasn't been bad. He's shown himself to be someone who is "culturally woke," Elijah Witherspoon said. He could be the steady hand that guides America through the storm.
"Whenever you have a president that is so divisive, you don't really have to be all that terrific. You can get by with the bare minimum," he said. "For the everyday American that is just worried about how are they going to put food on the table or how are their kids going to be safe going to school, Joe Biden has given them a sturdy foundation on [who] to cast their vote for."
Trump's lack of empathy and professionalism were some deciding factors for Vincent Witherspoon. He said Trump's rhetoric has emboldened some people to be openly racist against people of color.
"And then the hate speech that he's used pretty much every time he has a rally, I think that's the biggest thing," he said. "Inciting that amount of hatred in people is scary, and I think it's a big part of what led us to where we are today."
He sees how Trump readily condemns the Black Lives Matter movement, while it's a challenge to get him to do the same for white supremacy groups.
During the first 2020 presidential debate, when moderator Chris Wallace asked Trump if he was ready to condemn white supremacists and say they need to stand down during ongoing demonstrations across the country, Trump first avoided the question.
Then he said, "Proud Boys — stand back and stand by."
Many viewers were quick to condemn his seeming support for white supremacists, including Vincent Witherspoon. Many have said the president should get on board with equality.
"He knows exactly what he's doing. And when he does that, he's inciting divisions, inciting violence with some of the things that he says," he said. "It's something that I don't think we should be looking for in a United States president."
@DJ_Shaw_